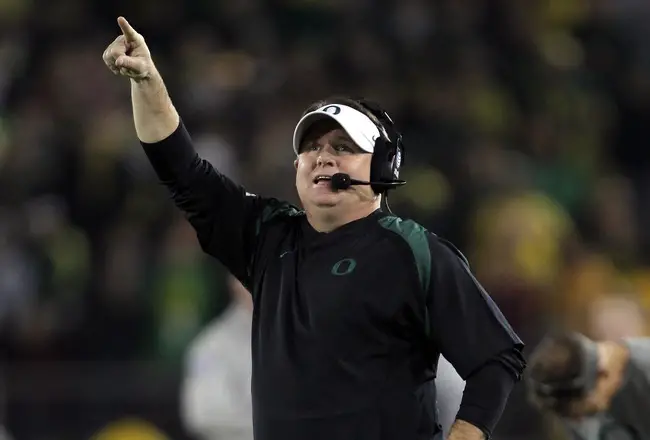 The Oregon Ducks roster from 2007-2010 is the next generation's favorite team, the admiration of most 21-and-under's across the country; and for good reason, this ain't your granddad or father's Oregon Ducks.
The offense has transitioned like a locomotive, from Andy Ludwig's pro set offense, to Gary Crowton's in-development spread, and now to Chip Kelly's innovative spread scheme with a whole new level of consistent play and recruiting. While the offense gets the bulk of the attention for the change and innovation, the defensive personnel too have had to adjust just the same.
The pipeline of recruiting in the days of Rich Brooks and Mike Bellotti was by way of local divisions and dipping into border states, staying close to the state of Oregon, grabbing the leftovers in California and Washington. Walk-ons were almost entirely comprised of local kids who had heart but lacked the full package of physical talents. Oh sure the Ducks had talent, but fr too often the premier players out west picked USC, UCLA, or Washington first, Oregon mired in a state perennial second-tier.
That has not only changed today, but the abundance of talent from every corner of the nation dispersed at every position along Oregon's roster is such a glaring difference from just a few years ago that it leaves outsiders to assume that the University Of Oregon MUST somehow operate their recruiting practices in a shady, or illegal way. How else could Oregon get so good? Why would kids from all over the country want to come to Eugene of all places? Despite the presumptions and schadenfreude wafting from Seattle and Corvallis, it is clear that the operation run by Oregon top-to-bottom is unlike any other, our-flanking the competition who are left scrambling to try to Oregon-ize their program…jealous much?
Ducks head coach Chip Kelly is a no-nonsense leader, an offensive wizard. The traditional powers that be, the old guard of college football as it were, find it difficult to comprehend the type of athlete the Ducks get these days. After all, wasn't Oregon and those other non-factor schools out there intended solely as glorified scrimmages while Washington and USC prepared for post-season play? How did that school become such a national powerhouse of football prowess? How could Oregon get Casey Matthews when the entire family had always attended USC? How could Oregon sign the sons of NFL legends Tony Dungy and Howie Long? How could Oregon be the only team in the nation that has gone to a BCS game in the last three seasons?
Oregon's roster, once considered second-chance U, a place where undersized/under-recruited scrappers came to prove the big schools wrong that shunned them, is now a roster full of thoroughbreds.
Multiple freshmen and sophomores are starting on a roster that usually by default/necessity redshirted nearly every newcomer. Cameron Colvin, Jonathan Stewart, Jeremiah Johnson, and Dennis Dixon set the tone for recruiting that Mike Bellotti's staff ran with in his final years, a group that remains almost entirely intact in the transition to Chip Kelly. The exposure these players brought to the program was tremendous.
The team has since established a pipeline to Texas, California, and Florida, where the best of the best come out of high school each year.
Another key to the recruiting classes that started to change the personality of the program was that the program began to reach nationally, efforts made by coaches to reach out beyond the comfort zones resulted in the Ducks taking away players from Big-12 teams in the midwest and the SEC in the south. Though it is commonplace at Oregon today to recruit well nationally under head coach Chip Kelly, the trend started midway through Belotti's tenure around 2003-2004, after the Fiesta Bowl win over Colorado  in 2002.
Among those to change the face of the UO was Rover/Linebacker Kwame Agyeman, who played for the Ducks from 2004-2007, establishing the "new guard" of talent in Eugene. Agyeman found his way out west, recruited to Oregon out of Illinois by Linebackers Coach Don Pellum and Secondary Coach John Neal.
"When I got up there, it was all competition, in Eugene I felt at home. The coaches, players and the atmosphere made me feel at ease. And It also helped me turn into a man, leaving far from home," Kwame Agyeman commented in conversation. "Playing at Michigan was particularly special for me (2007), as it was close to home. We were a confident, hard working team, we never doubted ourselves."
Agyeman played hard in practice and earned his way to start his career at safety, only to be moved then to a rover position beside now New England Patriots safety Patrick Chung after his freshman year, eventually earning a starting position his junior and senior seasons (2006-07) in the hybrid-safety/LB role defined as rover in the Oregon defense.
These days recruiting services such as SCOUT, Rivals, and 247 network go to great lengths to publicly rate each individual player in much-hyped star rankings. While it has its flaws, the stars typically do represent the top-tier talent available, with superstars such as Oregon's DeAnthony Thomas receiving top-billing with 5-star blue chip status. But Oregon is a program built upon the scrappy two and three-star players proving their critics wrong, achieving on the field over whatever may have been said of them on paper.
There have been so many 3-star recruits who outplayed 5-star guys, in both college and the pros. Oregon has had a knack of developing under-recruited guys and making them the envy of the collegiate ranks. Patrick Chung was a three star recruit, as was a bulk of Oregon's all time greats, and the average NFL player is a 3 star recruit. There is perhaps no other program in the nation that does as good of a job as Oregon in taking very good incoming talent, and molding them into great talent.
"My teammates and I, we practiced as hard as possible, because we could see that the recruiting got so good, we didn't want to lose our job." Agyeman later said when asked about the transition and increase of talent year by year.
The transfer in recruiting philosophy and results cannot be denied. Oregon's roster is littered with players from Texas and Florida, Ohio and Iowa, Hawaii and Alaska. This melting pot of football talent melds together not only geographic diversity, but athletic acumen into a cohesive unit lethal to all foes. Some argue the system is what fuels the engine, but looking  over the recruiting hauls the last few seasons Oregon has no lack of premier highly-rated talent decide to call Eugene home.
The Ducks have raised the competition to the point where if they lose a player to injury, (Kelly likes to rotate players in and out of the game, keeping them fresh anyway), the team and coaches will have full and great expectations for the guy spelling him. Down to the 4th string of the depth chart , the ducks are confident in their depth and talent that grows each year.
The foundation for these recent recruiting successes was established long ago. Stemming from the wildly successful seasons of 94 & 95, the arms race began, with Oregon leading the charge. Sensing that something was needed to be able to compete on an even plain with other major institutions, Oregon needed added incentive to bring big city talent to sleepy Eugene, OR.
First came the Moshofsky Center in 1998, along with a new scoreboard. An expansion of Autzen Stadium soon followed, along with new treatment facilities and locker room.Currently yet another expansion is taking place adding yet more tools, keeping the Ducks ahead of all other programs both college and pro as the premier football facilities in the nation.
National branding campaigns featuring billboards showcasing Oregon stars outside the state drew massive media scrutiny but got the nation talking, as did the flashy new uniforms that Oregon changes as often as the weather turns in Eugene. All of these factors added up, along with the success on the field, has put Oregon on the map figuratively. Many 17 year old kids may not be able to find Eugene, OR on a map, but they sure know exactly what the Oregon O logo looks like and what it represents. Many of them athletes, many hoping to someday too don that O in one of hundreds of uniform combinations available the lucky few chosen to fight for the Ducks.
These days, on a national level, there is no other program as innovative as Oregon, none as revolutionary as the UO. There is nothing cooler than being an Oregon Duck.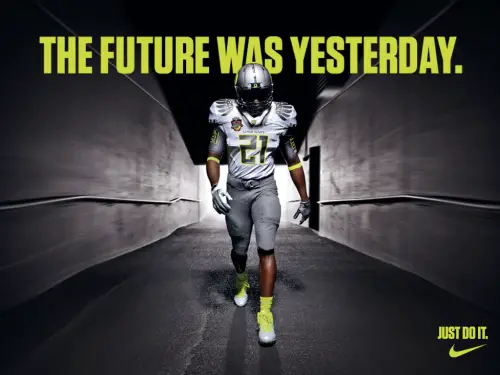 The era of the Ducks rebuilding for a big push every couple of seasons is officially over, now stacked with talent at every position and top-notch coaching and facilities, say hello to the time when Oregon simply reloads.

Want to Watch Oregon Games on your computer?
If you do not get all the channels that have the Oregon Football games, or simply want to be able to watch the game over again as you don't have the space in the DVR to hold all the games?
Contact me by email: charles@fishduck.com and I can help.  We have fans across the nation and internationally watching the games 24/7/365 and I wish that for everyone.  Charles Fischer