For much of the world, Easter is the holiest day of the year.  That said, there is no day on the calender more filled with off-topic nonsense than that which will occur tomorrow.
First there is the stressful activity known as the Easter Egg Hunt.  I dreaded the thing.  My little brother was the world's greatest Easter Egg finder-guy.  It was like he had a nose for dyed protein. At 5 years older I was SUPPOSED to find more eggs.  I NEEDED to find more eggs.  It was my DIVINE RIGHT to find more eggs.  Year after year, he found more eggs.
Oh sure, my Mom always took me aside and said, "Don't worry about it.  It's just nature's way of compensating for your brother's disfiguring birthmark," but it didn't matter to me as I saw him rake in the eggs.  Here's a recent picture of my brother.

No matter.  As I got older the trauma subsided.  I learned that Easter traditions could be representative of other areas of life, and that they could symbolize things that were important to me. Traditions such as: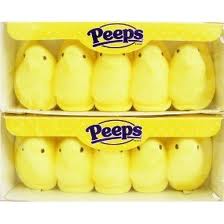 Ooey, gooey stuck-together helplessness just waiting to be devoured.  Just like…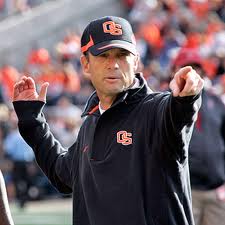 We all know that Oregon State coach Mike Riley is an outstanding fellow.  A really sweet guy.  We also know that, come September, his team will be inhaled like a tank of helium at a FishDuck staff party.
Now I knew that I was on to something.  Easter traditions didn't have to clank on my sensibilities. They could be meaningful in ways that I wouldn't have considered before.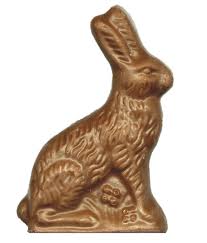 The chocolate bunny…oh my.  I still remember the first time I laid hungry eyes on one of these babies.  I just knew that my sweet tooth was going to be satisfied for…months…years…maybe forever.  It was eight inches tall, and three inches wide on the bottom. That meant that it had to be  a good four pounds of solid chocolate.  I knew that my parents were the BEST parents.  This wasn't like getting a candy bar.  This thing was impressive…imposing…inspiring…and why did Mom have such an unimpressive knife in her hand?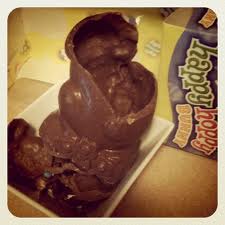 I was as shattered as my new best friend.  The bunny was hollow.  For all of it's impressive stature and mouth-watering potential it turned out to be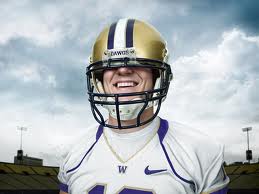 Six feet, two inches tall, 231 pounds, All-American good looks, runs like a deer, can throw a football through a steel door… and record only 13 wins and 24 losses in his college career. Jake Locker was hollow, just like the bunny.
There are Easter traditions, though, that do lend themselves to positive memories.  Plastic eggs are cool.  You know that there is going to be some good stuff inside.  You never know just what it's going to be…
But throw away the licorice ones…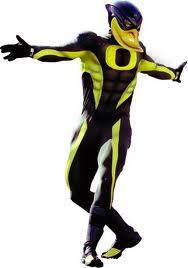 And enjoy the rest.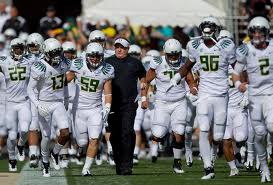 Kim Hastings is a 1984 graduate of Northwest Christian College. He cut his journalistic teeth as sports editor of a paper in his home town of Fortuna, CA, and, later as a columnist for the Longview Daily News in Longview, WA.
He saw his first Oregon game in 1977 and never missed a home game from 1981 until a bout with pneumonia cut his streak short in 1997. He was one of the proud 3200 on a bitterly cold night in Shreveport, Louisiana in 1989 for the Independence Bowl, and continues to be big supporter of Oregon sports. He is an active participant on the various Oregon Ducks messageboards as "TacomaDuck."
For Greybeards … the EYES Have it!
Want to know a secret about web behavior? Readers don't like long stretches of sentences in comment posts without any breaks, and most readers don't even like long paragraphs.
Break it up! After every third sentence in your post…hit "enter" on your keyboard twice if your computer is a PC, or "return" twice if you have a Mac.
This creates natural breaks between scads of sentences, and so many of us thank you for making it easier on our "Greybeard-age" eyes!