There are tons of principles and assignments for an Oregon football player to learn over his career and I often have wondered what was the difficult concept for them to learn.  Recently I heard a defensive coach at Oregon answer that question, as he explained that the toughest concept to coach into defensive players is to check their keys, follow their assignments, and then run to the ball!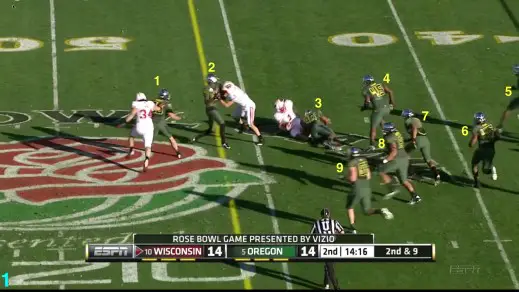 Look how a routine short pass (Above) finished with NINE Ducks around the football!  That is amazing….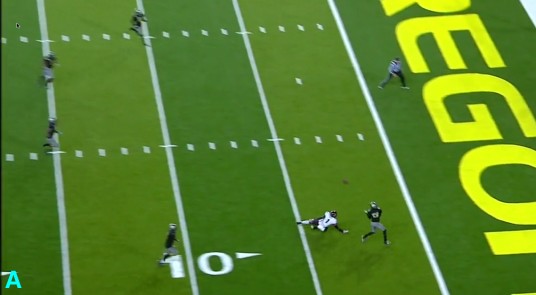 If your defense does it every time, then good things happen over the course of a game as we see Cliff Harris intercept (Above) a bomb thrown to a WR has fallen down and the momentum carries Cliff into the end zone like a punt return.  He brought it out nearly FIFTY yards because of his teammates?
Harris got a great return because his teammates ran to the ball and BLOCKED for him.  Look at two great blocks (Above) where one is about to get slammed and another has already been plastered backward!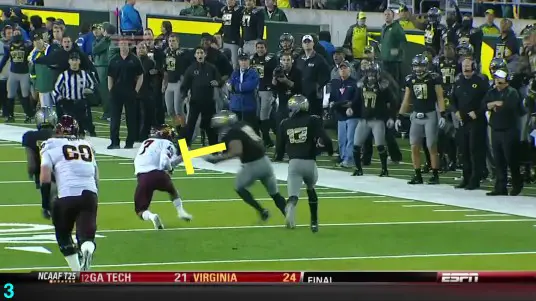 Eddie Pleasant nails the ASU QB (Above) and slams another block to help our run-back.   Run to the ball!
Against Stanford (Above) we see a sack by Turner that generates a fumble from Andrew Luck, and look how fast his teammates come into the picture to help their teammates secure that fumble!  Run to the ball!
Sometimes when you get a gift interception, as BoLo did against Stanford, (Above) you need defenders that take off and help.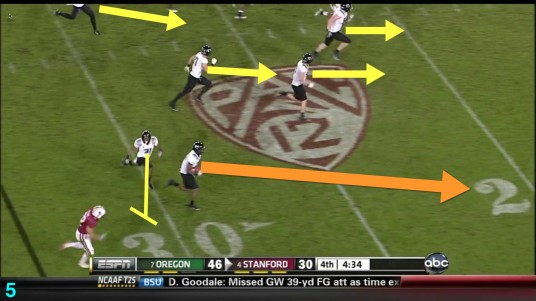 His teammates came though (Above) to create a "Pick-Six!"  Run to the ball!
Taylor Hart is lined up on our right side in the Rose Bowl (Above) as a defensive tackle.  Usually he is responsible to plug the interior of the line, but on this play he does a stunt to the outside that makes him the contain man on the right upper sideline.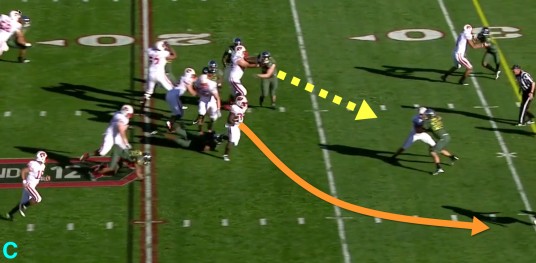 Hart (Above) is beginning to break away from his block as the Badger RB is getting into the secondary with great blocks from his WRs.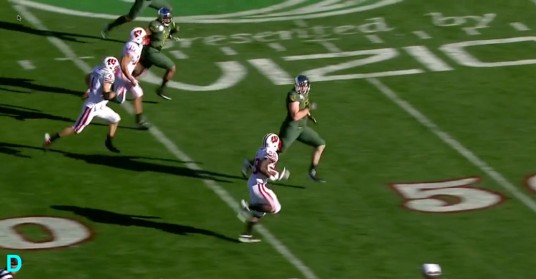 Taylor Hart (Above) goes across the field in the Rose Bowl to slow down the RB, and allow his teammates to make the tackle and save a touchdown.  That's pushing himself hard as he runs to the ball!  How can you NOT love this Duck!
While I am not at liberty to disclose the drills Oregon uses and how they create that unique atmosphere, the bottom line is that we as fans get to enjoy the results of great coaching and great effort by our Ducks on Defense.  Get to the ball!
Oh how we love to learn about our beloved Ducks!
Charles Fischer  (FishDuck)
Oregon Football Analyst for FishDuck.com
Eugene, Oregon
Top Photo from FishDuck.com Video

Visit our Sister Site, the new Our Beloved Ducks Forum!
This new forum that is unlike anything you have ever seen between our civilized discussion, (NO TROLLS ALLOWED) complete directions available for easy usage and the delivery of all Oregon Sports News.  (That last part is a gradual transition up to Spring Football)
Go to the forum where we delve into today's article and so many more topics and the nuances within them over there.
We have a topic post begun over at the forum for today's article; it is a free site and offers more opportunity for the exchange of opinions on all the Oregon Sports subjects of the day. (And there are some very cool features!)
An introduction article about the new forum is right here.