Finally! We are allowed to go back inside!!
The Annual Oregon Spring Game is upon us. Yes, you read that right, we are now just mere HOURS away!
Congratulations to all of you fellow Duck fan "survivors." As my good friend "Fitz" likes to say, we have survived the "Dark Age."
This of course comes after one of his other token phrases, "Welcome To Autzen Stadium" which is sure to greet you along with a firm hand shake regardless of whether you are actually inside the friendly confines of the stadium or just outside tailgating. Among the most vital of fan rituals in just about anyway you try to tilt it, the experience of tailgating and the food and friends that come with it always seems so LONG overdue at this time of year.
For a few hours on Saturday, it's time for some Oregon Football. Errr, for the most part, that is; as the spring game does have its differences.
For one thing, the coaches stick to fairly "vanilla" play calling, so spring games are not the best place to see new blitz packages or get a peek at any of Chip's newly adjusted stuff. The games do, however, provide a better look and often times a first glance at players making the transformation from being just a name and some measurements on a roster to actually taking a few live snaps on the field. Although even if a player might look like a consensus All-American in the spring, it doesn't always translate to similar success come fall.
Another major difference is that no matter what plays out on the field Saturday, the Ducks are guaranteed a victory on the scoreboard. (Rather than winning being considered simply a "reasonable probability" during the regular season and conference championship games) The only question is will it be the half wearing Green or White?
Partly because of these and other minor tweaks, the game ends up as a way cheaper ticket for fans than say, a late season USC or Civil War game, for example.
The minimum cost of admission is an amazingly doable three single-item non-perishable food donations per person, and what a tremendous value that is for the fan. Oddly the donation total is not keeping up with inflation of season ticket costs, shouldn't this now be upwards of five food items to match regular season prices? Sure Food For Lane County wouldn't mind, the beneficiaries of the donations brought by fans providing a much needed bump to the local Food For Lane County pantries.
Now don't let that confuse you, because you can and you really should bring more than 3 items to donate. Within your personal means, of course. But, an extra can of fruit or box of mac & cheese can be had for a few extra quarters at the grocery store, and can really go a long way for a local person or family in need. With a combined effort, we can break the record for donations as well as for the attendance to the game!
The Spring Game is all about having a day in the sun (or clouds) at Autzen, a win for the Ducks (which gives us all something to talk about until September), and also a very important win in the community.
Wishing everyone a fantastic Autzen experience tomorrow, and Go Ducks! The weather in Eugene tomorrow calls for mostly cloudy skies with highs around 65 and light winds. But, we all know the real forecast…
(In the words of the great Don Essig)
IT NEVER RAINS IN AUTZEN STADIUM! 
Ok, Let's get down to the "list of players to watch," shall we?
***A brief disclaimer: I firmly believe in the merits of full disclosure, and as a result, I am going to disclose to you, up front, the names of players who are NOT on the list. Don't get me wrong, by all means, these players below will get your full attention tomorrow. Watch all of these players.
But at the same time, the following players were deemed as being way too obvious and therefore knowingly omitted. Plus, as known commodities their total playing time may be rather short.
Bryan Bennett, Marcus Mariota, De'Anthony Thomas, Kenjon Barner, BJ Kelley, Tacoi Sumler, Devon Blackmon, Colt Lyerla, Christian French, Hroniss Grasu, Nick Cody, Ryan Clanton, Jake Fischer, Taylor Hart, Isaac Remington, Wade Keliikipi, Ricky Heimuli, Dion Jordan, Tony Washington, Arik Armstead, Kiko Alonso, Michael Clay, Boseko Lokombo, Anthony Wallace, Terrance Mitchell, Troy Hill, Ifo Ikpre-Olomu, Brian Jackson, Avery Patterson, and last but not least, John Boyett to name just a few.
Safe to say that the Ducks don't appear to be lacking quality players…
"Who is left?" you ask?
or "What kind of crummy list is this?" Perhaps?
Below are 7 more very important Ducks to keep your eyes on.
 GREEN TEAM (COACH HELFRICH)
---
#31 RB Kenny Bassett 5'9″ 176-
For the first time in what seems like a long time, Oregon is fairly thin at the running back position this spring. The Ducks have some proven commodities in Barner, DAT, and even Forde, to a degree. There is talk of a true freshman (Byron Marshall) coming in the fall who should be able to handle some carries. However, since we are talking about an 18 year old who is not currently practicing with the team, it might be wise to instead focus on a player who has been running with the scout team and gaining experience since last year.
With Kenny Bassett, Duck fans will get a long look at a talented and intelligent player who was recruited by Ivy-League schools. On paper, Bassett looks like a very good fit for the Oregon offense. Of the walk-on running backs, Bassett is taller and believed to have better top-end speed than his counterpart. His bench press of 295 lbs. was tied for tops at the position. A shifty and slashing ball carrier who does a decent LaMichael James impression in his high school video.
#32 TE Evan Baylis 6'6″ 232lbs-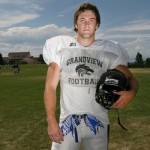 Another position where depth has taken a hit. In this case, due to both graduation (Paulson) and career ending injuries (Williams, White). The recent attrition leaves many to ponder, "If not Colt, than who?" The answer to that question might be the new #32, true freshman Evan Baylis. Sure, Christian French was a highly touted high school tight end who redshirted last year, and is expected be in the mix behind Lyerla. Most people are excited in thinking about incoming 6'7″ freshman TE Pharaoh Brown too, but Baylis arrived in Eugene early to get a jump on the learning curve. A good size at 6'6″ and growing, Baylis was a monster in high school while catching TD passes and smashing opponents on defense at linebacker. In his highlight video he shows great hands, good size, and deceptive speed in the open field.
#48 LB Rodney Hardrick 6'1″ 237lbs-
To his credit as a true freshman last season, he record 8 tackles and appeared in 4 games when the coaches opted to grant some valuable playing time to Hardrick over of a batch of budding talent at the linebacker position. The speedy and hard-hitting Colton, California native was also a tight end in high school, which suggests he possesses good ball skills as well. Keep tabs on #42, if he shows the sideline-to-sideline speed and ability to quickly diagnose plays that is so evident in his high school highlights, the Ducks might just have another mid-line menace on the roster.                         
---
WHITE TEAM (COACH ALIOTTI) 
#3 QB Jake Rodrigues 6'3″ 205lbs-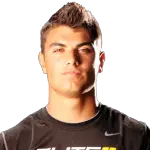 Probably the most anticipated position battle to watch in the spring game will obviously be Marcus Mariota vs. Bryan Bennett at quarterback. However, what if the most talented signal caller ends up being Jake Rodrigues? He is wearing #3 after all. During his senior year last season, Jake broke a bone in his lower leg and has been said to still have a noticeable limp. A redshirt season this year seems likely for the "Elite 11″prospect, but fans should be paying extra attention to the abilities and potential of the young QB. Rodrigues starred in high school running a spread system, so his command and execution of things like the mesh point on simple zone read plays, and of course, his throwing ability and accuracy will be on display. I do not expect the freshman to run too much in the game coming off the injury, but Duck fans might just be looking at the future of the position in years to come.
#58 OL James Euscher 6'7″ 291lbs-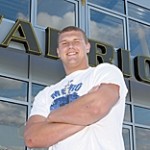 What is better than a well-regarded local prospect signing with the Ducks? How about when the prospect in question is also 6'7″, almost 300lbs, and has calves the size of Redwood tree trunks. Euscher certainly has the size to become a dominant force along the line at tackle and inside at guard, a la Mark (Heimlich Guy) Asper last season. He won a state title at Aloha HS, and helped pave the way for an offense that rushed for 318 yards per game. The offensive line is among the deepest units on this year's team, but Euscher has been mentioned by players and coaches this spring as one to watch. To quote fellow offensive lineman Nick Cody, "He has the ability to move anybody." Perfect.
#97 DT Jared Ebert 6'5″ 267lbs-
After first arriving at Oregon in 2011, Ebert made an appearance in the spring game last year. After redshirting last season, it is time to find out exactly what to make of Mr Ebert. A former JC All-American player who is perhaps undersized for a defensive tackle at 267lbs, the lesser known fact about the former 4-star player is that he can move and run with rumored 4.8 40-speed.
To put that into perspective, think Tuinei speed plus about 100 more pounds. 4.8 second wheels at defensive tackle. Sounds scary, right? The defensive line is expected to be another deep group for these Ducks, and after a year to prepare, the question will be what can Ebert contribute?
#3 DB Dior Mathis 5'9″ 177lbs-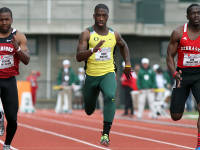 Hands down one of the coolest names on the team. He just sounds like the kind of guy that is a pick-six waiting to happen. However, we might not even see him line up on defense. A versatile athlete, Dior has shown his skills and speed on the track, posting a Twilight Meet winning 60 meter dash time of 6.87. Mathis was also the fastest among defensive backs with a 4.74 electronic 40-time. You could say he is an interesting prospect for several reasons, one of those being his Kenjon Barner-esque position move/experiment last summer on offense to help fill in depth at wide receiver. While he was eventually reported to have moved back to practicing with the defense, be sure to watch and see where he lines up.

CAN YOU HELP US?
The pictures you see of the Ducks on FishDuck.com come from professional photographers that must be paid! Please donate through one click so we have pictures from all the games this fall to use through the year. All previous donations helped to pay our big Web Developing bills recently, and I do appreciate it.
Our staff and the photographers who have thousands of dollars invested into their equipment to provide the high quality pictures do sincerely thank you.   Charles Fischer