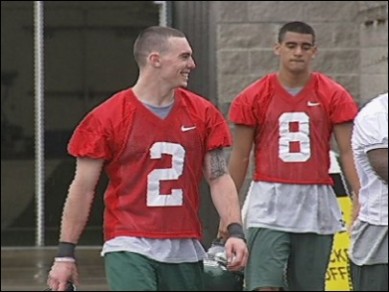 As the Oregon Ducks football team prepares this summer for the upcoming 2012 season, many personnel questions will remain unanswered, as voluntary practices and workouts will continue to go unseen for the foreseeable future, all media and the public barred from attending. We expect to be watching a few new faces on the field next fall, but no question that one of the most high-profile and scrutinized positions will be quarterback.
Regardless of who ends up behind center next year, the team will be leaning on a new player, a first year starter. But in this upcoming season, it doesn't much matter who it is, does it?
Now, "new" may not be the best way to put it, as we all watched Bryan Bennett explode in the 2nd half against ASU, and lead the team to an impressive 45-2 victory on the road against Colorado. He even came in for a play in the Rose Bowl, completing a pass to Darron Thomas. We watched him zip passes to receivers in the spring game, and display the same explosive acceleration on runs similar to that which was witnessed previously in limited duty last year. While the assumed starter for 2012 based on his game experience, his play in the spring game leaves some wondering about the other quarterback battling for the starting role.
Marcus Mariota is certainly an intriguing and talented prospect, and showed off some serious resources in his spring debut. It may have just been a fancy practice, but the quick reads, the accuracy on the passes, and speed he showed running in the open field was legit. He came from a spread system in high school, and is in his second year in the program after running the scout team in 2011.
The U of O will certainly have superb talent at the position, perhaps the most talent ever with Bennett, Mariota, Rodrigues, and Lockie. But regardless of who is named, no matter what the team will open the season with a first-year starter. While neither of the leading candidates are true freshman, many overly optimistic (mostly) opposing fans may look at the new QB situation in Eugene and think that the Ducks are sure to struggle, at least a little bit. "Maybe this will be our chance to sneak up on them?"
I personally can admit to usually discounting any team starting a first year signal caller. Though not with this Oregon team, especially not this year.
Remember what happened the last time Oregon trotted out a new quarterback? It was senior Nate Costa vs. the up-and-comer Sophomore Darron Thomas, with less than an entire full game's playing experience. All Thomas did was lead the Ducks to the program's first ever 12-0 season, and earned a berth in the BCS national championship game. The next season, DT proceeded to smash many of the all-time school passing records, and of course led the fighting-football Ducks to an elusive Rose Bowl championship. Darron was good-damn good.
But the reality is that either one of these next two to step into the role for the early departure of Thomas possess a skill set that is a better overall fit for the offense. Both are faster, more agile, and both appear to throw better, more catchable footballs.
The Ducks as a team will also be fielding gobs of talent around whoever wins the job, and not just in terms of player personnel. Look at the talent of the coaching staff, and their cohesion as a group. Oregon not only features several coaches that go back to the Rich Brooks era, but they have several integral new pieces in Frost, Azzinaro, and Helfrich. Together, they have stuck together better than any coaching staff in the country. What does that mean? Consistency and continuity, for starters. It means they have had more time to recruit specific-purpose players and refine their coaching style and system as a group more than any other team. Add in the fact that no other team runs things quite like Oregon does so on either side of the ball, and the result is a uniquely advanced and ferocious football machine with personnel types and schemes that are many years in the making.
In the end though, the coaches can only effect so much. A team must have good players to win games no matter how good the coaching staff is, and the Ducks are stacked. This year's football team is likely to feature more quality depth from top to bottom than what Darron and LaMichael had to work with during that magical 2010 season that came a wrist short of winning it all.
As fans, we have a pretty good idea of who the supporting cast might be comprised of. That is, unless a player or two suddenly were to transfer or is (knock on wood) suspended by say, going to a certain night club in Corvallis on an "impulse" or committing another similarly punishable transgression between now and Arkansas State. Not to make too much of or pile on the beleaguered Beavs recent off-field issues, because no program is truly immune to some off-season defection and let's face it, a lot can go down when college students are off for the summer.
But if there are no big surprises in that department, we will see either Bryan Bennett or Marcus Mariota get the nod. We as the general public for a few more months are relegated–with no ability to watch the competition unfold–to speculate based off of a tiny spring sampling and beat on the ol' quarterback-competition-dead-horse…Or are we?
Can we just relax and enjoy the warm(er) weather without thinking of 3rd down situations in November, or what happens at the campus keggers in June, July, and August? Can we truly trust in a first year starter and expect them to replace a savvy veteran that rewrote the already impressive existing school record books, led the team to an undefeated regular season, a FG short of a BCS title, and brought home a Rose Bowl Championship?
The answer is a resounding YES we can, and here is why:
Nick Aliotti and the defense-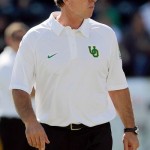 There was a time, not so long ago, when many Oregon fans began to doubt the abilities of the long-time defensive coordinator. Through the years, Oregon could usually score enough points to eek out close victories, but with the exception of a few players lacked similar explosion and excitement on the defensive side of the ball. No more. A noticeable "hush" has fallen on the skeptics lately as Aliotti has made some serious strides as a coach.
Aliotti seems to have a renewed spring in his step, and a changed philosophy. I suppose that a few good recruiting classes can do that. The defense is absolutely loaded with speedy playmakers at every single position, and not just the front line players. The depth is simply astonishing, and combined will form perhaps more talent than any Duck defense ever. Oregon of late has shown that they like to rotate many players during the course of a typical game, at every position. The question becomes, will any other team on the schedule have enough depth to compete for four quarters against the waves of fresh, angry legs being substituted? Even when the offense struggles at times, this defense has all of the pieces to carry this team if needed.
A quarterback's best friend is a good offensive line, and the Ducks look to have the players to field a great one. In addition to three returning starters, some new players are expected to join the fold. Like Aliotti on defense, coach Greatwood might be working with some of the best personnel across the board he has ever had. A plethora of massive, athletic players have saturated the position in recent years. This year's group features a blend of experience and youth that are purposely built to pave holes for this offense. Freakish players like Hroniss Grasu and Jake Fisher provided uncommon contributions as freshmen, and they will be critical to Oregon's success this year. The Ducks may have lost arguably the best running back in school history, but these guys appear poised to clear ample paths for the running game and provide plenty of time for the new quarterback to make reads.
Colt Lyerla & the receivers-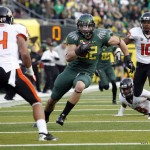 The other best friend of an inexperienced quarterback is a good tight end, 0h and receivers too. Yes, the receivers. While many are looking at the receiving corps and wondering where the production will come from, a discerning observer will note that Oregon might be more stacked at receiver than any other position, at least in raw talent. The key is seeing potential be converted into production. Daryle Hawkins, Blake Stanton, BJ Kelley, and Rahsaan Vaughn are front runners for the two outside positions, and excelled in the spring game.
While Colt Lyerla and Josh Huff did not play, we have certainly seen what Huff can do with the ball in his hands, and last year we witnessed Lyerla's impressive debut, scoring touchdowns on five of his seven receptions. Look for Lyerla to have way more than seven catches this season obviously in the wake of David Paulson's graduation, plus De'Anthony and possibly a player like Bralon Addison gashing defenses from the slot, and take your pick of 6'2″-ish, 200lb-or-so targets on the outside.
The Special Teams-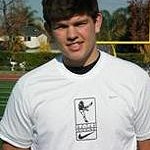 The Oregon Ducks don't like to punt much, but when they do, they prefer to use the best punter in the country. Should the offense stumble here and there or go 3-and-out, there will be no need to fret.
Don't let Jackson Rice's nice-guy appearance fool you; he is a cold blooded killer, and one of the most dangerous weapons in all of college football. He hates the idea of an opponent starting a drive outside the 20, hates purple, and he will decapitate you if you try to bring it out for a return (OK, I made up that last part). But seriously, Jackson led the Pac-12 and the country in net punting for most of last season, flipping the field on opponents like few ever have. In addition to having a knack for pinning the opposition in uncomfortable situations, he is also known to run the option, or even throw to a long snapper. He's a triple threat. Jackson Rice doesn't care how he has to do it, just as long as he beats you.
In the kicking department, a healthy Rob Beard should mean an improvement in both kickoffs, while Alejandro Maldonaldo works on improving his range after a few months of motivated workouts.
The kick and punt returners should be a strength this year, and another area where the surplus of receiving talent can contribute. De'Anthony Thomas, Kenjon Barner, and Josh Huff have proven their value as returners, but look for a few newcomers like Devon Blackmon, Tacoi Sumler, and Bralon Addison to compete against Troy Hill and Ifo Ekpre-Olomu for the jobs.
Arkansas St, Fresno St, and Tennessee Tech-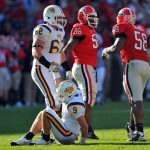 So Oregon decided to see how most of the SEC lives this season and scheduled lightly in their out-of-conference games. The Ducks will have three punching-bag teams to get some valuable "live" reps (though Fresno State has proven to be a thorn in Oregon's side in the past), and further build cohesion and timing as a team before taking on any conference foes. The schedule should be a huge advantage to a first year starter. True, Arkansas State has a pretty good new coach and won 10 games and their conference last season, and we all remember some of the way-too-close games against the Bulldogs. Despite a 7-4 record last season, Tennessee Tech was hammered at home, 56-7 against some team called Maryville, and dropped a 49-7 decision against Austin Peay. Not exactly "elite" competition. We saw what Bennett did against Colorado, and Mariota run away from the Oregon secondary. What would either of them do against the vulnerable Tennessee Tech or the flabby Fresno State defense? Not opening the season with a top-ranked marquee opponent should allow either player to have a little more room for error while gaining that valuable real game experience.
Chip Kelly-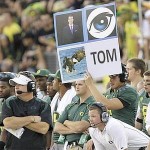 Do I really need to explain this pick? The man has been called a genius, an innovator, a visionary…He's a loner Dottie, a rebel. Yes, last but not least is head coach Chip Kelly, the mastermind behind the whole operation. Chip came to Oregon with a vision and a philosophy of how a team should look. The only problem? No other team looked like that. It may have taken a few seasons, but now the roster is filled with Chip Kelly recruits. Players have been brought in with specific roles outlined, and responsibilities defined. Like so many great coaches that have come before him, Chip focuses on winning each day and each game one at a time, but his preparation and execution is what sets him apart. He runs practices fast, he talks fast, he came up with those awesome placards so plays can be communicated faster. He wants his offense to operate at a faster pace than anyone else, and maintain enough depth on defense to keep up. This year, more than ever, he has the ability to push the envelope even further.
All he has done as head coach is lead the Ducks to three consecutive conference championships, two Rose Bowls, one National championship game, and his players have waged an all out assault on the school record books. There may or may not be a partridge in a pear tree thrown in for good measure. What will he accomplish with hand-selected recruits and virtually four years of preparation? Remember, Chip Kelly transformed an inconsistent Dennis Dixon into the most exciting player in college football. He also found a way to score 56 points in the Sun Bowl with freshman QB Justin Roper at the helm, and go to a Rose Bowl with a glorified fullback in QB Jeremiah Masoli. Impressive results considering the limited abilities of those two. Both excelled in certain areas, as Roper could throw and Masoli could run, but neither could do both.
Be it Bennett or Mariota, Mariota or Bennett, Einhorn or Finkle…one thing is sure; who ever gets the start will likely be the best fit at the position that Chip Kelly has had in his time at Oregon.

Want to Watch Oregon Games on your computer?
If you do not get all the channels that have the Oregon Football games, or simply want to be able to watch the game over again as you don't have the space in the DVR to hold all the games?
Contact me by email: charles@fishduck.com and I can help.  We have fans across the nation and internationally watching the games 24/7/365 and I wish that for everyone.  Charles Fischer