There is no cheering in the Autzen Stadium press box. No asking for autographs from players, or having your photo taken with players or coaches. It is the third rail in the life of a sports reporter, do not touch it. There is no wearing Oregon's colors, unless green and yellow happen to be part of your business casual ensemble.
Yet even if my usual costume was missing, as an Oregon fanatic playing the role of media for FishDuck.com at Saturday's Tennessee Tech-Oregon game, I half expected the elevator carrying me from beneath Autzen's seating bowl up to the press box to reveal not a wide-angle view of Rich Brooks field but Saint Peter and the Pearly Gates.
But if being in the Autzen Stadium press box as an impartial scribe rather than a maniacal fan in the stands made for a kind of out-of-body experience (even after the complimentary buffet with pulled-pork sandwiches and potato salad), maybe that's actually somehow appropriate. After all, Oregon's season so far has been a kind of out of body experience unto itself.
The Ducks' non-conference schedule for 2012 wasn't supposed to look like this. For years the athletic department has been making agreements with top (or at least first-division Football Bowl Subdivision programs) for home-and-home series, only to see the other teams back out not wanting to come play at Autzen amidst the great lore that has developed surrounding the stadium's hostile environment. The most recent teams to run away include Kansas State, Georgia and New Mexico; all but Georgia slated to play against the Ducks this year.
Enter the non-BCS Sun Belt Conference champions Arkansas State in week 1, and this past weekend lower-tier Football Championship Subdivision team Tennessee Tech Golden Eagles, a team even some of those following the sport our entire lives had never heard of.
Tennessee Technological University, once known as Dixie College, is located not in the population centers of Memphis, Nashville or Knoxville, but instead in the town of Cookeville, part of the Upper Cumberland, which the school's website identifies as "the farthest point east in Middle Tennessee," near the famous Cumberland Gap which explorers used to track the path west of the Appalachian Mountains to the rest of the continent.
Today it was an almost impossible task the Golden Eagles faced, Oregon at #4 the highest-ranked opponent they have ever played in school history. But if Oregon's first two games against vastly weaker opponents were any indication, there existed for Tennessee Tech the opportunity to at least overcome a massive point spread (-51) in the second half against Duck reserves.
With the Ohio Valley Conference's total offense leader in diminutive (5'9″) but talented quarterback Tre Lamb, its conference-best defense and an average scoring-drive time of less than two minutes, the Golden Eagles were, going into the game, a kind of FCS Oregon clone. The team was even debuting flashy new uniforms against the Ducks, how Oregon-esque!
"We always say there's a faceless opponent," safety Brian Jackson said after the game. "No matter who comes into Autzen, no matter where we go, we're always going to be playing our A-game. We're always ready for any opponent."
Early on, the Golden Eagles (2-0) refused to play their role as hapless patsy. A combination of luck and skill put the team from Cookeville on the board first, as De'Anthony Thomas touched a bouncing punt (initially given to Oregon before an overturned referee's call) giving Tech the ball deep in Duck territory. Former Tennessee Volunteer Da'Rick Rogers scored a 23-yard touchdown reception two plays later, a familiar name as he played against Oregon in the 2010 game in Knoxville–the second Tennessee castoff to face Oregon in 2012 (David Oku was the starting running back for Arkansas State).
By the time Oregon got the ball for the first time at the 13:03 mark in the first quarter, they were playing from behind for the first time this season. But only a minute later, they had evened it. It would be the last time Tennessee Tech would have the lead.
By day's end—actually, by half's end—Mariota would become the first freshman Ducks quarterback ever to throw for more than 300 yards in a game.
Even so, the miscues continued to pile up. Oregon was clearly the dominant team by far, holding Tech to under 50 yards of total offense in the first half, but an unacceptable amount of penalty yardage for undisciplined late hits or other SIW's (Self-Inflicted Wounds as Chip Kelly calls them) actually exceeded the offensive output for the Golden Eagles. Tennessee Tech was soon in Oregon Territory, again after a questionable roughing-the-passer penalty. The crowd seemed in a near-disbelief that this could actually be a competitive game.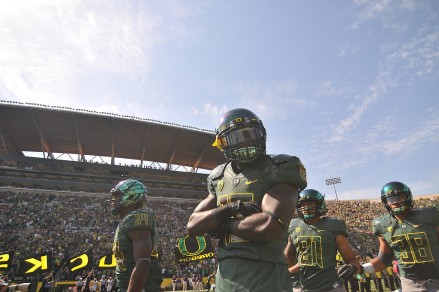 Slowly but surely, though, Oregon's superior size and athleticism began to play a role. The Golden Eagles punted from back in their own territory following stops by Isaac Remington, Michael Clay and Dion Jordan.
And a few plays after that, De'Anthony Thomas did what he does, racing to the end zone from 59 yards out. If 14-7 wasn't a comfortable lead, it at least showed the Autzen faithful that it likely soon would be.
A three-and-out punctuated by a Taylor Hart sack helped make the case, as did another long Thomas score at the 5:12 mark; but this one was actually credited to offensive lineman Jake Fisher as the Golden Eagles forced a fumble at the goal line. "It's a teachable moment," Thomas said of his fumble afterward. "I've just got to finish to the finish line, like it's a track meet."
The fumble not withstanding, Thomas's play against Tennessee Tech recalled a Snoop Dogg line floated recently in the press, in relation to Thomas, his godson: "What can you say? It's unfair." By the end of the first quarter, it was 21-7 Ducks.
At this point, I couldn't help but quickly survey the press box once again assessing the company that at least for this one day I get to call my peers. Close to the bathroom, stadium announcer Don Essig could be heard from one room. Nearby, Pac-12 TV commentators were holding court in a glass-enclosed room. Former Oregon star Anthony Newman seemed to be headed for the coffee pot. Everything seemed very….calm.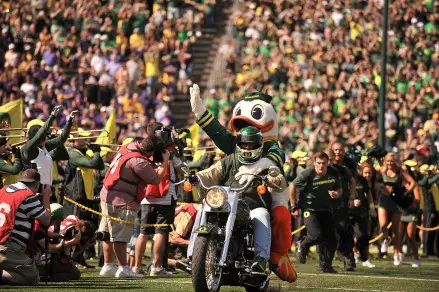 Maybe it's that I'm used to screaming my head off in the stands, but as great as the view is from way up in the press box above even the nose bleed seats on the southside bowl of Autzen, and even though one can hear the stadium noise even more from up here, the sense of an out-of-body experience only continued–as if the 59,000 below us were part of a massive TV screen.
Most of all, I thought of two things. First, I wondered where up here Keith Jackson used to broadcast from with ABC. That I could ever sit in the same press box as Mr. "Oh Nellie" gave me pause. Second, I wondered, why does the press box have its own PA announcer? Every single play in the game is explained here twice, by the press-box announcer and stadium announcer Don Essig.
Early in the second, Oregon seemed to get greedy, going for it on fourth down at their own 30 only to see Mariota tackled for a loss. The crowd roared to life, and Oregon's defense responded as Kiko Alonso intercepted the ball on a ball deflection off a Tennessee Tech receiver. There was a caravan of blockers set up to escort him to the end zone flanked on all sides, but somehow the lone Tech player in vicinity skirted through all five blockers and tackled him. No matter: it was Alonso's first interception since his legendary Rose Bowl snare last year. Emboldened by the band playing the "Superman" theme between plays, Oregon's offense quickly finished Alonso's job, with Lyerla's four-yard touchdown reception, making it 28-7.
"I thought our effort was outstanding in all three phases," Kelly said in the postgame press conference. "But we still have a lot of work, and a lot of football left in the season."
Not long after another punt, DAT returned a punt 46 yards. Only a Mariota interception, one of his first ill-advised throws of the season, kept the Ducks—temporarily—from adding to their lead. Before you could say, "blur offense," however, Chip Kelly's team was in the red zone again. Backup QB Bryan Bennett was in the backfield as a running back, but the real surprise was seeing a Thomas carry for just one yard soon after, and then seeing a drive stall with Oregon settling for a field goal, which was blocked.
With five minutes to go in the first half, Oregon was in the position of having a three-touchdown lead even as the team seemingly was yet to really get rolling. Has it come to this? Is anything less than utter annihilation of the other team some kind of disappointment?
No, it was the lack of composure on the Ducks' part. Another late-hit call against Oregon, bailing out Tech from a stalled drive, confirmed the hypothesis just moments later. So did an illegal-block penalty against the Ducks that prevented another long Thomas return. So did a holding call against Tyler Johnstone just seconds after that. This may not cost the Ducks today against a lower-division opponent, but if the team is to fulfill its potential this season, it will take more focus, finish and precision against the likes of USC and other Pac-12 opponents left on the schedule, let alone a potential BCS bowl opponent.
As the half came to a close, De'Anthony Thomas nonchalantly scored again, looking almost bored as he shrugged off a defender and casually strolled into the endzone. It was almost smug in its sheer football brilliance, what superlatives can I possibly use to begin to describe his talents?
Even on a team loaded with talent—there are more good players on the Ducks' third string than Rich Brooks often had as starters—this kid stands out.
He may never have a special career in the NFL for all we know, given his small stature, but in 32 years of coming to Autzen Stadium, I have never seen a more spectacular player. If an Oregon Ducks footballer is ever going to stand at the podium at New York's Downtown Athletic Club clutching a trophy, Black Mamba may be the one. At halftime, he had 222 all-purpose yards after only touching the ball ten times, and if not for some penalties it could have been far more.
"The game of football is all about having fun," Thomas said in the postgame press conference. "It's just something I love to do. When I do make plays, I do like to thank my linemen and teammates. But playing in Autzen, the fans really get us started. It's a great feeling."
But the Ducks also had three turnovers and 80 yards in penalties to go with their 35-7 lead at halftime. No doubt the coaches still were doing some coaching in the locker room despite the four-touchdown margin.
At halftime, it was challenging not to act like a fan. There was Ducks radio announcer Jerry Allen outside the press-box restroom. It took all the restraint I could muster not to go up to Jerry and exclaim, "De'Anthony Thomas is gonna score! De'Anthony Thomas is gonna score! A most probable beginning, middle and end to this football game!" I'm sure nobody ever lets Jerry forget that now infamous radio call, so I didn't bother Jerry, but I did stop for a platter of cookies shaped like the "O" logo.
The second half began with the slight surprise of Marcus Mariota remaining in at quarterback; even Tennessee Tech's QB didn't stay in the game after halftime–albeit understandable after taking more lumps from Jordan and Remington than he will probably endure for half the season.
A quick drive led to a four-yard Keenan Lowe touchdown reception at the 12:51 mark of the third quarter, ending Mariota's day, the first career touchdown for Keanon Lowe as an Oregon Duck–a Portland native. Mariota would finish 21 of 28 for 308 yards, with one interception and four TDs.
"Marcus did a nice job getting around the field a bit," Kelly remarked. "We've got to be a balanced team. We can build upon it, and that's a good thing. That's what I told the guys in the locker room."
"I feel very comfortable," Mariota added. "From the first game to now, my confidence has grown with every game. I'm looking forward to the next one."
After seeming shaky in the initial moments of the game, and after the Ducks were greatly outscored in the second half by their previous two opponents, the defense came out of the locker room with something to prove. Dior Mathis appeared to have a pick-six, but the referee's further review showed he had run out of bounds at the four.
A play later, though, Bryan Bennett—now taking over for Super Mario at quarterback after making a brief cameo as a runningback earlier—scampered untouched past the goal line with 10:35 to play in the third quarter. Oregon 49, Tennessee Tech 7.
By this point, most people in the press box had moved from the pulled pork sandwiches to popcorn, and they were noticeably conversing with each other much more, like a cocktail party with paper cups. The game, after all, was over by this point, articles already more or less written; job over until the press conferences the beat writers who provide us with so much great daily content for us fans to consume could kick back and relax a little, assuming the often-lost role of fan they rarely get to enjoy fully.
The marching band's choice of "Walking On Sunshine" was not a gross misrepresentation of the Autzen mood – at least until Bennett threw an interception a few plays later.
Bennett has in these first three games lacked the sharpness he showed last year, which can't be completely explained away by playing with reserves, as well as an apparent sense of trying to force things, wanting to maximize his reduced playing opportunities.
The third quarter, much like the second half against Arkansas State, became a time for Byron Marshall to carry the ball several times. He looked more impressive than in the debut two weeks ago, with a 17-yarder among his best runs from scrimmage. Before quarter's end he'd have the first 100-yard game of his young career.
The jury's still out on whether he can successfully be the bruising back Oregon has lacked since LeGarrette Blount, but he's good at killing the clock during blowouts. Fans need to keep in mind that back in 2009 following Blount's suspension it took several games for then redshirt freshmen LaMichael James and Kenjon Barner to appear comfortable in Kelly's offense, and they'd had a year to practice in it, while Marshall has yet to even attend a single class as an Oregon student.
"It's just been more comfortable," Marshall said of his learning process over three games. "The first game I got in there, there was a lot of emotion, a lot of adrenaline, anxiousness. So I think this game I finally got a chance to settle down."
Many other young players besides Marshall had a chance to shine, such as Bralon Addison, Arik Armstead, Ayele Forde and Pharaoh Brown. By game's end, 34 different Oregon defensive players had at least one tackle, no Oregon player tallying more than five total.
There was a surprising absence by the time the fourth quarter began. Despite a 56-14 Oregon lead, the wave had yet to make its way around the Autzen bowl. This after fans were all too happy to have such fun in the first half against Arkansas State.
But many more fans seemed to be staying late into the game, as a warm late-summer day with a cool breeze made the setting before 57,091 idyllic. Finally, at the 7:42 mark, did the wave finally begin rolling its way around the stadium. And in case you're wondering, people in the press box don't participate in the wave either, although a few fresh-faced radio station employees up here did seem tempted to join in, clearly not knowing the history beyond the now cliche crowd maneuver callously claimed as the invention of those foul puppies a few hours drive north.
When the final seconds ticked off the clock, Oregon had won 63-14, a dominant showing but penalties and turnovers leaving Oregon just shy of covering the 51-point spread, no doubt leaving some gamblers cursing. Clearly though, Chip Kelly couldn't possibly care less about such trivial matters.
The degree of difficulty will start to get harder now, with an improved Arizona team coached by Rich Rodriguez up next, followed by the the first roadtrip of the season; it will be interesting to see how the young players respond to playing away from Autzen Stadium.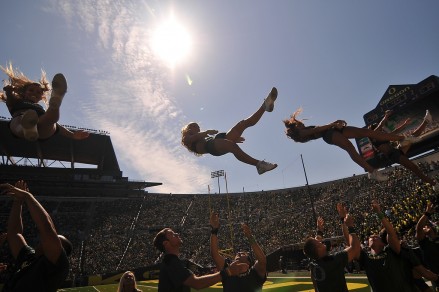 "I'm excited for every Saturday. It doesn't matter who we play," said Dion Jordan, who defensive coordinator Nick Aliotti called "a monster" for his heady play after the game.
"I feel like we have a lot of good talent, you know, on both sides of the ball. We've got some freshmen that we're really gonna depend on. We just want to keep getting better."
And with that my day as a reporter in the skyboxes above the fans was complete; post-game interviews done, article more or less written like my writer brethren who make this process look so easy. It's quite a difficult task, being asked to remain completely neutral for a day, subduing the rabid fan within on a gameday at Autzen after being trained all my life to emotionally live my life through the rollercoaster of every up and down moment that has existed within Oregon football.
Next time I'll assume my role again in the crowd as another fan, with two full weeks of pent-up emotion needing to be shouted out with every big play.
---
Post-Game Interviews

---
 Game Notes
Josh Huff was announced with the starting lineup before the game, but we didn't see him all day. Probably a smart move with conference play starting next week, no need to risk it.
Da'Rick Rogers is a big target on the outside for Tennessee Tech, it was an interesting matchup to watch throughout the game. He may play for Tennessee Tech, but he definitely has SEC talent. He's somewhat familiar with Oregon already, having played in the 2010 game vs. the Ducks as a Tennessee Volunteer.
Da'Rick Rogers is the second Tennessee Volunteers transfer who played against Oregon in 2010 to play the Ducks in 2012–David Oku was the starting running back for Arkansas State.
Da'Rick Rogers showed his talents early, with an excellent play on a middle screen, taking it in from 23 yards out after shaking a couple of tackles to get Tennessee Tech on the board first. Last year Missouri State scored first vs. Oregon as well–it didn't help much.
Tennessee Tech continued the trend of not kicking to De'Anthony Thomas, wonder which team will be the first to test Thomas on a kickoff? And how badly will they regret it? I'm sure Chip Kelly doesn't mind getting to start near the 40 yard line every drive.
Marcus Mariota is looking more like the well-oiled machine we saw two weeks ago, for such an inexperienced quarterback he reads his progressions quick–1, 2, 3, checkdown.
Isaac Remington and Dion Jordan were in the backfield on nearly every snap in the first half, poor Tennessee Tech quarterback Tre Lamb being led to slaughter, he got beat up bad.
The Tennessee Tech punter looked to be trying to get as much hang time as possible to minimize De'Anthony's effectiveness on the return…it wasn't working. Thomas is just ridiculous, one long return after another, teams should kick it out of bounds every time.
Play-calling early on the game was noticeably very pass-heavy. It's good to see the Ducks establishing the passing game. Mariota looks in command, perhaps last week was a fluke?
De'Anthony Thomas does all the running on a 49 yard touchdown, but Jake Fisher gets the credit for the touchdown after a fumble at the goal line. Ya know, if a lineman works that hard to get downfield keeping pace with Thomas the whole way, he deserves to get a touchdown at least once. No doubt the highlight of his young career.
Dion Jordan looking like a man among boys with the amount of push he's getting, another sack for him with help from Isaac Remington. It will be interesting to see what Jordan can do in conference play, at times he seems unblockable.
Big interception by Kiko Alonso completely shuts the door on Tennessee Tech (if the game wasn't already over), but while being flanked by five blockers how is it possible that the quarterback made the tackle? Guys will get chewed out for that in film study.
Marcus Mariota looks better than last week, but he did throw his first career interception, to Howard Griffin.
Bryan Bennett saw his first playing action vs. Tennessee Tech as a running back, before assuming quarterback duties in the 3rd quarter.
No matter the score, the coaching staff is going to be furious after this game, total lack of discipline in this game. Way too many late hit calls today, the flags have been flying. For much of this game Oregon has had more penalty yardage than Tennessee Tech has total yards.
With Josh Huff taking the week off to rest his knee, true freshman Bralon Addison filled in admirably, making some very nice plays all day.
The pushup meter read 106 with seven seconds to play in the first half, down from the previous two weeks.
Oregon native Keanon Lowe scored his first touchdown as a Duck. That has to be a great thrill, growing up a Duck fan fantasizing about a moment like that and finally getting to do it.
Kenjon's 33rd career touchdown tied him with Jonathan Stewart at 4th all-time on the University of Oregon list.
Funny how Bryan Bennett struggles in relief duty this year when he was so composed in the same role behind DT last year. Hmmmmm. It seems like he's trying to force things when he gets an opportunity to play, thinking he needs to be all-american with every snap. Just play your game Bryan, don't force it! Still, the kid has heart, as evidenced by the way he went skyward to score his second touchdown run of the 2nd half.
Oregon scored in the 3rd quarter for the first time all season.
De'Anthony Thomas had 222 all-purpose yards on 10 total touches, in the first half. He didn't play in the second half, and still outpaced Tennessee Tech in total yardage.
85th consecutive sellout here at Autzen Stadium. Great work Duck fans!
Dustin Haines comes in with four minutes to play in what will likely be his only chance at playing time all year. It exposed a major problem in Oregon's depth chart–who holds the play cards when Haines running the offense? Could pose an issue should Haines be unable to fulfill his duties for whatever reason.
---
Pre-Game Photos
[slickr-flickr tag="TT@Oregon9-15-2012-1″]
---
1st Half Photos
[slickr-flickr tag="TT@Oregon9-15-2012-2″]
---
2nd Half Photos
[slickr-flickr tag="TT@Oregon9-15-2012-3″]

CAN YOU HELP US?
The pictures you see of the Ducks on FishDuck.com come from professional photographers that must be paid! Please donate through one click so we have pictures from all the games this fall to use through the year. All previous donations helped to pay our big Web Developing bills recently, and I do appreciate it.
Our staff and the photographers who have thousands of dollars invested into their equipment to provide the high quality pictures do sincerely thank you.   Charles Fischer