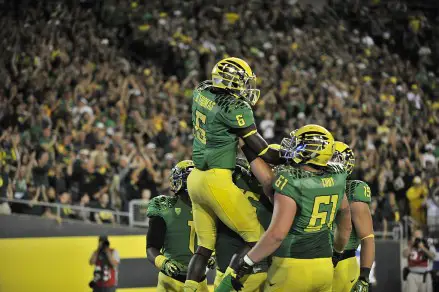 Coming off of last weeks 57-34 shellacking of Arkansas State, the Ducks look to continue their momentum, as they welcome the Fresno State Bulldogs into Autzen Stadium for the first time since 2007.
The Bulldogs come in under first year coach Tim DeRuyter, who takes over for Pat Hill, the iconic head coach let go after 15 seasons leading the Bulldogs.
Fresno arrives in Eugene 1-0, following a 37-10 win over FCS-level Weber State in week one, and are led by Junior QB Derek Carr, younger brother of former Bulldog star David Carr. After years of running a more conservative offense under Hill, DeRuyter brings a pass-happy spread attack designed to get his receivers into open space and take advantage of the accurate Carr.
Oregon will look to build on last week's opener, when the starters were pulled halfway through the second quarter. A 50-3 lead with 7:06 remaining in the half was more than enough for Chip Kelly to let the backups, including quarterback Bryan Bennett, play out the remaining 35+ minutes of the game.

DAT: Human or Not?
Coming into the season, sophomore De'Anthony Thomas was on many people's short list for the Heisman; and after his performance last week, there's no denying his place there. After carrying the ball three times for 64 yards, De'Anthony in his last two games (the Rose Bowl being the other) has rushed the ball five times for 219 yards and three touchdowns. That's an astounding 43.8 yards per carry.
Throw in his receiving and punt return duties, and Chip Kelly has a weapon at his disposal that is impossible for teams to scout. The effectiveness of De'Anthony is in his ability to change the game while only touching the ball a handful of times per game. Fresno State, along with most teams in the country, does not have the athletes to slow him down one-on-one. For Fresno State to have a chance, they must keep him corralled in between the hashes, where he will have a harder time using his blazing speed.
Good luck, Timmy.
 The Next Generation Of Carr
Fresno State's attack is led by Derek Carr, younger brother of the legendary David Carr, who took Fresno State to unprecedented heights during his four years under Coach Hill and then FSU offensive coordinator Jeff Tedford. Derek Carr, 6-3 and 200 pounds, has all the makings of an NFL quarterback, set to follow in his brothers footsteps–the #1 overall draft pick in 2002 by the Houston Texans.
Derek Carr flourished last week in his debut under Tim DeRuyter's new spread-attack, passing for 298 yards. Carr is the second straight dynamic QB to enter Autzen in an opposing uniform, as Arkansas State's Ryan Aplin passed for over 300 yards against Oregon last week, the 2011 Sun Bel Conference player of the year. Look for Carr to try to get the ball out of his hands quickly to avoid Oregon's pass rush and to his favorite target–freshman Davante Adams.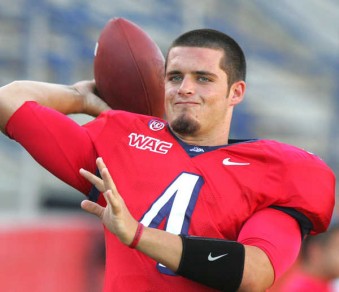 Second Unit Woes
For all of the positives that came out of Oregon's 57-34 win to start the Mariota-era, the second unit on offense and defense left something to be desired. After Oregon built a 50-3 lead in the second quarter, the starters got to enjoy the rest of the game from the sidelines. What they witnessed, however, was not what the coaching staff was hoping for.
Oregon was outscored 31-7 from the seven-minute mark of the second quarter on. Was this simply a case of so many freshman and sophomores showing their nerves? Or is there something bigger that the Ducks should be worried about? Chances are, barring unforeseen events, the same situation should present itself this afternoon. Let's hope they're ready.
When Oregon Has The Ball
Any questions about how Mariota would handle the starting job were answered in a flash last week, when he led the team to seven consecutive touchdowns to start the game. His accuracy and poise were on full display, as he hit 18-22 passes for 200 yards and 3 touchdowns, and continually made the right call on the read-option.
Oregon looks to exploit a weak Fresno State secondary, part of a defense that gave up over 35 points per game last year. They return seven starters, including first team All-WAC linebacker Travis Brown, but after that things begin to go downhill. With so many starters returning, improvement is to be expected, but Fresno State is switching from a 4-3 defense to a 3-4, which takes time to adapt.
They will be tasked with stopping a machine, as Oregon's receivers began to show signs of life with Mariota under the helm; with freshmen Bralon Addison, Dwayne Stanford and B.J. Kelley all having multiple catches. For all of Oregon's offensive firepower that was on display, Kenjon Barner was barely part of the action, rushing just nine times for 66 yards and two scores. Oregon, in an attempt to keep Kenjon fresh, will look to use freshman Byron Marshall extensively.
When Fresno State Has The Ball
Led by Wac All-conference quarterback Derek Carr, Fresno State will enter today's contest looking to sling the ball all over Autzen Stadium under new coach Tim DeRuyter's spread-air attack. Carr, buoyed by freshman receiver Davante Adams, leads an air attack that is similar to that of Dana Holgorsen of West Virginia, which is designed to utilize their smaller, fast receivers.
Oregon looked vulnerable to the pass last week against Arkansas State, although the majority of the troubles came when the second unit was in. Aside from Adams, Fresno State relies on workhorse running back Robbie Rouse, a 5'7″ shifty scat-back. Fresno State, joining an ever-growing list of teams emulating Oregon's hyper-speed offense, will try to get their plays off in under 17 second against Oregon's defense.
Way to play right into the Ducks' hands.
Oregon's starting defense was simply dominant against the Red Wolves last Saturday. Look for Oregon to rotate upwards of 25 players to counter Fresno State's "Hurry-up offense" and keep themselves fresh.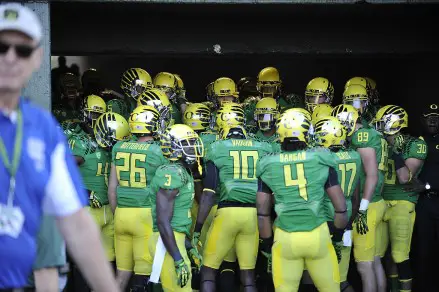 Final Score Prediction
Despite a renewed energy under new coach Tim DeRuyter, and a future NFL quarterback in Derek Carr, the Bulldogs simply do not have the horses to keep up with an Oregon attack that looked unstoppable in their opening game. Look for much of the same today, and another Oregon victory.
Oregon – 60
Fresno State – 27

CAN YOU HELP US?
The pictures you see of the Ducks on FishDuck.com come from professional photographers that must be paid! Please donate through one click so we have pictures from all the games this fall to use through the year. All previous donations helped to pay our big Web Developing bills recently, and I do appreciate it.
Our staff and the photographers who have thousands of dollars invested into their equipment to provide the high quality pictures do sincerely thank you.   Charles Fischer