TENNESSEE TECH GOLDEN EAGLES at OREGON DUCKS
Saturday, September 15th
kickoff 12:06 pm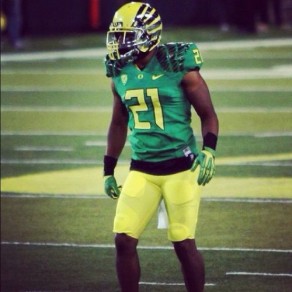 Two weeks into the season, and we know about as much about the Oregon football team as we did on August 31st, save for a couple unfortunate injuries. The defense, as expected, has been stout, yet untested. The offense, occasionally explosive, but maddeningly inconsistent. The special teams? Non-existent at best, turnover prone at worst.
The Ducks, after nonchalant victories over Arkansas State and Fresno State, welcome in the Tennessee Tech Golden Eagles to close out the out-of-conference schedule.
Another opportunity arrives for Oregon to work out the kinks in the offense, and continue to build depth in the secondary–hopefully while bucking the trend of losing key starters each game due to injury.
Oregon, unstoppable in the first half of its two victories, has produced just 14 points in the second half of games total. The offense, due to inconsistent play and vanilla play-calling, has done virtually nothing once it accumulates the customary first-half cushion. The second half has appeared more like a time of going through the motions, rather than showing any emotions.
Today should mark another opportunity for Oregon to correct its woes, which have been particularly troublesome in the third quarters.
Redshirt freshman quarterback Marcus Mariota, so brilliant in the opener, struggled a bit in round two, losing two fumbles and making several misreads on the read-option. Hampered by an offensive line that at one point was down four starters and delivering erratic shotgun snaps that unexpectedly ended up in the hands of the running back rather than the quarterback, Mariota seemed rattled at times, but never fully lost composure, illustrating the cool nature the coaches have been raving about.
Another week of extensive film work should lead to improvements today, as Oregon ramps up preparations for conference play next week.
The second unit, quickly melding into full-time starters due to a rash of injuries, should see extensive action against the Eagles, who enter Autzen at 2-0 after victories over Hampton and Division-II North Greenville. Coach Watson Brown, brother of long-time Texas Longhorns coach Mack Brown, in his 28th year as head coach leads Tennessee Tech.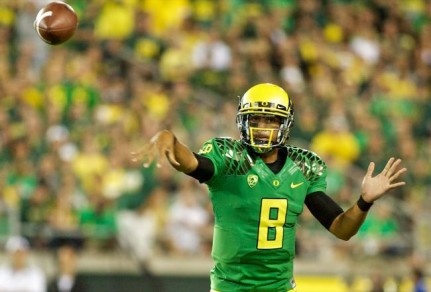 Oregon, which this week lost seniors John Boyett and Carson York to season-ending knee injuries, must avoid complacency as it takes on their third-consecutive inferior opponent (on paper).
An emotional let-down might be understandable, as Boyett and York were team captains and beloved teammates, as much as Coach Chip Kelly may reinforce the importance of playing a full sixty minutes after noticeable lackluster efforts for the entire game in the first two contests.
Attitude Adjustment
Despite being 2-0 and ranked #4 in the country, the reaction by many fans surrounding the Oregon program is surprisingly grim following the two hit-or-miss performances thus far. Be it the ongoing confusion over how exactly to pronounce 'Mariota' or failing to dominate opponents by the perceived expectations, there is cause for concern. Injuries have mounted, the offense seems out of sync, and another lackluster opponent is on the docket with concerns of how the team may perform when faced with adversity of quality opponents in the midst of Pac-12 play.
Oregon, who next week hosts upstart Arizona (the Wildcats just dismantled a good #13 Oklahoma State team under new head coach Rich Rodriguez), needs to build some confidence heading into what is quickly proving to be a much tougher conference schedule than originally anticipated.
Mariota, with just two games under his belt, had his first taste of imperfection last week, and must use that experience as part of his ongoing growth as a starting quarterback if the team is to match expectations when Pac-12 play begins. The defense should continue its dominance, as the first unit has only given up 14 points in the first two games. The backups though on the defensive side have let way too many points be scored to make either fans or defensive coordinator Nick Aliotti happy.
(A made field goal wouldn't hurt, either.)
"The Fastest 60 Minutes of Football"
Tennessee Tech, from the Ohio Valley Conference, should offer up something familiar for the Ducks defense, as they pride themselves on playing "The fastest 60 minutes of football." Interesting…a team looking to up the pace on Oregon in an attempt to simply outscore them?
Tennessee Tech, averaging 42.0 points and just over 510 yards per game, runs a very balanced spread attack, racking up over 300 yards passing (306.5) and 206.5 on the ground vs. their opponents. No-huddle, players in open spaces, etc. The Golden Eagles are the 'Oregon in the Ohio Valley conference', but this isn't the OVC.
Watson Brown recognizes this, and during Tuesday press conference he perhaps only half-jokingly stated that they may scrap everything they do for this week as the only chance to compete with the Ducks.
Get 'Em In, Get 'Em Out
The Golden Eagles, bless them, provide Oregon with the perfect recipe for what ails them: An opportunity to knock an inferior opponent down early, get confidence, and sit down early to avoid injuries to starters. With the injury bug sitting squarely in Eugene, escaping the game ding-free should be goal #1 for Chip Kelly and his staff.
The best way to do that, of course, is to put an Arkansas State-like beat down on the Golden Eagles early. De'Anthony Thomas, as breathtaking as he has been, will hopefully not touch the ball more than a handful of times, and the same goes for Kenjon Barner. This is the type of game that young upstarts and backups dream of…assuming they get their shot.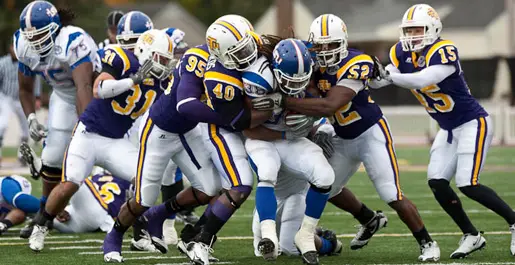 When Oregon Has The Ball
There's not much guess work here…get the ball to the receivers early and often, and let them work. For as good as Barner and DAT have been through two games, this is not the day for them to put up Heisman numbers. Mariota will be facing a young Tech secondary, led by cornerback Will Johnson, who led the team in last week win with 13 tackles. William Dillard and Corey Webber, both sophomores, had interceptions for the Eagles in their win over North Greenville.
Oregon, which has seen solid contributions from young receivers Keanon Lowe, Dwayne Stanford and B.J. Kelley, will more than likely take the field without junior Josh Huff, after he sustained a lower-leg injury last week that reportedly looked far worse than it actually was.
Look for Oregon to establish the quick-hitting passing game early in an attempt to keep the wear and tear off its running backs, and hopefully build up a big enough lead to play reserves early on. Tennessee Tech, despite winning the Ohio Valley championship last season, simply does not have the horses to keep up with Oregon on paper, the second team to come to Autzen Stadium coming off of a conference title (Arkansas State).
The offensive line, sans senior guard Carson York, will need to improve in pass protection from last week, as Mariota found himself on the turf far too often. Bryan Bennett, who did not see any snaps last week, should see plenty of action against Tennessee Tech, further adding to Oregon's depth as the season kicks into full gear.
When Tennessee Tech Has The Ball
Led by the diminutive but dangerous quarterback Tre Lamb, the Golden Eagles bring a fairly potent offense into Autzen, matching Oregon in almost every offensive category…however, their damage has been done against FCS and Division-II schools.
Getting plays off at a furious pace, Tennessee Tech will undoubtedly be the most up-tempo team Oregon has faced all year, despite the first two opponents trying to mimic Oregon's up-tempo approach. They pride themselves, much like the Ducks, on getting as many plays off in as little time as possible.
The player to keep an eye on is Tennessee Volunteers-transfer Da'Rick Rogers, who faced Oregon in 2010 in Knoxville and looked to be the Vols premier weapon this year until being dismissed. Rogers is the second highly-touted SEC-quality cast-off from Tennessee that Oregon has faced this year, Arkansas State starting running back David Oku on opening day.
Rogers will look to challenge Oregon's secondary, exploiting new starting safety Avery Patterson after losing senior All-American candidate John Boyett to two torn patellar tendons. Lining up on the opposite side from Rogers will be Tremaine Hudson. The Golden Eagles have six receivers with at least three catches this season, as they are deep at the position, often going with 4-5 receivers on a given play.
Adam Urbano will get the rock at running back, and he's off to a stellar start this season, averaging a shade over 140 yards per game behind an experienced offensive line.
The problems, however, start and stop with the athlete's Tennessee Tech will bring to the table. Other than Rogers, no player on the offensive side of the ball have the raw physical skills to match Oregon. Scheme will only get a team so far before Oregon's speed and depth will wear down Tennessee Tech's attack.
Look for freshmen Arik Armstead and DeForest Buckner to have breakout games for the Ducks on the line, as their height could cause a major dilemma for Tech's short QB Tre Lamb to find passing lanes. Oregon has more players 6'5″ or taller than any other team in the nation, many of them along the defensive line, and if they get their hands up Lamb may be forced to move outside the pocket for any shot of getting the ball downfield.
Final Score Prediction
Much like the last two weeks, Oregon enters today as a heavy favorite, and should have the starters out by halftime. No injuries, some confidence building for the offense, and plenty of playing time for the reserves is all Oregon needs to think about. This one will likely get ugly, fast. If it doesn't, then there is legitimacy to the concern many have expressed over the 2012 Oregon Ducks.
Oregon 65
Tennessee Tech 21

CAN YOU HELP US?
The pictures you see of the Ducks on FishDuck.com come from professional photographers that must be paid! Please donate through one click so we have pictures from all the games this fall to use through the year. All previous donations helped to pay our big Web Developing bills recently, and I do appreciate it.
Our staff and the photographers who have thousands of dollars invested into their equipment to provide the high quality pictures do sincerely thank you.   Charles Fischer