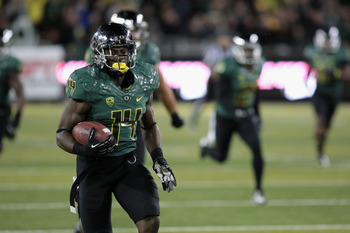 After one of the most dominating defensive performances in school history, Oregon gets set to face another challenge tonight–the "Air-Raid" attack of the Washington State Cougars.
WSU, coming off an embarrassing loss at home to Colorado, offers Oregon another chance to hone their defensive skills, as the Cougars will look to unleash their passing game upon the Ducks.
Washington State entertains Oregon at CenturyLink Field in Seattle, Washington, home of the NFL's Seattle Seahawks. Oregon, whose fans travel as well as any Pac-12 team, could in theory play it's fifth consecutive home game–it is expected that the Ducks may have more fans in the stands than the Cougars.
Oregon, 4-0 (1-0), seems to be playing at a different level defensively than they have at any time under Chip Kelly. After getting their first shutout since 2003 (although in fairness, the defense held Colorado scoreless last season…Thanks, Cliff Harris), the Ducks are flying high, with a defense that is dangerous on all the levels. The line, going eight deep, has been brilliant against the run so far, while the linebackers and secondary completely shut down the passing attack of Arizona.
On paper this seems to be a mismatch (Oregon is entering as 29 point favorites), but with Mike Leach and his passing attack on the opposite sideline, nothing is guaranteed. And the Cougars, even at its lowest points under former coaches Bill Doba and Paul Wulff, have always played the Ducks strong.
A few storylines stand out as we head into tonight's game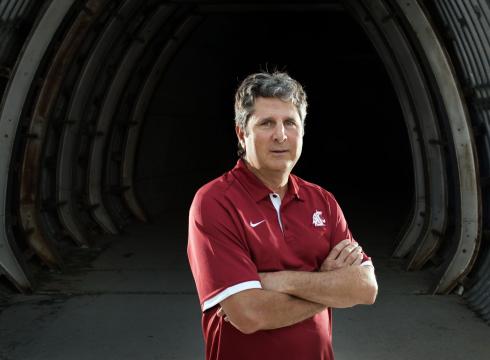 THAT OREGON DEFENSE…OH, WOW, THAT DEFENSE
Say what you want about last Saturday–Arizona blew chances, missed open opportunities, didn't execute–but Oregon's defense was simply brilliant. A noticeable change has occurred since Kelly took over in 2009. Whether it's a coincidence or not, the defense is playing with a fierceness that they didn't have when Mike Bellotti was running the show. It appears as if Nick Aliotti has been unleashed, and is playing at a style befitting of a Kelly led-team–fast and furious.
And it's starting to pay off in a big way.
After sub-par performances by the third-and-fourth stringers to start the season, Aliotti told us all not to panic. He said things were going to pan out, and that he was confident with where his players were at.
It must have been coach speak, right? But after the shutout versus Arizona, it looks like he knew what he was talking about. Despite the praise being heaped upon him, Aliotti, as always, was quick to deflect the praise.
"I want those kids to get a lot of love, and my assistant coaches, if you write an article, to mention their names," Aliotti said. "(Coaches Jerry) Azzinaro, (John) Neal, (Don) Pellum… they did a great job of preparing their kids. So let's share some love with the rest of those guys."
Make no mistake, that was not the best offense Rich Rodriguez has ever had. But it's still potent, ranked in the top-10 in the country coming into last Saturday, and with the way the Oregon offense turned the ball over and put the defense in bad spots, to pitch the shutout is very special.
Another challenge awaits this week. Nick and his boys are definitely looking forward to it.
MARIOTA'S FIRST (KIND OF) ROAD GAME
After four games in the comfy confines of Autzen stadium, freshman quarterback Marcus Mariota will finally step out and take his talents on the road to face a hostile crowd, ready to tear him apart.    
Maybe. Almost. Well, not really…
When Oregon and Washington State kick off tonight in Seattle, it's very conceivable that the Ducks could have more fans in the stands than the Cougs.
After a rough 2-2 start, including a loss to Colorado, fans in Pullman have discovered that the power of Leach might take a couple of years to take off.
Playing in a half-empty stadium, with wide sidelines and a mixed crowd isn't exactly the most daunting of challenges for Mariota; but it's a good start for getting him out of his comfort zone and dipping a toe into the deep end.
The more experience the young Ducks can get at this point in the season will pay great dividends later in the year when teams like USC and Stanford won't be as forgiving as Arizona was when mistakes are made.
THE PIRATE VS. THE VISOR
After facing off against Rich Rodriguez last week, Chip Kelly will get his first crack facing another offensive innovator when Mike Leach and his Cougars take on the Ducks tonight. Leach, best known for his decade long tenure at Texas Tech, could not be more opposite of Kelly, in almost every way. Well, except two.
They both put up points; a lot of points. And they win…a lot.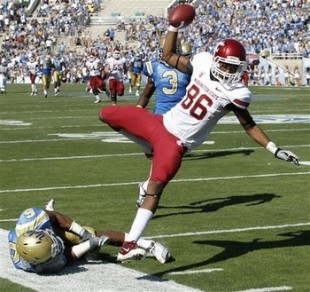 Leach, exuberant and outgoing, will literally throw the ball all over the field. His passing attacks, which led the country six times while at Tech, will test the young Oregon secondary, who assuredly have not seen anything like what they will face tonight.
Kelly, whose teams rely more on the run, have shown glimpses this season of becoming formidable through the air. Mariota, who two weeks ago became the first freshman in Oregon history since 1991 (Danny O'Neil) to pass for 300 yards in a game, is averaging 28 pass attempts per game. Leach, with his two headed quarterback attack of Jeff Tuel and Connor Halliday, is averaging 46.
It's strength-versus-strength when WSU's passing attack meets up with Oregon's secondary. That matchup will be the determining factor in how this one plays out.
WHEN OREGON HAS THE BALL
An offense built on tempo and fluidity, Oregon has appeared shaky at times this season, often killing drives with penalties and turnovers. Not all is bad, however. The team is still averaging 52 points per game, and over 500 yards…all the while being led by a freshman quarterback, who seemingly never makes the same mistake twice.
The key for Oregon against Washington State–who are terrible in every facet on defense–is to simply hang onto the ball. The Ducks have appeared unstoppable when they don't harm themselves, and tonight should provide the same challenge. The Cougars are ranked 105th nationally in total defense, giving up over 470 yards per game.
Kenjon Barner, kept in check for most of the season, was held to 86 yards last week against Arizona's 3-3-5 stack defense, which seemed to confuse the Oregon linemen. Against Washington State, under first year defensive coordinator Mike Breske, look for the Ducks to get Barner and freshman Byron Marshall on track early. Keeping Mariota out of  trouble will be key, especially with the Cougs ability to sling the ball around once they get it back on offense.
If Oregon can get the ground game going, they seem to have two freshman receivers who are ready to step up in Bralon Addison and Dwayne Stanford, the leading receivers against Arizona. Addison, the jitterbug, and Stanford, the 6'5″ Lavasier Tuinei clone, could finally give Oregon the consistency at receiver that they have been lacking since Jeff Maehl and DJ Davis left Eugene.
Washington State is led defensively by Deone Bucannon and Travis Long, who lead the team with 59 tackles between them. Long, the senior linebacker, already has 5.5 sacks on the season, and will be the man charged with keeping Mariota in the pocket.
WHEN WASHINGTON STATE HAS THE BALL
Expect sophomore Connor Halliday to get the start at quarterback, where he is averaging a staggering 390 yards per game through the air. Receiver Marquess Wilson, considered a top-10 NFL talent entering the season, has been relatively quiet as defenses have keyed in on him. That, however, has allowed freshman Gabe Marks to step up, and he has had three games of over 75 yards.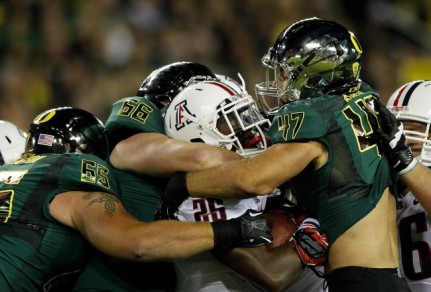 Chip Kelly knows, despite the slow start for Washington State, the dangers that a Mike Leach led team possess.
"They're dangerous because he's going to throw it 60, 70, 80 times against you, so he's always winging it down the field." Said Oregon Ducks head coach Chip Kelly on Tuesday, fresh off his team's 49-0 victory over Arizona. "I think because their mentality is to pass first, pass second, pass third, they're always going to be in the ballgame."
Oregon's secondary, so maligned much of the past decade, has been simply lock-down so far this season. After four games, the Ducks are allowing just 18 points per game, despite giving up 31 points in a meaningless second half against Arkansas State.
The Ducks have done all this despite not getting consistent pressure on opposing quarterbacks, only totaling nine sacks through the first four weeks. That means the secondary has been shutting its opponents down despite having more time to defend–a true testament to just how good this squad is.
Facing the passing attack of the Cougars will be a new challenge for the Ducks, as this is the first time they have ever faced a Mike Leach team. With only four games of film to go off of, a few surprises could be in order. The talent gap between the two teams, however, is simply too great. The Cougars, for all the yards they can put up, don't have the man power to keep the Ducks defense down for long.
FINAL SCORE PREDICTION
While initially a scary matchup, Washington State's struggles through four weeks should ease fan's minds entering tonight's game. The Cougars will get their yards, and probably get their points in the end. Oregon's offense, however, should have no trouble walking all over the Cougar defense, which can't stop the run or the pass.
This one will look scary for a while–perhaps even through three quarters–but in the end Oregon is simply too good for Mike Leach and co. to keep up. A fun game, a fun atmosphere and a fun Duck victory.
Oregon-55
Washington State-28

CAN YOU HELP US?
The pictures you see of the Ducks on FishDuck.com come from professional photographers that must be paid! Please donate through one click so we have pictures from all the games this fall to use through the year. All previous donations helped to pay our big Web Developing bills recently, and I do appreciate it.
Our staff and the photographers who have thousands of dollars invested into their equipment to provide the high quality pictures do sincerely thank you.   Charles Fischer