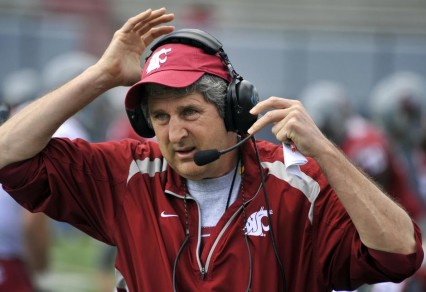 Say what you will about Washington State coach Mike Leach–the man can flat-out coach. After spending 10 seasons in Lubbock leading the Texas Tech Red Raiders, Leach finds himself leading the Cougars, looking to re-energize a program that sunk to new lows under first Bill Doba and then Paul Wulff after years of consistently being a thorn in everyone's side under Mike Price.
Despite a slow start to the season, which has seen them struggle to a 2-2 start, one thing will always be certain when facing a Mike Leach team…they're going to throw the ball, and they're going to throw it A LOT.
"They're dangerous because he's going to throw it 60, 70, 80 times against you, so he's always winging it down the field," said Oregon coach Chip Kelly on Tuesday, fresh off his team's 49-0 victory over Arizona. "I think because their mentality is to pass first, pass second, pass third, they're always going to be in the ballgame."
While WSU may be light years behind Oregon in the athlete department–case in point would be their inexplicable collapse last week against Colorado–with Leach under the headset entertainment is never far behind.
Mike Leach coached teams that led the nation in passing six of his ten years at Texas Tech, and led the country in total yards per game three times a well. And don't fool yourself because he was in the state of Texas, Lubbock is no easy place to recruit. Not much surrounds it, and Texas Tech competes with bigger cities, schools and budgets.
Sounds a lot like Washington State, doesn't it?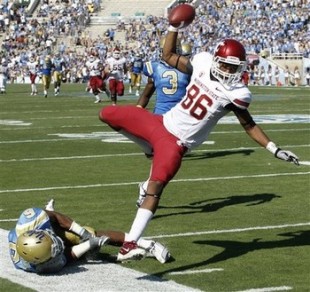 Don't worry Duck fans, as far as Saturday goes, because WSU is still a  football team deep in the rebuilding process. Blessed with what could be  a top-10 NFL talent in receiver Marquess Wilson, the Cougs managed to blow it last week against perhaps the worst team in America, the Colorado Buffaloes.
At home.
So, while partaking in the viewing Saturday night (or in person, as the game is in beautiful CenturyLink Field in Seattle) just enjoy the show. Oh sure, it's college football and anything can happen; strange things happen all the time, and no victory is ever certain. But this Oregon team, especially on defense, is rolling. Offensively, this will be the week for them to get back on track, as the Cougars are allowing almost 30 points per game and can't stop anybody.
Oregon Ducks safety Brian Jackson is excited for the challenge that the "Air-Raid" attack will bring, along with playing in an NFL stadium. "It's cool to go on road games and it's cool that our first one is at such a cool venue. Not many college players get to experience that. So we all get to go over there and play in a nice place. And we have to be prepared to play a team with no conscience. They are ready to throw the ball at all times."
While Oregon knows that WSU will throw the ball, exactly how they're going to do it…well, that's a different question. With only four games of film to work from, scouting the Cougs is a bit of a challenge.
"There's no comparison to what went on the last couple years under (Paul) Wulff," said Kelly. "They run a lot of different looks on both sides of the ball. We've got their first four games to go off of, and that's it."
Chip Kelly knows nothing in football is guaranteed. So while he and his coaching staff hammer home the point of Win The Day to the players, as fans there's nothing we can do, except just enjoy the show these two teams will put on.
The Cougars are going to line up 4-wide and 5-wide all night. They're going to sling the ball around all over the field. Hopefully, the TV crew will get plenty of shots of Mike Leach on the sideline, as his facial expressions and overall charisma are priceless.
When the four new coaches were brought into the Pac-12, no one raised more eyebrows than Leach. Not because he was hired, but because they were able to hire him. Mike Leach was let go from Texas Tech because of charges of "inappropriate" discipline to a player. (Leach disputes the events that led to his firing), and many agree that it was unfair, a political ploy by a very public father upset that his son wasn't getting more playing time.
It seemed as if the college football world had forgotten about Leach after spending a year off to write his book Swing Your Sword: Leading the Charge in Football and Life, when Bill Moos made his stunning hire. A very down WSU program was suddenly reinvigorated by the hiring of a coach who was very successful with a school in Texas Tech, a program that has much the same challenges that the Cougars have. It was a brilliant stroke of luck.
If you're a fan of Washington State, you don't ask questions. You simply hand him his check, and let him do his thing, because Mike Leach will win as a Cougar. He will be entertaining and fun while doing it, too.
Given time, and with his own players, Leach could add another dimension to an already dangerous looking Pac-12–just look at what his competitors are doing. Along with Leach, Todd Graham, Jim Mora, and Rich Rodriguez were also brought in as new coaches, that's a third of the conference with new regimes. Two of them, Mora and Rodriguez, have seen their teams crack the top-25 just weeks into the season. Graham, inheriting possibly the most undisciplined team in the PAC-12 at Arizona State, has them playing sound, exciting football.
Leach has a much bigger project with Washington State. The Cougs, with just seven wins in their last three years, did not even look like a FBS school under Wulff. The fact that Leach, with just a few months to implement his system, has two wins already should be viewed as a minor miracle. Wazzu will win a lot of games under Leach. They will sneak up and bite teams, and have a lot fun doing it.
Let's just hope it's not this week.

CAN YOU HELP US?
The pictures you see of the Ducks on FishDuck.com come from professional photographers that must be paid! Please donate through one click so we have pictures from all the games this fall to use through the year. All previous donations helped to pay our big Web Developing bills recently, and I do appreciate it.
Our staff and the photographers who have thousands of dollars invested into their equipment to provide the high quality pictures do sincerely thank you.   Charles Fischer