It's impossible for a football strategist to not be happy this weekend, as Chip Kelly and Mike Leach will finally be squaring off in a spread-offense showcase. The Ducks haven't had much success at CenturyLink field (or any of its incarnations) recently, but will look to turn things around when they face an unraveling Washington State football team.
When the season started, few would have said Mike Leach would have trouble getting things off the ground in Pullman, considering their returning talent on offense, but the Cougars have yet to play a complete game on both sides of the ball, and are still experiencing plenty of growing pains under Leach. The bad news for Oregon is that the Cougars are starting to show signs of life on offense, and Mike Leach is notorious for finding a way to knock off elite teams with little to no explanation of how or why it happened.
We've talked about Leach's innovative scheme plenty of times here before, have covered some of his favorite concepts, and have even done some video analysis. The mecca for all air-raid information is of course, still at SmartFootball.
The Cougar offense finally showed a bit of progress last week against Colorado. Too bad it wasn't very timely, or the Cougars could have a very different outlook on the season right now (instead of sitting at 2-2, and staring at eight more difficult matchups). In their season opener in Provo, BYU went against traditional air-raid defensive tactics, and dropped eight defenders while only rushing three linemen. Not only did now backup QB Jeff Tuel look confused throwing the ball downfield, the offensive line struggled to create a consistent pocket with a five-to-three advantage over the defense. Oregon's defense will probably avoid that tactic, even if the reason is as simple as, "not being fun for the defense."
Timing is key in any offense, but it is put under a microscope in the Air-Raid, and the Cougars had struggled with it to some extent in the early season. One of their key concepts is a modified "hot route" called a "six-route," which is almost totally based on timing.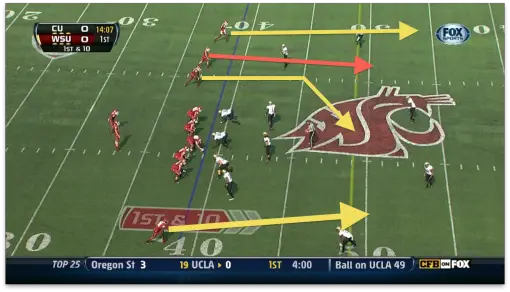 As you can see above, the Cougars are running a vertical concept, with their inside receiver to the trips side being designated with the "six route." Regardless of where the route takes the receiver, pin point accuracy and timing are needed to have this deadly play work.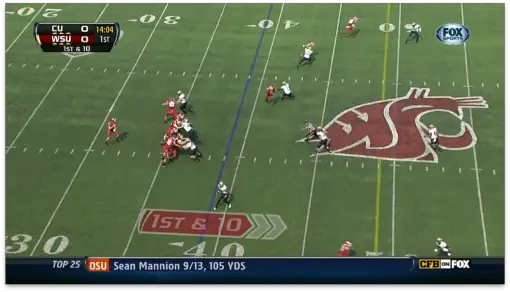 As the play develops, the opening in the defensive coverage opens up for the inside receiver. Halliday is already locked in on his "hot" receiver.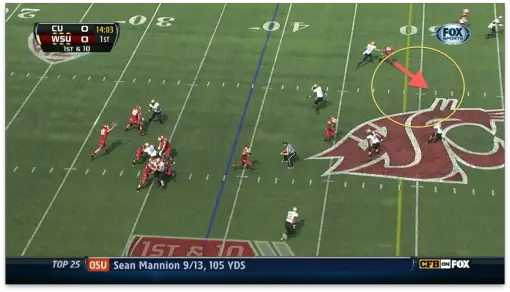 Halliday releases the ball perfectly in sync with his breaking receiver, who moves to the open spot on the field. Unfortunately for Halliday, a three man rush will be hard to come by against the Ducks this weekend. As one would expect, Mike Leach loves his screen passes, and he'll be calling plenty of them this week to ease the pressure on his QB.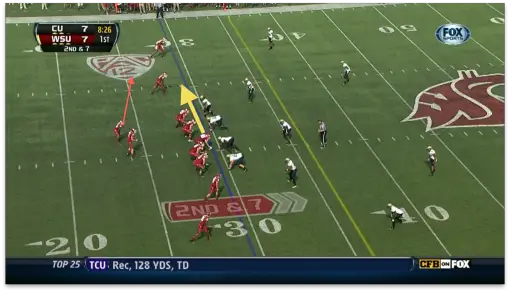 The play above is called a slip-screen. The slip-screen is an incredibly effective blitz deterrent, as the defense commits in to the quarterback, while the running back and offensive line slip to the exterior to set up big plays with advantages downfield.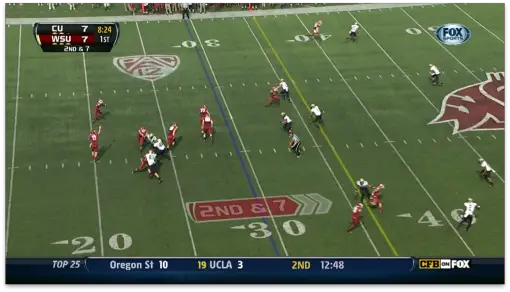 As the rush approaches, the WSU linemen set up their blocks behind the line of scrimmage. A headcount indicates a heavy advantage for the Cougars.
The running back catches the ball, the linemen block downfield, and the play results in a big gain for the Cougars. Oregon's linebackers and defensive backs will need to be playing smart and fast if they want to keep the Cougar offense from gaining more momentum this week. Expect loads of confusing coverage packages, blitzing schemes, and all-together aggressive play from the Ducks on Saturday.
If Mike Leach still has magic in his sword, he'll need to conjure up all of it for this one. If Oregon were to lose this game, it would be because of repetitious mental breakdowns on both sides of the ball; in other words, even if WSU's offense is in full form, they'll have to put up 50+ to keep up with the Ducks.


CAN YOU HELP US?
The pictures you see of the Ducks on FishDuck.com come from professional photographers that must be paid! Please donate through one click so we have pictures from all the games this fall to use through the year. All previous donations helped to pay our big Web Developing bills recently, and I do appreciate it.
Our staff and the photographers who have thousands of dollars invested into their equipment to provide the high quality pictures do sincerely thank you.   Charles Fischer