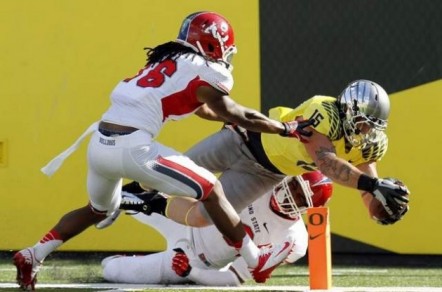 After three straight conference championships and a Rose Bowl win, its safe to say that the Ducks have reached new heights in terms of expectations…and that was never more evident than Saturday night.
100 years of ups and downs yet never perennially considered premiere, those years of struggle have led to championship aspirations for the Ducks, who in the last 15 years have established themselves as a major player in the ever-changing world of college football.
After disposing of Fresno State 42-25 in front of the 84th consecutive sellout at Autzen Stadium, the prevailing feeling was that Oregon was off: the offense, an erratic mess in the second half, was held to just 25 yards in the third quarter, and just seven points for the half. After putting up 35 points in the first half behind the running of DeAnthony Thomas and Kenjon Barner, the Ducks, for the second consecutive week, went flat and lifeless after halftime.
"We never talk about being a great second half team," Said Chip Kelly, who improved to 36-6 as Oregon's head coach, "I think when you turn it on and off, that's what we need to work on as a group. And I think that's what this team needs to keep learning. It's 'Hey we got a lead, now we can quit working'."
Not helping matters was the number of injuries Oregon encountered throughout the game, an ominous trend from opening week that continued. Josh Huff suffered another apparent knee injury. The offensive line, breaking in three new starters, lost Jake Fisher, Ryan Clanton and Carson York through various points in the game (at this point, the severity of their injuries is unknown).
This is added to Jared Ebert's potentially serious knee injury vs. Arkansas State, and senior standout John Boyett who conspicuously did not dress for the Fresno State game–it was rumored after the game that he may require season-ending surgery, though this has not been confirmed.
Kelly, as always, was not using excuses. "When you get your opportunity to play, you've got to capitalize on them. We don't look at it and say 'Hey, you didn't start the game so it's ok to miss a protection'."
Oregon's offense, which for the better part of Kelly's tenure has been reliant on pace and keeping turnovers to a minimum, but on Saturday both of those factors were kept out of their favor. Two second-half fumbles by freshman quarterback Marcus Mariota, and another by true freshman Bralon Addison, kept Oregon's defense on the field.
Mariota, after a brilliant debut last week, played adequately, but felt his first growing pains as the man in charge of the offense. "We struggled a little bit, but I think that's good," he said. "I think we needed it as an offense, to kind of overcome it. To get things going after we struggled was good for us. It's going to help us down the road."
Mariota, who finished 19-27 for 166 yards and a touchdown, benefited from the ever-steady duo of Barner and Thomas, who combined for 303 yards rushing and five touchdowns. Barner carried the ball nine times on the Ducks final scoring drive before punching it in from 16 yards out. "Kenjon really took over," Mariota said.
Despite the ineffective performance of Oregon's offense in the second half, the fact that it came so early in the season, and in a win, bodes well for the Ducks as the season progresses.
Oregon's first true road game won't come until the calendar says October. Another assumed blowout next week with Tennessee Tech should provide more opportunities for growth, and more reps for Mariota and the offensive line, which seemed to be out-of-sync for the better half of Saturday.
Assuming none of the injuries are serious, and Oregon remains relatively healthy, it has become apparent in the first two weeks that talent-for-talent, Oregon is at the top of the class. Speed lurks at every position, and with De'Anthony Thomas quickly establishing himself as a weapon of mass destruction, Oregon is simply too good to be challenged in their early schedule. Once this team gets its momentum and learns to play together, the sky truly is the limit for what they can accomplish.
Every championship team must grow from tough times. If Saturday was to be considered tough (it certainly was to watch, at some points) then things appear to be in good shape. There is, of course, a silver lining to every struggle.
"Our defense did some real good work for us, especially with a short field," Kelly said. "Those are positives you can take out of the second half." See? Not all is bad in Duck land, where a 42-25 victory is no longer cause for celebration, but a time to reflect on what went wrong.
This is where it's come. A freshman quarterback who completed 70% of his passes is saying it's good they struggled. Two running backs combined for over 300 yards and the team was never truly challenged, yet fans left their tailgates feeling a little uneasy about where their team stands. Oh, by the way, where they stand is #4 in the country, with no end to the run in sight.
Crazy world, college football.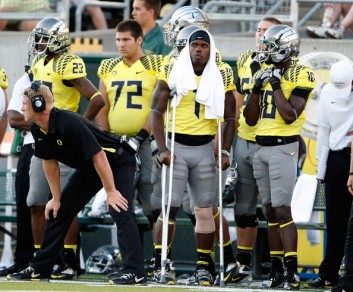 CAN YOU HELP US?
The pictures you see of the Ducks on FishDuck.com come from professional photographers that must be paid! Please donate through one click so we have pictures from all the games this fall to use through the year. All previous donations helped to pay our big Web Developing bills recently, and I do appreciate it.
Our staff and the photographers who have thousands of dollars invested into their equipment to provide the high quality pictures do sincerely thank you.   Charles Fischer