1964 brought one of the most significant changes to the layout of college football in the history of the game. That year, the NCAA erased the rule requiring its athletes to play on both sides of the ball, marking a return to the so-called 'two-platoon system.'
This rule change was quite significant, because it allowed players to specialize and focus on the development of higher skill levels in fewer areas of the game.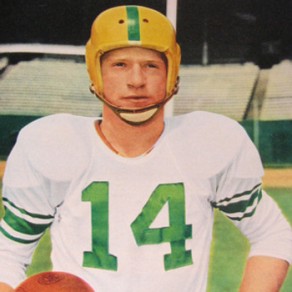 Prior to 1964, the nation's best athletes played a variety of positions. George Shaw, for example, was an all-American quarterback for the Ducks from 1951-1954 who also set the school record for career interceptions as a defensive back. Dave Wilcox, an NFL Hall of Famer, was a monster on the defensive line for Oregon in the early 1960s, and he also thrived as an interior offensive lineman.
The word 'versatility' has lost a lot of its meaning since the days of Shaw and Wilcox. Player and position labels have become more specific; third down backs, deep threat receivers, pass-rushing specialists, and nickel backs are just a few examples.
However, in a development that can be loosely associated with the arrival of Chip Kelly in 2007, the Ducks have reconsidered the potential value of the country's most all-around talented football players.
Since the dawn of the Chip Kelly era, Oregon has gained national attention for their explosive offense and athletic defense. This is largely because the Ducks are recruiting a steady flow of multi-talented players who have the ability to shift around the field and play a number of positions at a high level.
While Kelly may not be asking his players to flourish on both sides of the ball like the pre-1964 iron men did, he has been taking steps towards that strategy by shifting his best athletes around to multiple positions in small doses.
It is truly eye-opening to look back at the last five or six years of Oregon football, and see just how many of the team's most talented and celebrated players were either recruited at a different position than they ended up playing, or played numerous positions throughout their careers in Eugene.
This pattern can be seen as early as 2006 (a year before Kelly's arrival) when the Ducks converted freshman tight end Ed Dickson into a defensive end to help out an injury-depleted defensive line. Dickson was so naturally athletic and versatile that he switched back to tight end after nine successful games on defense, and proceeded to become Oregon's all-time leading receiver among tight ends.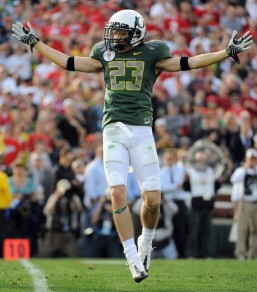 In 2007, the Ducks transformed Jeff Maehl, a tall, speedy, 3-star safety, into a wide receiver, where he was able to crack the starting lineup for the last three games of that season. Maehl ended his career as one of Oregon's all-time leading receivers with 2,311 yards and 24 touchdowns. He also tallied 32 career tackles while regularly serving on kickoff and punt coverage.
Recruited as a wide receiver, Dion Jordan switched over to the defensive side of the ball after proving his pursuit and tackling abilities on special teams in the spring of 2010. Unlike Dickson, Jordan remained on the defensive side of the ball, where he has gained a reputation as one of the nation's best at his position. Even more impressive, Jordan regularly switches between defensive end and outside linebacker, often having to cover speedy slot receivers, showing his balanced skill set.
Oregon's current offensive backfield may provide the best evidence of this new brand of versatility. De'Anthony Thomas is arguably the most overall talented player in the NCAA. As a true freshman in 2011, the Black Mamba was the only player in the country to record at least 500 yards rushing, receiving, and returning kicks and punts.
Highly ranked as a defensive back coming out of high school, Thomas has lined up at a wide range of positions for the Ducks, including running back, slot receiver, split end, kick returner, and punt returner. He even joined fellow running back Kenjon Barner as a gunner on punt coverage in 2011.
Colt Lyerla has been equally impressive since arriving in Eugene in 2011. Like Thomas, Lyerla was expected to play on the defensive side of the ball at the collegiate level, earning his fifth star as a recruit by impressing scouts at outside linebacker in the U.S. All-American game.
Aside from catching nine touchdowns as a tight end since the beginning of the 2011 season, Lyerla has seen a good amount of time at running back, where he has showcased his extremely effective speed and power (seriously, how many tight end/running backs have you ever heard of?).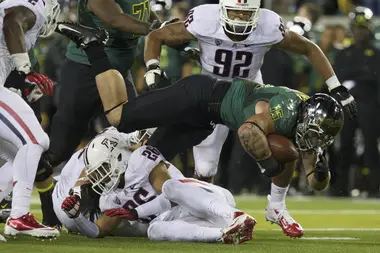 Looking at the contributions of these players, it certainly appears as though the Ducks have placed a revitalized emphasis on all-around talent, moving away from heavy specialization.
It is true that this development is not entirely unprecedented since 1964. There have been athletes that have successfully played multiple positions, such as Bobby Moore, who flourished as both a wide receiver and a running back the early 1970s. It is also important to point out that Oregon is not the only school moving their athletes around.
With that being said, the innovative and explosive Oregon teams of late have been utilizing and shifting players around in doses that cannot be ignored. The varieties and combinations of duties that players like Jordan, Thomas, and Lyerla have been performing are rare, impressive, and almost entirely unprecedented in this day and age.
Though the versatility of the one-platoon iron men like Shaw and Wilcox was certainly distinct, the Ducks are making great contributions to a new, equally impressive brand of versatility, by halting specialization and shifting their players around to the point that some have become impossible to label.
Kelly's athletes are shedding the focused and specific titles that have been implemented since the 60's, and are developing higher levels of skill in more areas of the game. Oregon's rediscovered appreciation and maximization of the nation's most versatile athletes is a big reason for why the Ducks have been flying so high under Kelly.

CAN YOU HELP US?
The pictures you see of the Ducks on FishDuck.com come from professional photographers that must be paid! Please donate through one click so we have pictures from all the games this fall to use through the year. All previous donations helped to pay our big Web Developing bills recently, and I do appreciate it.
Our staff and the photographers who have thousands of dollars invested into their equipment to provide the high quality pictures do sincerely thank you.   Charles Fischer