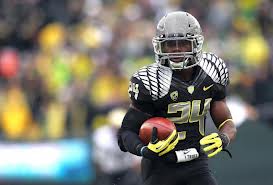 Propelled by 425 yards on the ground, No. 2 Oregon laid a rain-soaked hammer on hapless Colorado, 70-14, to move to 8-0.
Quarterbacks Marcus Mariota and Bryan Bennett combined for six touchdowns, while running back Kenjon Barner finished with two scores and 103 rushing yards on nine carries.
"They were pretty good today," said head coach Chip Kelly. "We had a good week of preparation and it showed up today on the field right from the start."
"Do-it-all" De'Anthony Thomas propelled himself back into the Heisman conversation with 176 all-purpose yards, 73 of them coming on an electrifying punt return touchdown that sits beside the likes of "The Pick."
"There's not a lot of a guys, as a coach, that you get a chance to just sit there and marvel at," said Kelly.
Oregon needed all of a minute and 47 seconds to score their first points, a one-yard touchdown run via Barner.
A mere eight seconds later, Colorado return man Tony Jones fumbled junior Alejandro Maldonado's kickoff, setting up a nine-yard Thomas touchdown scamper. Before most of the Duck Faithful had a chance to blink, let alone let their seats dry, Oregon extended the advantage to 14-0.
Coupled with a stout Duck secondary, Colorado, under quarterback Nick Hirschman, saw its opening series go by the wayside after the Buffaloes recorded the dubious honor of three penalties (holding and two personal fouls) on a single costly play.
On the ensuing possession, a 26-yard Thomas run set up Barner's 48-yard reception, advancing the ball to within striking distance. Mariota followed that up by strolling into the end zone for his third rushing touchdown of the season, making it 21-0 with 6:56 left in the opening quarter.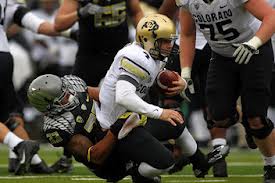 After defensive coordinator Nick Aliotti's Gang Green defense held Colorado on 3rd and 25, Mariota returned to his passing ways, propelling Oregon to a 28-0 lead when he found freshman Bralon Addison on a screen that turned into a 16-yard score.
Recording 65 yards on the ground in the opening quarter, Barner went back to work in the second, mirroring his jersey number with a 24-yard touchdown run, pushing the Duck lead to 35-0.
And then, the amazing returned to Autzen.
In one play, Thomas made the country forget Kansas State quarterback Collin Klein and West Virginia's Geno Smith.  Thomas fielded punter Darragh O'Neill's kick off a bounce, reversed course 10 yards before cutting up the field for a 73 yard run to pay dirt.
"That's not coaching, I can tell you that," said Kelly. "He can field as many punts as he wants if keeps doing that."
The 5'9, 173 lb. all-purpose back now has 14 total touchdowns in an Oregon uniform.
Freshman runner Byron Marshall converted a 3rd and three, allowing for Mariota's second aerial touchdown of the afternoon; a seven-yard strike to junior Daryle Hawkins.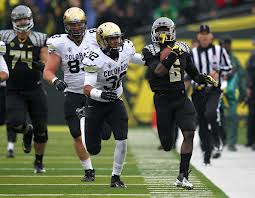 Now 49-0 Oregon with 2:56 left until halftime, the age-old saying "Start the bus…" had never held so much meaning for Colorado.
Right before the break, Bennett entered the game and quickly made his presence known. In relief of Mariota, the sophomore signal caller recorded runs of five and 31 yards, before slashing his way into the end zone, making it 56-0 to end the first half.
As in prior matchups, Kelly cleared his bench to start the third quarter. Colorado sustained a 13 play, 72-yard drive to garner its first points of the contest on a one-yard Christian Powell run.
Reserve tailback Ayele Forde's fumble on the Oregon 42 allowed Powell to get into the mix again. Colorado's lone offensive contributor, Powell had 20 of his 121 yards on a run that capped the second Buffalo scoring drive of the quarter.
However, Oregon was quick to answer over its next three possessions, slamming the door shut on a drizzle-filled afternoon. Bookended by a pair of Bennett rushing scores from three and 17 yards respectively, Derrick Malone Jr's fumble recovery in Colorado territory broke out the icing on a complete team victory.
70-14, final.
In all, the Ducks held the Buffaloes to 245 total yards and racked up 11 3rd down stops, propelling the offense to flourish with a resiliency that is becoming the stuff of legends. Oregon now looks to a long-awaited rivalry game with USC, a team reeling after losing 39-36 in a Pac-12 matchup with Arizona.
"I am very excited to go down there and play at their place, it's going to be fun," said Mariota.
Notes
– The announced crowd of 57,521 marked the 88th consecutive sellout at Autzen Stadium, dating back to 1999.
– Oregon's 56-0 halftime lead matched USC's final point total against Colorado earlier this season.
– Sophomore De'Anthony Thomas scored his first punt return touchdown of his career, and joined senior Kenjon Barner as the only Oregon players to ever record career touchdowns in the categories of rushing, receiving, punt and kickoff returns.
– The Ducks have 72 all-time appearances in the BCS Standings, first among Pac-12 schools.
– Oregon has scored 30+ points in 21 straight games while putting up 42 or more in the past 11, the longest such streak in college football.
– Oregon has recorded more wins (4) against FBS teams with winning records, more than Alabama or Kansas State.
– Senior LB Kiko Alonso did not play (wrist) and sophomore TE/RB Colt Lyerla dressed but did not play after suffering a knee injury against Arizona State.
– Defensive end Dion Jordan sustained what appeared to be a shoulder/arm injury in the second quarter but returned to the sideline during the second half. Offensive lineman Mana Greig, who started in place of Jake Fisher, went down with knee injury moments after the contest began. As it is well documented, Oregon does not comment on injuries.

Want to Watch Oregon Games on your computer?
If you do not get all the channels that have the Oregon Football games, or simply want to be able to watch the game over again as you don't have the space in the DVR to hold all the games?
Contact me by email: charles@fishduck.com and I can help.  We have fans across the nation and internationally watching the games 24/7/365 and I wish that for everyone.  Charles Fischer