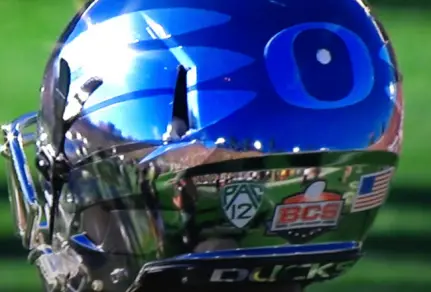 After a much needed bye week, Oregon springs back into action tonight in the desert, when they take on the Sun Devils of Arizona State. The Ducks, 6-0 on the season and ranked #3 in the first BCS rankings, face their biggest challenge of the season in the Sun Devils, who are 5-1 overall and riding high under new coach Todd Graham.
Graham, in his first year in Tempe after brief stints at Pittsburgh and Tulsa, knows the challenge that awaits his team.
"The key to the whole thing is stopping them, said Graham in his weekly press conference. "When they are rolling and making their first, first down every time you are going to manage a lot of snaps. That is were the challenge is, but there are ways of managing that when we have the ball."
This sets up as a classic offense versus defense battle, pitting the Ducks, number one in overall offense in the PAC-12, against the Sun Devils, number one in the conference on the defensive side.
In their last six quarters of play, Oregon's offense seems to be firing on all cylinders.  The offensive line, the biggest concern after four weeks, has started jelling at just the right time.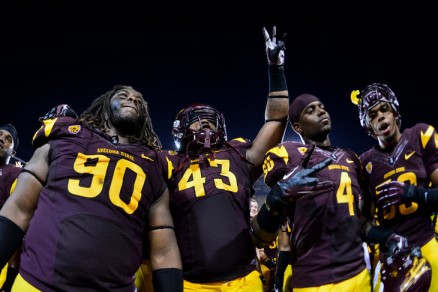 The Sun Devils' defense has been wreaking havoc on opponents all season, allowing just 14 points per game (albeit against some pretty weak competition).
The game will be won on the field, but here are three things to watch for outside of that.
BLACKOUT
In yet another attempt to rattle the Ducks, Arizona State has been touting their "Blackout The Ducks" campaign for weeks, trying to garner interest from a fickle fan base. With all due respect to the diehards who showed up in Seattle to root on the Washington State Cougars, the atmosphere in Sun Devil stadium tonight will be unlike anything the Ducks have faced this season.
The offense, routinely using seven or eight players that are either freshmen or sophomores, will surely face an onslaught from a stout defensive line, led by tackle Will Sutton. The pressure from the stands, however, could be a bigger nuisance for Oregon, who has not lost a true road game since Stanford in 2009.
If the Ducks get rattled, especially early, and the student section gets a sense of an upset brewing, it will be up to Marcus Mariota to remain calm and keep the offense under control. Chip Kelly, for one, thinks he can do it.
"Got a very good head on his shoulders. He's smart. Very cerebral. His mental makeup and his character, I think to us as a coaching staff, is probably more impressive than his athletic ability. And his athletic ability we thought was outstanding."
Hmm…calm and cool. Seems like every time coaches and players describe Mariota, those are the phrases that are thrown around.
Maybe he's the right man after all.
 LINE VS. LINE
Arizona State's biggest improvement, aside from cutting penalties down to virtually nothing, has been on the defensive side of the ball. The Devils are giving up a meager 272 yards per game, just 144 of them through the air.
Their young line has grown by leaps and bounds this season, as Graham's aggressive style has liberated Sutton, an undersized demon who has 8.5 sacks already. Graham's defense is known for it's aggressive blitz-style, which is designed to confuse the line by constantly disguising their coverages.
Oregon's offensive line, while not struggling statistically this season, seemed to be out of rhythm for the better part of four games. Penalties and a general lack of cohesiveness were bogging down the rhythm of the offense.
Then halftime against Wazzu hit, and the switch came on.
After dropping 52 against the Huskies two weeks ago, Oregon will look to gain control up front early, and take away the Devils best weapon, the blitz. It's line vs. line, winner take all.
PAGING MR. MAMBA…MR. MAMBA.
No, it's not because of Sports Illustrated. It's not because he's lost a step, or because defenses have figured him out.
But for whatever reason, since conference play opened up, DeAnthony Thomas has become close to a non-factor for the Ducks. Oregon seems to be utilizing him almost strictly as a running back, with lots of dive plays and reads between the tackles.
And we all know he doesn't belong there.
Chip Kelly has to find ways to get the Black Mamba the ball in space, where his rare speed and maneuvers can be utilized to it's potential.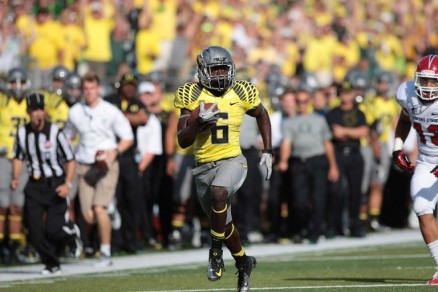 Have the Ducks been hiding him, preparing to unleash when it is needed most? Last season, you had to have a tracker on DeAnthony to locate him on the field. Split out wide, lined up in the backfield or in the slot, Thomas was everywhere, giving defensive coordinators fits.
With the level of competition about to take a major tick up, it's time for Thomas to be unleashed again.
WHEN OREGON HAS THE BALL
This week is quite simple for the Ducks: If they can control the defensive line of ASU, they will be fine. The Devils secondary, led by safety Alden Darby, has been solid due to the incredible pass rush provided to them. If the Ducks can give Mariota just a split second more time to operate, then he should find receivers open down field.
Look for freshman Bralon Addison, predictably inconsistent as an 18 year old, to have a breakout game. ASU's secondary is vulnerable to the big play, and no receiver outside of DAT can change a game the way Addison can. While the running game will be the main key to success tonight, if Oregon can hit a big play in the passing game, they will hopefully force ASU to be less aggressive.
If ASU cannot blitz uncontrollably and has to worry about the deep ball, then their line, which is undersized by most standards, will struggle to gain leverage against Oregon.
Crowd noise, as mentioned earlier, will be a problem early on, but let's not forget…this is still ASU, and these fans are not real dedicated. If Oregon can jump out early, it's more likely that the student section will find something better to do (it is Tempe, after all) and any advantage the "Blackout" gives will go with them.
WHEN ARIZONA STATE HAS THE BALL
Taylor Kelly, a sophomore leading the conference in passing efficiency, has been a pleasant surprise for the Sun Devils, who are averaging just over 40 points per game. Throwing for 291 yards per game, Kelly has the kind of arm that can cause Oregon problems, with quick throws that get his targets into space.
Arizona State's scheme is very similar to Oregon's: A dual-threat quarterback, with two running backs. Arizona State has struggled a bit on the ground, averaging less than 200 yards per game, but still has the potential to be dangerous.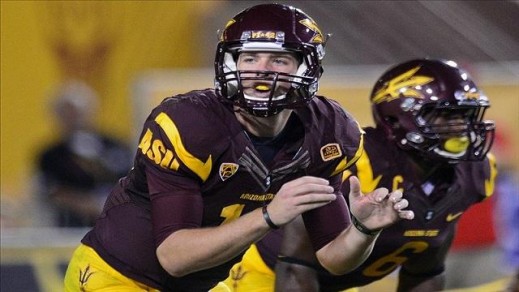 Cameron Marshall, older brother to Oregon freshman Byron, is as dangerous a back as Oregon will face all season, and is a good hole away from springing a big one.
The Ducks defense, arguably the strongest in school history, will be tested this week by their own shortcomings as much as by the Devils. Senior Isaac Remington will miss the game after being suspended this week due to a DUI, and senior Michael Clay, nursing a leg injury, is nowhere near 100%. The line, which rotates eight or nine guys, will need to see bigger contributions from freshman Arik Armstead, who steps into Remington's shoes.
If Oregon can keep Kelly from going nuts, their defensive line should be strong enough to control Marshall and the running game.
SCORE PREDICTION
By far the biggest test on the season for Oregon, tonight's ESPN showdown has all the makings of an upset: A loud fan base looking for a chance to celebrate, a fast young defense to match the Ducks offense, and the fact that it's a Thursday night affair on ESPN.
When it's all said and done, Oregon should escape the desert with it's perfect season intact…but it won't be easy.
OREGON: 42
ARIZONA STATE: 34

Want to Watch Oregon Games on your computer?
If you do not get all the channels that have the Oregon Football games, or simply want to be able to watch the game over again as you don't have the space in the DVR to hold all the games?
Contact me by email: charles@fishduck.com and I can help.  We have fans across the nation and internationally watching the games 24/7/365 and I wish that for everyone.  Charles Fischer