Can we just skip this, and fast forward to next week?
The big showdown with USC looms just seven days away, but unfortunately, the schedule must be played out. So, with a cold beer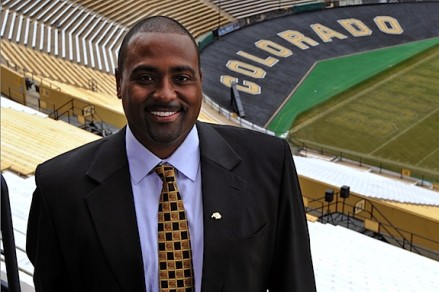 in hand and feet planted up on the couch, we welcome in the Colorado Buffaloes, another overmatched foe entering Autzen today.
Ok, maybe I'm being a bit cruel. Let face it, though: Colorado is a bad football team, and this one should get out of hand. Fast.
(I apologize if this preview gets mean. Colorado, however, may be the worst FBS school in the country, so it's hard to find anything nice to say. Boulder, home of the Buffs, is beautiful however.)
Earlier this week, I wrote an article about why Chip Kelly needs to be less kind, and light the scoreeboard up. I was unceremoniously lambasted for it. However, with Oregon's lead in the human polls slipping, today could be the perfect opportunity for the Ducks to allow the backups to run the offense, and keep a big lead intact.
Running the scoreboard it won't be, but allowing the second and third units to run our normal offense? Sounds like a good idea and a much more entertaining afternoon for the fans.
Loaded with freshmen and sophomores — coach Jon Embree said that only eight seniors see any significant snaps — the Buffs are a shell of the program that was consistently in the national spotlight.
No team is better prepared week in-and-week out than Oregon, looking at ever opponent like they're the '85 Chicago Bears. They will say the same things this week like they always do; Colorado will surely have their full attention. And if the Ducks take care of business early, play with intensity and focus, the starters will again enjoy the second half from the comforts of the bench.
With a noon kickoff scheduled, let's focus on three things the Ducks need to do today to move to 8-0 (5-0).
KEEP IT UNDER WRAPS
With Colorado being so young, and so inexperienced, Oregon — averaging over 317 yards a game on the ground — should have no problem simply running over the undersized Colorado defense. The Buffs are giving up an astounding 6.92 yards per play on the season, while Oregon is averaging 6.3. What does all that mean?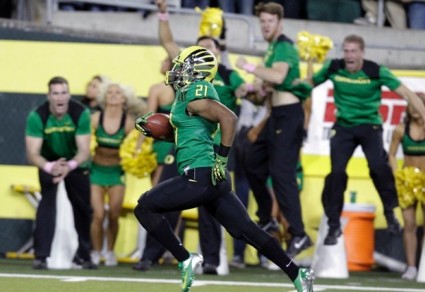 Don't give anything away, run the ball, and get through the game.
Oregon has played things pretty close to the vest this season, and for good reason (Colt Lyerla running back 2.0 aside). They have yet to face a defense that has forced them to try anything too unconventional, and that will be the case again today. With three top-20 teams left on the schedule — two in the top 10 — much bigger challenges await, and for Oregon to bust out any trick plays or formations today would be a waste.
(I don't need to tell Chip Kelly this, obviously, and there's a 99% chance they won't. Just a warning to fans…don't expect a lot of high-octane plays today that don't originate on the ground.)
BYRON MARSHALL COMING OUT PARTY
Oregon fans have been clamoring all season to see more playing time from the true freshman Marshall, who has looked impressive in his limited time on the field. After rushing for 302 yards in just 5 games — at 5.3 yards per carry — Byron got his most significant Pac-12 action last week at ASU, and looked every bit the heir apparent to Kenjon Barner.
Marshall, the biggest back on the roster at 5'10" and 201 pounds, has a wonderful blend of speed and size, and could give USC nightmares next week, offering something the Trojans haven't seen from the Ducks in years. Solid reps, preferably in the first half when the game could still be in doubt, will do wonders for this kid.
Byron actually has more rushing attempts on the season than DeAnthony Thomas (57 to 53), but a lot of those have come in the second half of blowouts. Let's get this uber-talented kid some real action, and see what he can do when the bright lights are still on.
BRYAN BENNETT, PASSING GURU
There's no way around it: Bryan Bennett has struggled in the passing game this season, completing just 50% of his passes for 137 yards and three interceptions. Is it a lack of rhythm? A lack of confidence, or both? Whatever the cause is, it needs to be rectified.
It's never a guarantee, but at some point this season, the Ducks may need to rely on him for more than mop-up duty; and if that's the case, they need a confident Bennett in there.
A lot of Bennett's attempts have been long throws down-field; not normal plays that the offense runs when the first stringers are in the game. Today, assuming that Bennett gets in the game and has a couple quarters to play, seeing him and the second unit run our normal offense could be the key to success down the road. Establishing Bryan's confidence is vital, whether it's through screen passes or some quick hits to the outside, seeing the ball hit the receivers hands is important for Bryan.
Colorado should offer up the perfect defense for that to happen.
                           WHEN OREGON HAS THE BALL
Run. The. Ball.
It's that simple, and it's not just a lazy way of explaining the situation.
Oregon runs the ball better than almost any team in the country, and Colorado…well, they don't stop anybody from doing it to them. With rain expected all afternoon at Autzen, keeping the ball out of Marcus Mariot's hands and on the ground would be the game plan anyway, but throw in the opponent being Colorado, and there is simply no other way to go about this.
Kenjon Barner, averaging 125 yards a game on the ground, is squarely in the Heisman race, despite rarely playing into the second half. Byron Marshall should also tote the ball at least 20 times, punishing the Buffaloes between the tackles.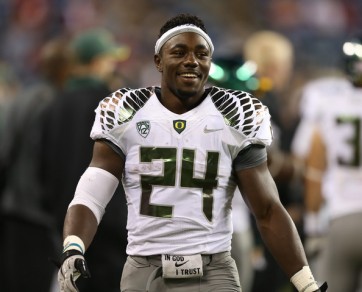 As much as Mariota has impressed and wowed us this season, today is simply not about him. Keep the ball out of his hands, and more importantly, keep him from running too much. Next week's game with USC is too important, too big. A healthy Mariota is the key to a championship game run.
   WHEN COLORADO HAS THE BALL
Junior quarterback Jordan Webb has been a battering ram for opposing defenses this season, having been sacked an astonishing 30 times.
Webb, completing just 55% of his passes, has been the victim of a porous offensive line, littered with underclassmen.
Nelson Spruce, a freshman receiver, has been a bright spot on the outside for Colorado, leading the team with 28 catches for 307 yards. His problem, like many on the Buffs offense, has been finding the end zone. Colorado is averaging a paltry 18.7 points per game, worst in the conference. Combine that with Oregon's defense, which gives up just 20 points per game (less than that if you're talking about the starters) and you can see where Colorado will lose this game.
Oregon is also allowing scores just 50% of the time that opponents reach the red zone, which Colorado does not figure to do a lot. The Ducks, giving up just 3.6 yards per rush attempt, will look to tee off on Webb, knowing the Buffs offensive line is in shambles.
Oregon will most likely be without Kiko Alonso, nursing a wrist injury. Derrick Malone, who started for Michael Clay against Washington, will slid in Kiko's place should he not play.
FINAL SCORE PREDICTION
It's sad to see what the Buffaloes have become. This is a program that should never be a doormat, with the recruiting advantages they could have. Jon Embree is a good coach, who will need a few years to get better players in Boulder. Unfortunately for him, he has to take the field today with a team simply lacking the talent to hang with Oregon. This one, ugly early, will likely be a mere speed bump for Oregon, set to visit USC in the biggest showdown of the season next week.
OREGON: 56
COLORADO: 17

Want to Watch Oregon Games on your computer?
If you do not get all the channels that have the Oregon Football games, or simply want to be able to watch the game over again as you don't have the space in the DVR to hold all the games?
Contact me by email: charles@fishduck.com and I can help.  We have fans across the nation and internationally watching the games 24/7/365 and I wish that for everyone.  Charles Fischer