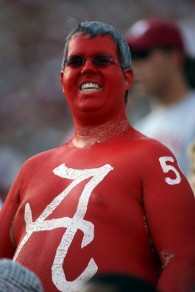 It's too early, I know.
There are five games left, I get it.
But after last night, my God…it's hard not to think "what if" when envisioning an Oregon vs. "whoever-survives-the-SEC" matchup.
This is not your father's Oregon Ducks. Hell, it's not your slightly older brother's Oregon Ducks. This is something different. This is something…special.
The final score may have read 43-21, but if you witnessed the opening 22 minutes of the Thursday night showdown at Arizona State, you witnessed Oregon's official elite debut moment to the world of college football.
Make no mistake, Oregon is ready to take on anyone, anywhere…and this time, they're prepared.
They stood toe-to-toe with Auburn in 2010 before falling victim in the final seconds. They were outclassed in 2011 by LSU after hanging for a half. Now, one can't help but feel that something different would be in the cards.
From an offense that seems to have a different gear, to a defense that is simply faster than anyone they face, Oregon is playing the best ball in the history of the program.
And now, they have the star power to do something about it.
Kirk Herbstreit, ESPN's official go-to for college football analysis, says Oregon is for real. Others at the MotherShip are following suit, and if you think for one second that their influence doesn't help, you are sadly mistaken.
While getting to the title game is still a few land mines away — trips to USC and Oregon State still await — if they get there, you have to like Oregon's chances against whoever they face.
Arizona State is not the ultimate measure of the Ducks' promise. In their first year under Todd Graham, the Sun Devils are markedly improved, but far from great. To do what Oregon did on the road, however, in front of a confident team hell-bent on an upset, was pretty remarkable. After falling down 7-0 in a flash, Oregon displayed the cool, calm demeanor that could pay off big-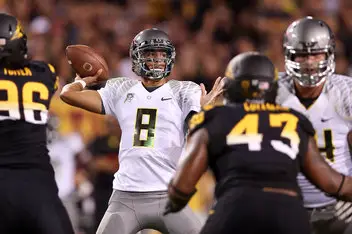 time against a powerful SEC team, if they were to collide in Miami come January.
Marcus Mariota, the seemingly unflappable, wise-beyond-his-years quarterback, is showing signs of being an All-American talent in the near future. He seems to have an "it" factor about him that Oregon hasn't had at that position since Joey Harrington manned the ship.
Mariota gives his teammates and fans the confidence that everything will turn out fine, no matter the situation.
Oregon has not trailed for more than two minutes in a game this season, and their seven point deficit last night–which lasted two plays– was the most they have trailed by all season.
What that says is that not only is Oregon absurdly talented, but they also have yet to face truly dire straits. That figures to change with three tough road games remaining, but seeing this team fold under pressure doesn't seem likely.
The talk after Thursday night focused on what Mariota and running back Kenjon Barner did, but the big difference between this Oregon team and the championship runner-up team of 2010 is their defense.
Oh my, that defense.
When it matters — and unfortunately, there is no official stat for this — Oregon's defense has been dominant. The line, criticized in years past for being too small, is playing at a level never seen before in school history. The linebackers and secondary have morphed into turnover forcing machines, and the red-zone stops have been piling up.
Do you notice, 500 some-odd words into this, and a certain "Black Mamba" has not even been mentioned. That's a good thing, by the way…
With teams so focused on stopping DeAnthony Thomas, a whole new world of opportunities has opened up for other playmakers and the Ducks are reaping the rewards. Guys like Bralon Addison, Dwayne Stanford and Colt Lyerla have become big contributors as teams celebrate shutting down Thomas, only to find themselves down by 40 in the first half.
SEC fans will yell at anyone who can hear that Oregon is of no competition to anyone from the bible belt. They will point to the last two meetings between the conferences as proof that the Ducks can't hang.
But this is a different Oregon team. You can see it, I can see it, Herbstreit can see it.
If the Ducks finish the regular season unscathed, perhaps the south will finally see it too.

Want to Watch Oregon Games on your computer?
If you do not get all the channels that have the Oregon Football games, or simply want to be able to watch the game over again as you don't have the space in the DVR to hold all the games?
Contact me by email: charles@fishduck.com and I can help.  We have fans across the nation and internationally watching the games 24/7/365 and I wish that for everyone.  Charles Fischer