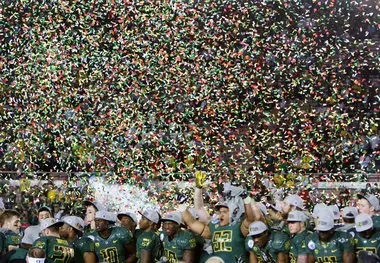 With all due respect to the wonderful analysts who make up the AP and coaches polls, as we sit five weeks into the season, one can't help but wonder about the current college football rankings. Alabama, at number one, gets a pass.
After the Tide, however, things get a little tricky.
But let's back up here just a tad.
Since Chip Kelly took over at Oregon in 2009, Oregon has been a staple in the top-15, and more recently in the top-10. Three straight conference championships, a berth in the BCS championship game, and a Rose Bowl victory over Wisconsin will do that, it looks pretty good on a resume. The question begs, is Oregon getting a pass on it's ranking due to their recent success?
As the Ducks faced off last Saturday against Washington State, and struggled for yet another portion of a game, certain things began to come into focus about this team. For starters, they have enormous potential, but littered with mistakes that befall mediocre teams. Second, when they are on, there is perhaps no more electrifying team in the country, highlighted by the games most dynamic player, De'Anthony Thomas.
While Oregon has yet to put together a full game this season, they still sit comfortably in the #2 slot just behind Alabama, and seemingly pulling ahead of #3, LSU. No one around here is complaining about the ranking, at least I hope not, but it's interesting to look back just a few years, when the Nike cleat was on the other foot.
Before Oregon began its magical run 3 1/2 years ago, they were a program that lived comfortably in the top-25 of the country, but nowhere near the upper echelon. Duck fans, bless them, always felt the team was given the short end of the stick from a ranking standpoint, as younger, less proven teams remained ahead of them in the polls.
It seemed, although it can never be proven, that Oregon's track record was holding them back. Under Mike Bellotti, Oregon consistently was in the 8-9-10 win bracket, rarely more, and sometimes less. They were the epitome of second tier, just behind the big boys, but well ahead of most of the country. Fast track to 2012, and it seems as if the Ducks and their fans are seeing first-hand the respect that success commands. Whether or not it's deserved for this years squad…that's still unclear.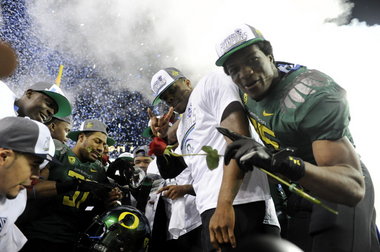 During many stretches last week, Oregon's offense had seven-to-eight underclassmen in the game when they had the ball. Seven key players, sent out to run one of the most prolific offenses in the country, were freshmen or sophomores. From quarterback to the line to receivers, every position was littered with young talent.
Young, and in most cases unproven. Sound familiar? Do the Ducks, who would be playing in Miami for the BCS title if the season ended today, deserve their ranking based on the first five games? Or is this simply a case of "what have you done for me lately?"
Behind Oregon, there are 16 undefeated teams in the AP top-25. Many of them, like Oregon a few years ago, are newcomers, trying to find their identity in this crazy world of big-time college football.
Whether or not the Ducks, who have looked both pedestrian and superhuman this season, deserves their ranking is up for debate. That's the beauty of the sport.
We may never know the logic behind where the voters decide to put teams, and that's ok. The sport has thrived for years with this system in place. In the arms race of college football, can't complain about a good ranking, deserved or not. Has Oregon looked like the second best team in the country, ahead of a Florida State or Georgia? Probably not. And until all the teams face bigger challenges, we won't truly know.
One thing is for sure, however. The view is a lot prettier from number two than it is from number 22.

CAN YOU HELP US?
The pictures you see of the Ducks on FishDuck.com come from professional photographers that must be paid! Please donate through one click so we have pictures from all the games this fall to use through the year. All previous donations helped to pay our big Web Developing bills recently, and I do appreciate it.
Our staff and the photographers who have thousands of dollars invested into their equipment to provide the high quality pictures do sincerely thank you.   Charles Fischer