We have learned a lot of the Xs and Os in the past year about the Chip Kelly Offense, but something that is essential about a team is it's philosophies and it's internal moral code.  Chip explained in a Coaching Clinic presentation that we have in the Directory under Offensive Tutorials: "When I took over at the University of Oregon, the first thing we had to find out was, 'what do we stand for?'  If you are going to stand for something, it is not what you say it is.  It is what people see in your actions." 
Coach Justin Wilcox of Washington is someone that, while I was dismayed he was with the Huskies, wished well for him as an Oregon Alumni and as a former player for the Ducks.  Imagine my surprise when I saw DeAnthony Thomas pop up from the pile after being tackled, and watching a Washington defender drive his palm up into DAT's face mask in a quick blow.  Thomas shook his head, looked at the Husky, and then went back to the Huddle.  I was stunned to see nothing happening with this player from the Washington sidelines.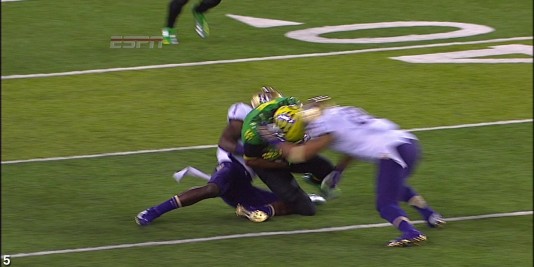 Later (above), we see a deliberate helmet blast to the head of our receiver that, while it brought a penalty, did not warrant a reaction from the Washington Defensive Coordinator.
This Washington defender (above) didn't just want to make the tackle and push him out of bounds; he wanted to PULL him and spin him into the other players on the sideline.  While it drew another penalty—what if an Oregon player on the sidelines suffered a knee injury from the rapid whip of bodies while simply observing the play?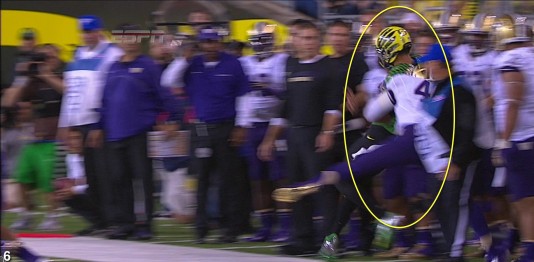 The play that concerned all Oregon fans is when the Washington linebacker (above) pushed our star QB Marcus Mariota out of bounds, and then hung onto to him and continued to pull him beyond the sideline boundary!
He had not let go of Marcus (above) and is still pulling and twisting him!
How many yards into the player area are they and he STILL has not let go of our Quarterback?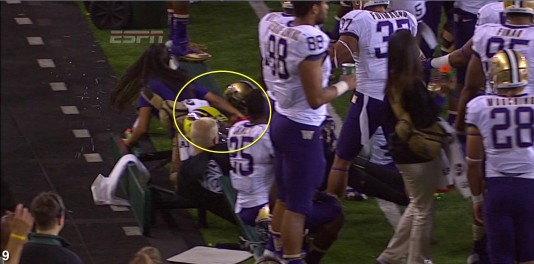 This screenshot (above) makes me angry.  The Washington defender pulled him all the way back until Mariota's helmet crashed against the bench; what if the collision had hit Marcus's head or neck the wrong way?  He could have suffered a serious injury!  Yet this Husky trotted back on the field…nothing said to him, and he was not pulled from the game.  Standard Operating Procedure for a Wilcox defense??
When one of our defensive linemen had a late hit on the Washington QB—I watched and winced as Coach Azz tore into the young man, and made sure that even I, up forty rows, knew that a play like that was not tolerated at University of Oregon.
I should not have been so naïve.  Friends had shown me the play above from when Justin coached at Boise State, and you can clearly see that our QB had just released the ball and the BSU defender was coming at him like a bullet.
This is a moment after impact from a direct helmet-to-helmet collision of which Masoli was laid out on the field.  It achieved its purpose in taking our QB out of the game with a concussion.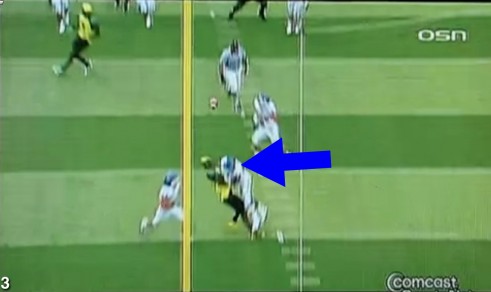 This screenshot above is from the same game where another Boise State player tried to literally take the head off of our star Tight End Ed Dickson, as the ball is being thrown away.  When you look at examples like this from two different Wilcox defenses—you cannot escape the obvious conclusion.  He has no compunction coaching his players to be headhunters, and while some may say he is part of Oregon football royalty?  Baloney.  When he's teaching these tactics he is just another DAMN HUSKY.
You can never beat the Huskies enough times or by enough points, but I would never condone tactics that could injure any opponent players, because that is where I and evidently the University of Oregon draws the line.  It is what we stand for.
Headhunting on the field and out of bounds; is THAT what you stand for Justin Wilcox?
Charles Fischer  (FishDuck)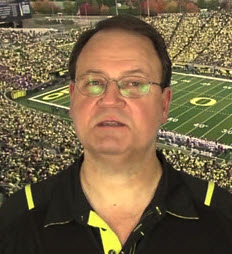 Charles Fischer has been an intense fan of the Ducks, a season ticket holder at Autzen Stadium for 34 years and has written reports on football boards for over 23 years. Known as "FishDuck" on those boards, he is acknowledged for providing intense detail in his scrimmage reports and in his Xs and Os play analyses. He and his wife Lois, have a daughter Christine, reside in Eugene Oregon, where he was a Financial Advisor for 36 years and now focuses full-time on Charitable Planned Giving Workshops for churches and non-profit organizations.
He does not profess to be a coach or analyst, but simply a "hack" that enjoys sharing what he has learned and invites others to correct or add to this body of Oregon Football! See More…
Articles EVERY DAY Again on FishDuck!
Our focus is now on this wonderful Oregon Sports Community, and we will have at least a short article every day to begin the Duck Discussion.
You are also welcome to post other current events or items about Our Beloved Ducks in the comments as well.
Our 32 rules can be summarized to this: 1) be polite and respectful, 2) keep it clean, and 3) no reference of any kind to politics. Easy-peasy!
Take note though, there are NO STRIKES, NO WARNINGS, and NO SLACK given. Violate the rules and you are gone, as this is what the 99% who post superb comments want. (The Ban could be for weeks, months or permanent)
FishDuck members….we got your back. No Trolls Allowed!