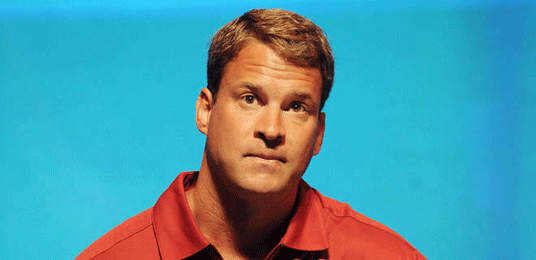 If someone walking the streets of Eugene today appears to be in a festive mood, it can only be for one of two reasons:
1)   It's Halloween, obviously.  But also, it could be…
2)   They are a Duck fan, celebrating today as the 3rd anniversary of Oregon seizing control of the Pac-12.
October 31st, 2009: #5 USC, the seven-time defending Pac-10 champions, come to Eugene as a three-point favorite facing the tenth-ranked Oregon Ducks with first place in the conference at stake.  A few hours later, Oregon would issue USC its worst loss in since 1997, with the Trojans giving up its most yards (613) in a game since 1946.   USC would finish their season with an appearance in the Emerald Bowl.  Oregon would go on to play in its first Rose Bowl in fifteen years, a result of finishing atop the Pac-10, a position in has not relinquished since.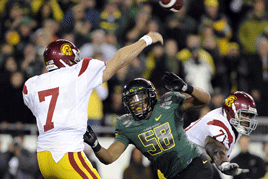 That Halloween game represented a changing of the guard in the conference; no longer would it be "USC and the Nine Dwarves".  The 2009 season was considered a disaster by those in Heritage Hall; not only were schools like Oregon and Stanford taking USC down on the field, but with punitive sanctions on the way, the NCAA was doing its part to take USC down off of it.
The Trojans were stripped of their only crystal football during its memorable seven-year run, and the best player of that era, Reggie Bush, would see his Heisman Trophy disappear.  The coach responsible for it all, Pete Carroll, would flee to the NFL.  The athletic director at the switch for the era of ill-compliance, Mike Garrett, was instructed to fall on his sword.  Pat Haden, a former Trojan footballer like Garrett, was brought in as the new AD, and promised to clean house and put USC on the right path.  But while USC was trying to exorcise the demons of its past, they let one old ghost in the door.
Lane Kiffin was not hired by USC based on his record.  Few people would be hired for a head coaching position, let alone at an elite program like USC, with a career record of 12-20 while in the driver's seat of their former teams.  Despite this record, hiring a former assistant who knows the program and whom they believe has the potential to succeed isn't a particularly strange hire for a school to make.
That is, unless that school has publicly expressed an interest in distancing itself from its stained past, in which case employing a coach who called plays for the central figure in the scandal that tarnished the school in the first place.  In that instance, some might call it a curious move.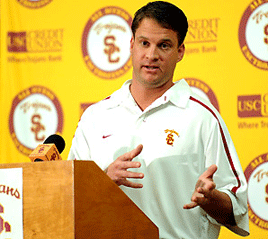 Typically, if such a hire is made, it is one who is glowingly praised by former employers, not someone who not only burned every bridge on the way out of town, but also dumped toxic sludge in the river as he crossed it.
So how does a coach that young, with that poor of a coaching record, with serious levels of acrimony at each of his previous head coaching stops, get one of the best jobs in the country?
Simple. Lane Kiffin is an evil spirit.
Sorcerer, conjurer, warlock, call him whatever you want, but he cast a spell on everyone – the administration that hired him and the media that covers him – to put him in the position he is today.  The only way the amount of controversy he generates could be allowed is either through blackmail or wizardry.
How else do you explain these behaviors being tolerated?
Voted his team #1 in the preseason coaches' poll, after publicly declaring he would not vote his team #1.
Revoked a scholarship granted to a walk-on, giving it to a convicted felon instead.  Kiffin's response when asked about it? "He was fortunate to have one for a year."
Banned walkthroughs for visiting teams under the guise of "protecting the Coliseum's turf".
Offered advice to new Penn State coach Bill O'Brien on how to handle sanctions and retain players, then demonstrated the necessity of that advice by poaching the Nittany Lions' best player, Silas Redd.
Banned a reporter from practice for reporting an injury that didn't occur during practice, then reversed course and unbanned him in a knee-jerk appeasement to avoid further criticism.
Avoided questions by walking out of a press conference days after a loss to Stanford, a game after which he publicly criticized his quarterback for his decision making.
Attempted to deceive Colorado, and violate NCAA rules in the process, by having players switch jerseys mid-game.
Seemed to convince everyone that Matt Barkley was going to be the best player in this year's draft instead of the second coming of Kevin Kolb.
Allegedly told Alshon Jeffrey, "that if he chose the Gamecocks, he would end up pumping gas for the rest of his life like all the other players from that state who had gone to South Carolina."  (Jeffrey is currently in the first year of four-year, $4.448 million contract with the Chicago Bears, at last check, the Bears are a professional football team and not a gas station.)
Managed to convince the media to rank his team #1 in the first poll following two seasons of punitive sanctions.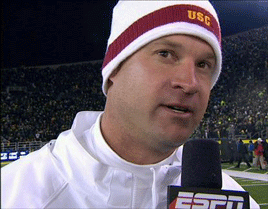 For USC, they believed they could have it both ways - they wanted a renovated program with classic results, and a new coach from the old days.  But these aren't the old days, even if Kiffin recently asserted that has more to do with USC than the influx of offensive masterminds and revenue that are revitalizing the conference.  When asked for a response on six Pac-12 teams being ranked in the Top 25 following week 5, Kiffin responded,
"I think that's a result of us just not nailing recruiting over the last five years – players getting away in this conference."
More succinctly, the successes of other Pac-12 teams are not the result of their own efforts, but rather the direct result of USC's failures.
Yet for all of his assertion of the dominance that USC appears entitled to, Kiffin's success has been non-existent.  His greatest success thus far in his tenure has been his ability to fill the conference-wide animosity void that had been vacant since Rick Neuheisel departed Washington.
Before the season, Saturday's game was supposed to be the Trojans' chance to reclaim the title, or as Matt Barkley called it, "unfinished business."  Instead, it will serve as little more than an illustration of the disparity between the two programs.  Even if disaster should strike again in the form of Oregon sleepwalking through most of this contest for a second year in a row, they will still be able to demonstrate their conference stranglehold with USC's return to Autzen Stadium on November 30th.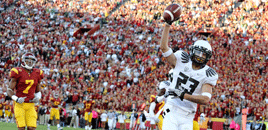 Last year's game was just a hiccup in what became nothing more than a virtual exhibition game.  For the first time since that Halloween night, the game matters. Oregon will wear the white hats, both literally and figuratively, as they walk into the Coliseum.  By game's end, the Trojans will understand their dominance is no longer alive, just a ghost of the conference's past.

Nathan Roholt is a senior writer and managing editor emeritus for FishDuck. Follow him on Twitter @nathanroholt. Send questions/feedback/hatemail to nroholtfd@gmail.com.
THREE FishDuck Promises to Readers…
We will be the cleanest Oregon site with no ads or videos starting up to annoy you.
We will be the easiest Oregon site for mobile (Cell phone and Pad) users, as we want it fast for you.
We will be the safest Oregon site for everyone, as we monitor comments and assure that everyone is polite to all. (And we do want all your opinions!)
Simple, clean, safe and fast!