When Washington beat Stanford, the national perception of the Huskies elevated rather quickly. Just two weeks removed from being kicked around by LSU, the Huskies had to face another top ten team in Stanford. Fortunately for Washington, Stanford is anything but a top ten team this year despite the high ranking.
So while Justin Wilcox has definitely changed the way that the previously abysmal Husky defense operates, they are far from a proven defensive unit, and will definitely be put in the limelight against Oregon's electric offense this Saturday.
The most noticeable changes Wilcox has made are in fundamentals and discipline, on all levels of the Husky defense. Against Stanford, defenses have to respect the Cardinal's powerful running game, making play-action even more effective. The Husky linebackers defended this play perfectly.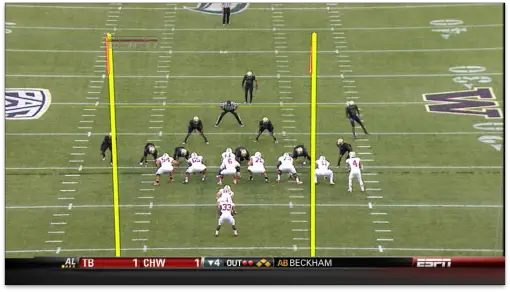 Seen above, the Huskies have nine defenders lurking to stop the run game, and by the defensive alignment, the Huskies are forcing the Cardinal to run strong side (No strong-side B-Gap defender, and a weak-side B-Gap occupied to tie up a would-be pulling guard).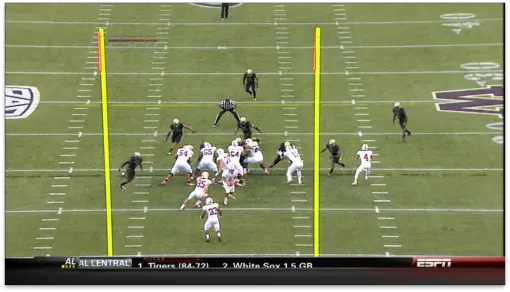 When the ball is snapped, the Stanford offensive line appears to be running a power play to the weak side, and the Washington linebackers flow to their right to meet the guard and ball-carrier in the hole. The backside linebacker, shown just inside the goal post, would typically be picked up by the fullback, but the Cardinal are actually running play-action.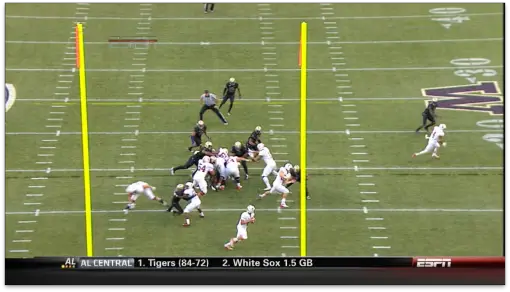 A moment after Stanford quarterback Josh Nunes pulls the ball to roll out, the Washington linebackers react nicely, and begin their pursuit on the quarterback. Also note that the secondary stays at home.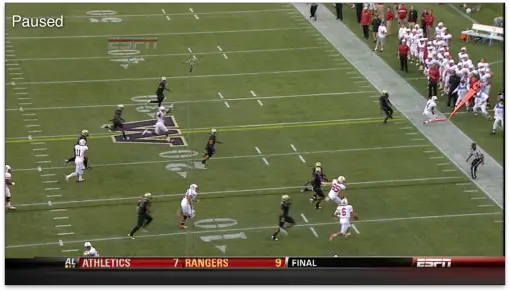 When Nunes ends up outside the pocket, there are seven Huskies involved in the play to Stanford's four. Nunes has nowhere to throw the ball, and takes a short loss out of bounds. The biggest difference in Oregon's play-action is that they can attract as much attention to the interior as Stanford does with less players in the box.  Wilcox defenses always play disciplined, and that reputation will be needed against the Ducks.
Looking back to Wilcox's game plan against Stanford, the Huskies did what any defense would do against an ineffective offense: slow down the running game, and force the passing game to produce. The Cardinal often found themselves in favorable second down situations, but were incredibly ineffective after that. Part of the reason is because Stanford just isn't that good, but a bunch of credit should be given to the Husky secondary. Washington boasts an athletic and physical secondary, and Shaq Thompson has made an immediate (and expected) impact in his freshman season. This will be a major test for the Oregon receivers and their performance could very well dictate the rhythm of Oregon's attack.
Expect a much improved defense, but ultimately still overmatched Husky team.