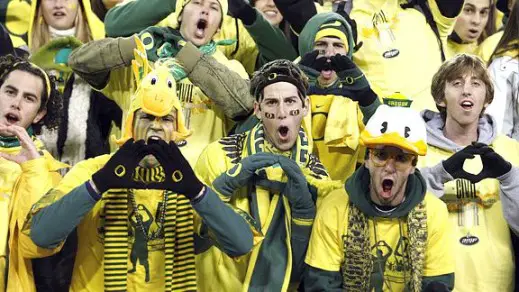 After the loss to Stanford last week, many fans felt as if Oregon's season was for naught. A special blend of blowouts seemed to have gone wrong and dominance turned to mush amidst the formidable Stanford defense.
Saturday turned all of those feelings around and made the season magical again.
Simply put, there is no better feeling in the world than beating your rivals, especially when they are as cocky and out-of-touch as Oregon State fans are. All week leading up to the 116th edition of the Civil War, OS fans talked of being the superior team; after all, Oregon had just lost an overtime thriller to the 14th ranked team in the county, while their beloved Beavers were coming off a dominating performance against a hapless Cal squad that had clearly given up.
They did it at home, a week after Oregon did the same thing to the same Bear team. That is, a week after they beat the Bears on the road.
Saturday's CW had all the makings of an epic upset. Little Brother, so confident in their bounce-back season, had Big Brother right where they wanted them: on the ropes, on the road, and on their toes.
What they got was a big, heaping dose of reality.
Oregon is still light years ahead of Oregon State and that's where they will be for the foreseeable future. OS, in a wonderful bounce back season after finishing 3-9 a year ago, currently lack the speed, athleticism, and execution to hang with the Ducks. As the points piled up in the 42-28 win, Oregon's superiority was displayed on many levels, none more evident than in the maturity category.
For every Oregon first down conversion, there was a cheap shot by Oregon State. For every big drive the Ducks went on, there was a turnover by the Beaver's young QB. For every touchdown by the winning squad there was a pack of fans leaving early, knowing the same movie was playing at the same theatre for the fifth straight year.
Oregon State will be good for a long time. Mike Riley is too good a coach to let his squad drift into oblivion. Oregon, however, is just that much better. No amount of Stanford slip-ups can change that fact.
So, for another year at least, Oregon fans can sit back and enjoy the triumph of their in-state rival.
For Beaver fans, the movie gets put to sequel – for now.

Joel Gunderson grew up in a small town, where the only thing he did for fun was worship the Oregon Ducks. He later moved to Eugene, where he studied journalism at the U of O. After working in radio, he married the woman of his dreams and settled down. Joel now spends his days studying Journalism and the fine world of grammar, all the while worshiping the ground that Charles "Chip" Kelly walks on! Follow him on twitter @gundy85
Please! No Politics…NOTHING Hinted, Implied, Linked…
My friends, I've had to delete six comments in the past six weeks that made some political reference, hint, link or implication from both sides of the political spectrum.
I delete all equally. Please see the rules page and read the rule below…
No. 12: No Politics and Religion: I do not allow even a hint of politics or subtopics pertaining to politics; no names, no terms, no links, not even a word or any references pertaining to anything political. Any of the aforementioned could initiate a political discussion, and veering in that direction at all will cause a site meltdown in today's acrimonious climate.
We do not allow anything negative directed at any religion, toward anyone in the LGBT community, or toward any race, gender or ethnic group. All of us in the categories above are fellow Ducks, and we want to hear all viewpoints.