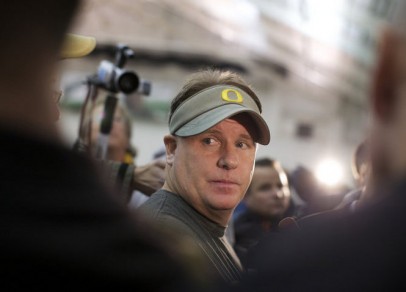 Coming off perhaps the most unbelievable win in the Chip Kelly era, Oregon sets it's sights on the Cal Bears tonight from Berkley, a house of horrors if ever their were one. Oregon — despite a narrow victory in 2010 — has struggled mightily in Strawberry Canyon, despite routinely fielding the better squad.
Ranked third in this weeks BCS poll, the Ducks look to continue their quest for perfection. After dropping 62 points against the Trojans last week, Oregon faces a Cal team ranked 64th in the country in defensive points, giving up over 27 per game. Cal — which has been particularly bad through the air, giving up 250 yards per game — has been decimated by injuries. They have hit hardest on offense, where star receiver Keenan Allen and quarterback Zach Maynard are out. The offensive line has also been in shambles, and are now expected to miss senior tackle Matt Summers-Gavin. This should be a welcome sight for Oregon's defensive line, which was gashed last week versus the Trojans and rarely got to Matt Barkley.
While Oregon's defense may have struggled to contain the Trojan attack, the offense was at its record-breaking best. Putting up 730 yards and 62 points — both records for a USC opponent — Oregon is playing at a level that has rarely been seen in college football. Avergaing over 54 points per game, the Ducks seem to be getting better with every game, no doubt due to the growing confidence of freshman quarterback Marcus Mariota. The Hawaiian, just 19 years of age, is quickly establishing himself as one of the top players in the country and his composure is almost unheard of for a player his age.
Throw in Kenjon Barner, and this is a pretty nice little unit. Oh, did I forget about Barner? For shame! The senior running back, finally free from LaMichael James' shadow, is squarely on the Heisman trail after his performance against the Trojans. All he did was rush for 320 yards and 5 touchdowns, in the biggest game of the season. No biggie.
With that being said, here's three things to watch tonight as Oregon looks to lock up it's eighth 10-win season in the last 42 years.
IT'S HEISMAN TIME
Well, that answers the questions. Kenjon Barner, a three-year backup behind arguably the best running back in program history, faced many as entered the season tasked with being "the man" for the first time in his career.
Can he handle the load? Will he wear down? Can he step up in the big game?
Yes, yes and yes. All it took was a once-in-a-lifetime game on a big stage for Barner to officially be in the Heisman discussion. With 1,295 yards on the season, he has shown that not only can he tote the ball in a big game, he can do it over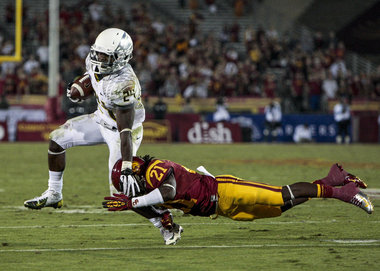 and over again. Against USC, Barner carried the ball 38 times, a career high. He was tough, physical and had zero turnovers.
While the Oregon offerense certainly aids in rushing stats, it takes a special talent to take advantage of it. Enter, Kenjon.
TIME FOR THE DEFENSE TO COME BACK
Mama said there'd be days like this.
Heading into last week, the big talk surrounding the Oregon program was home dominant the defense had been all season. Giving up less than 20 points per game, they were oozing confidence and seemed to have found their groove, just like the offense.
Then they ran into the USC buzz-saw and the nay-sayers came out of the wood work. Giving up 51 points, while never good, must be taken with a cautionary pause when talking about this Oregon team.
For one, the Ducks lost no less than three defensive lineman during the game, including pre-season All-American Dion Jordan. With the lack of a pass rush and no push in stopping the run game, Oreogn's secondary was hung out to dry against perhaps the top-2 receivers in the country. Throw in Matt Barkley, the pre-season Hesiman favorite and there was simply no way Oregon was going to stop the machine that is the USC offense. Also, don't forget that Marquis Lee set the Trojans up for one score with a long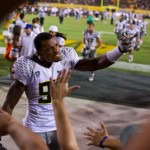 kickoff return and another score came with one second left in the game.
Sometimes it's best to look at the facts and not the stats.
KNOCK THE CONFIDENCE OUT EARLY
Cal, for all of it's struggles this season, will certainly come into tonights matchup confident, having played Oregon tough in Berkley the past decade. Chip Kelly has had two games in his career under 20 points, one of them being in 2010 when they narrowly escaped the Bears 15-13 in a tense battle.
The weather is not supposed to pleasant, which could be a factor. Look for Oregon to try and take the crowd out early by running the ball and zapping the energy out of Memorial stadium.
                              WHEN OREGON HAS THE BALL
With nine games under their belt, it's become evident who the Ducks are. A star at running back with Kenjon Barner mixed with a freshman sensation at quarterback; Thrown in some play-makers around them, and you have the makings of a 54-point per game machine that simply cannot be stopped. Last week, Oregon got a wonderful gift in the presence of Josh Huff, who finished with six catches, 125 yards and two touchdowns. Oregon's offensive line was sensational in Hollywood last week, with the addition of Kyle Long to the starting lineup. Look for them to continue that trend this evening against a porous Cal defense, which is giving up 165 yards per game on the ground.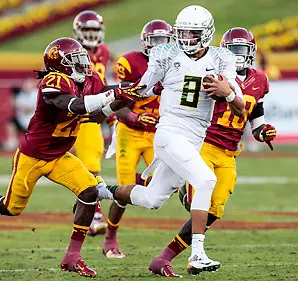 Cal is led by sophomore linebacker Nick Forbes and senior DB Josh Hill, who lead the team in tackles. The problem for Cal has been giving up timely plays that turn close games into routs. If that happens against the Ducks, the results will be obvious. The Golden Bears are never short on athletes, and that makes them formidable. The problem has been getting those athletes into the right position. Out of position against Oregon = touchdown.
WHEN CALIFORNIA HAS THE BALL
In losing star receiver Keenan Allen and quarterback Zach Maynard, the firepower that simmered below the surface for Cal is officially gone. Always a play away from greatness, Allen's injury took whatever life the Bears offense may have had and officially buried it. Scoring just 24.5 points per game, Cal's offense has been putting up yards (402.4 per game) but has been a turnover machine, giving the ball up 23 times on the season.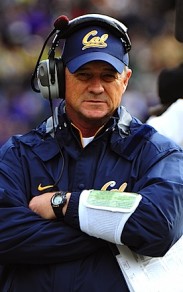 With Maynard out, Allan Bridgford takes over. The junior, just 4-16 on the season, saw mop-up duty in last season's loss at Oregon. Cal's offense is familiar, being led by former Ducks offensive coordinator Jeff Tedford, now in his 11th season. Tedford is squarely on the hot seat after a 3-7 start to the season. His offenses, a staple at Oregon and his first 6 seasons at Cal, have been anemic at best.
Oregon, after giving up 51 points last week, comes in a little thin up-front. Dion Jordan is expected back, but the status of Ricky Hemuli and Isaac Remington are unknown. Alex Balducci, in line to redshirt this season, may be pressed into action if those two can't go. This is a redemption game for the secondary as well, looking to regain it's confidence after their performance against USC.
FINAL SCORE PREDICTION
Oregon sits four wins away from a trip to the BCS championship game, and tonight figures to be the easiest test left. While the Bears have always played the Ducks tough at home, this is simply too big of a mismatch. Oregon's offense will prove too much and the defense will rebound from a poor performance last week.
OREGON: 55
CALIFORNIA: 24