Oregon and 3/11 or their starting defense welcome in the Stanford Cardinal tonight to Autzen stadium, just three wins away from a trip to Miami and the BCS championship game.
Ok, maybe 3/11 is an exaggeration…but not by much.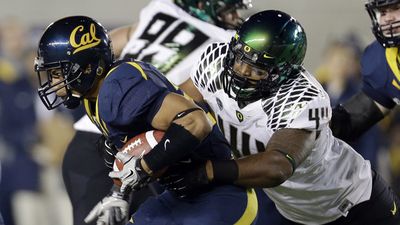 The Ducks, fresh off a 59-17 victory at California last week, are as banged up as they have been since…dare we say it…Yep, 2007. Four starters on the defensive line are expected back, albeit at far less than 100%. The secondary may be in worse shape with safety Avery Patterson being lost for the season, joining John Boyett. Troy Hill and Dior Mathis stayed in Eugene last week while the rest of the walking wounded limped into Berkley, but those two are expected to be back tonight.
Stanford won't blow you away from a statistical standpoint, as they average just 166 yards per game on the ground. How they get those yards, however, is what makes them such a tough challenge.
"They are a power, downhill, a lot of big personnel group running team coupled with play action," Oregon defensive coordinator Nick Aliotti said. "That's what sticks out the most. They are probably going to feel pretty good after watching some of that film (against California)."
That power, downhill game plan will, if successful, keep the potent Oregon off the field, which may be the best defense teams can play.
Oregon's offense, however, seems to be entering tonight's game as healthy as can be expected and riding high after yet another 50+ point performance. Quarterback Marcus Mariota firmly established himself as the leader of this team, throwing for six touchdowns and 377 yards, all the while showing a maturity to his game that is almost unheard of for a kid his age.
Here's three things to watch for tonight as Oregon welcomes in 14th-ranked Stanford with the PAC-12 North crown on the line.
BAY AREA LETDOWN
The similarities are almost too eery to be true. At this point last season, Oregon was coming off a big win in the Bay Area over 4th-ranked Stanford, heading home to face a talented opponent hell-bent on destroying the Ducks chances of playing for a title.
This time around, Oregon, coming off a Bay Area victory over California, welcome in Stanford with first place in the North Division on the line and once again, a shot at the BCS title game. In 2011, Oregon returned to Autzen to take on the USC Trojans and, despite what may be said by players and coaches, simply overlooked the two-loss Trojan squad en route a big third quarter deficit that was too big to overcome.
If Oregon learned anything from last season, they will not overlook this Stanford team, talented and powerful enough to hang with them. Repeat last season, and it could be a long night in Eugene.
COLT SMASH, COLT DASH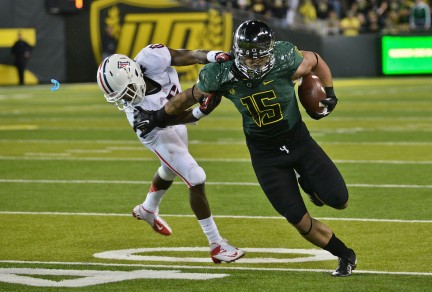 Colt Lyerla, Oregon's uber-talented sophomore tight end, has been nothing if not steady this season, with 260 yards and six touchdowns. Lyerla, like all of the Ducks receivers, is a block-first, catch-second player. What separates him, however, is the nightmare he causes opposing defenses with his size and speed, at a position designed for slower, lumbering players.
Lyerla, who has been packaged as a running back on occasion this season, could have his biggest impact tonight against the Cardinal, a team big on size but short on speed. If Lyerla can get matched up with Stanford's linebackers, his speed could be a dangerous weapon for Oregon over the middle. Throw in the confidence his quarterback has in him and tonight could be the coming out party for Clot "Bane" Lyerla.
SPECIAL TEAMS, ARE YOU THERE?
Against California, Oregon put in perhaps it's best special teams performance of the year. Along with a made field goal (gasp!) and a long kickoff return from Keanon Lowe, Oregon kept the Bears in check; Something that has been an issue for the Ducks in 2012. If Oregon can win out and face Kansas State in the title game, Oregon will need to continue to improve it's special teams play, as the Wildcats bring perhaps the best unit in the country, led by return specialist Tyler Lockett.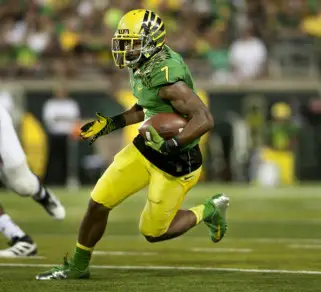 This is all putting the cart before the horse, obviously…but a good showing against the Cardinal will go a long way to determining where Oregon stands.
WHEN OREGON HAS THE BALL
In a battle of strengths, Oregon's running game clashes with the big uglies of Stanford, who lead the nation in rush yards allowed at just 58.6 per game. Oregon, averaging 325 yards per game, has excelled in the run game against Stanford the past two seasons, gaining 620 yards on the ground. This Stanford squad, however, seems to be playing at a different level. Two times this season the Cardinal have held opponents to negative rushing yards (Washington St. & Colorado). The strength of Stanford is in their front seven, led by linebackers Shayne Skov and Chase Thomas. Like Oregon, Stanford plays lots of defenders as they have 16 players with more than 20 tackles on the season. Stanford does not trick you with their schemes…they simply want to out muscle you up front.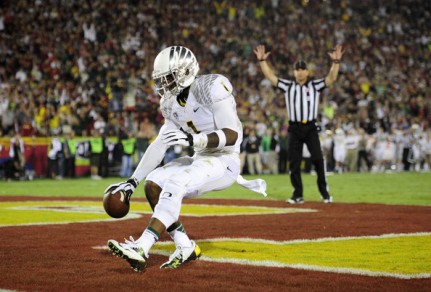 Oregon, with perhaps their most balanced team yet, is looking to re-write the record books. Averaging 54 points per game, the Ducks are close to the all-time per game average of 56 by the 1944 Army squad. With the three toughest games of the season remaining, reaching that mark will be tough, especially when facing this Stanford defense. The emergence of Mariota has been aided by the rise of Josh Huff, the junior receiver who fans have been clamoring to see breakout. Finally healthy — and with a quarterback who can get him the ball — Huff seems ready to bust out, with 11 catches for 234 yards and five touchdowns the last two weeks. Huff, along with the previously mentioned Lyerla, will be called upon to stretch the Cardinal defense that figures to be outclassed in the secondary.
               WHEN STANFORD HAS THE BALL
Bruising.
That seems to be the best way to describe the Cardinal offense under coach David Shaw. Led by all-conference tailback Stepfan Taylor, Stanford simply wants to line up and run the ball down your throat. With Oregon's defense depleted due to injury, the Cardinal have an opportunity to control the clock and keep Oregon's biggest weapon — its point-per-minute offense — on the sideline.
Quarterback Kevin Hogan took over two weeks ago against Colorado and offers a different package than his predecessor Josh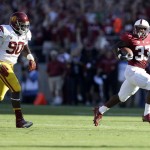 Nunes. Hogan, a sophomore, is completing 77% of his passes in short work and can hurt Oregon with his feet, a la Mariota. Stanford relies heavily on their tight ends, led by Zach Ertz and Levine Tollolo, seniors with great height. The Cardinal often line up in a two tight end set, enabling their power run game to take shape.
For Oregon, the health of their defensive line will determine the outcome of the game. Slow the rushing attack of the Cardinal a little and Oregon will be fine. If the line is outmanned, either by the starters not being fully healthy or by backups being pushed around and the Ducks will be in trouble.
Sounds simple, but that's the way Stanford wants it. Line up, man to man. May the better unit win.
FINAL SCORE PREDICTION
With two regular season games and a potential PAC-12 Championship game remaining, there is still lots of work to be done for Oregon. Stanford looks to jeopardize Oregon's run to their fourth straight conference title with a win. In a game that will be won in the trenches, the matchup looks to be even. Oregon's speed at the skill positions, compared to the Cardinal lack of athleticism should prove to be the difference. Oregon pulls away late, but not before fears of an upset run throughout Autzen.
OREGON: 49
STANFORD: 35