Well, it's finally here.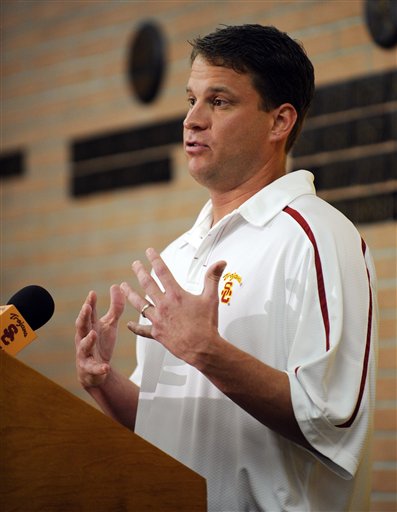 All the talk, all the hype, all the questions will finally be answered when Oregon and USC kickoff from The Coliseum in Los Angeles today at 4 o'clock.
Eight games into the season, Oregon is on pace for one of the most dominating regular seasons of all time. Many consider the 1971 Nebraska Cornhuskers to be the best team to ever take the field, as they beat their opponents by an average of 31 points per game.
Oregon, in 2012, is beating their opponents by 34.
Times are different, sure, but what the Ducks are doing is unique, even in this modern-day, score-every-minute version of college football.
Scoring just over 53 points per game, Oregon is on pace for their highest per-game total of all-time, while putting perhaps the best defense in program history out on the field as well.
For USC, November 3rd had a much different feel at the beginning of the season. Lane Kiffin, USC's wonderfully pleasant coach, says his team's struggles in 2012 are evident.
"We're not protecting the team with our decision-making," Kiffin said. "There's a lot of selfishness in there."
The dangerous part of USC, from Oregon's persepctive, may in fact be that the Trojans will be smarting from their loss last week at Arizona. Sometimes, the wounded dog is more dangerous than the healthy one, and USC, with two losses in conference play, is certainly that.
Normally, I give three things to watch for in the game. With this being USC week, let's look at things Oregon needs to focus on to walk away unscathed.
TURNOVERS
Sounds simple enough, huh? Never has this factor been more important than today, in front of a hostile crowd, against a team that talent-for-talent is equal to the Ducks. For freshman quarterback Marcus Mariota, the level of competition is about to take a big leap forward and no player on the roster will have a bigger impact on today's outcome than him. If Mariota can take care of the ball and make good decisions, Oregon will score the ball, and score a lot. Turn it over, make bad decisions and get rattled, and USC gets the same momentum they had last season in rolling up a huge first half lead.
That was in Autzen, with a veteran Oregon's team. The 2012 edition, perhaps longer on talent, is short on experience, and asking them to come back from a 21 or 28 point deficit at USC may be too much.
LET MITCHELL DO HIS THING; STOPPING WOODS IS KEY
Terrence Mitchell, Oregon's All-Everything corner, has been quiet as a church mouse this season. He has no picks, and just 14 tackles on the season, good for 17th best on the team.
Yes, that's a good thing. Mitchell is that good, and the opposition knows it.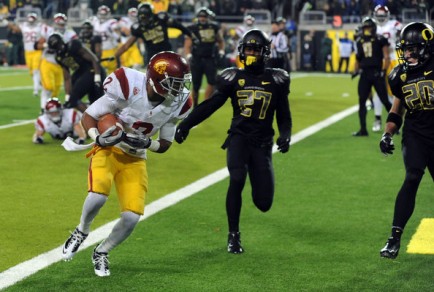 Terrence, perhaps the most competitive player on the team, has had his side of the field largely ignored this season, with the opposition realizing throwing his way is almost pointless, due to Mitchell's shut down cover skills. Heading into this week, he seems ready for the challenge.
"I'm from Sacramento, man. We always wanted to play against the best person. That's what it's all about."
He'll get his opportunity, because USC will throw at Mitchell – a lot.
Marquis Lee, the sophomore sensation (who was a fraction away from being a Duck), is USC's best receiver, perhaps the best in the country. Lee, coming off a 16 catch, 345 yard day (a conference record for yards) was the catalyst in last season's upset victory over Oregon and is the big play threat for the Trojans.
By putting Mitchell on Lee – the two met up last season, with Mitchell, raw as a freshman, routinely getting burned – Oregon can at least attempt to keep Lee under control and hopefully prevent too many over-the-top plays. This way,  Oregon can look to focus more attention on USC's other target, junior Robert Woods.
Woods could be a bigger threat for the Ducks, as his big frame and good hands pose a challenge for an Oregon team that needs to get USC off the field on third down. With 585 yards on the season he is having a down year statistically, but has always played his best against Oregon.
It's a pick-your-poison problem with USC's receivers. Last year, the Trojans won the battle. For Oregon, win it this year, and it's a on to Cal next week at 9-0.
MAKE BARKLEY UNCOMFORTABLE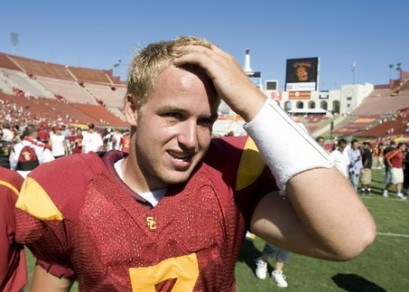 All signs point to Oregon having it's full squad defensively, with Dion Jordan and Kiko Alonso reportedly in practice this week. Last season, Jordan missed most of the USC game and the results were obvious. Matt Barkley, USC's golden-boy QB, had all the time he needed to make throws downfield. For Oregon to be successful today, they need to make Barkley uncomfortable; Not necessarily sack him, but force him to get out of the pocket. Barkley may be the least mobile QB in the country, and with USC's offensive line struggling mightily this season, the Ducks can change the game by putting up some pressure.
Jordan, Alonso, Michael Clay and the young ends Arik Armstead and DeForest Buckner need to pin their ears back and play with a reckless abandon. If Barkley, the presumed number-1 overall pick in the NFL draft, has time to see the field, his dangerous receivers will be even more of a threat.
Oregon already has 23 sacks on the year. Adding a few more Saturday would be nice.
     WHEN OREGON HAS THE BALL
Along with a freshman QB, Oregon brings a bevy of inexperience with the offense, which is littered with freshmen and sophomores. Fortunately – or unfortunately, depending on how you look at it – that's where the majority of Oregon's production comes from. Today the Ducks will need one of those young playmakers, be it Bralon Addison, Colt Lyerla or B.J. Kelley, to step up and make a play. The Trojans will do their best to stop Kenjon Barner and DeAnthony Thomas, so it's up to someone else to win the game.
USC, for all of their talent, has been a mess on defense this season. Statistically, they're allowing just 19 points per game (same as Oregon), but it's the way they have been giving up points that is discouraging for the Trojans. Against Arizona, a similar offense schematically speaking as Oregon, USC was gashed for 588 yards and 39 points.
If they allow that from the Wildcats, imagine what can Oregon do against them?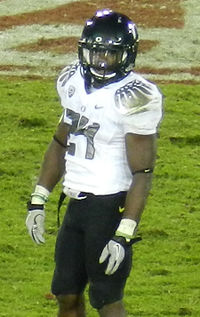 Led by senior safety TJ Mcdonald, the Trojans were expected to have a defense similar to the Pete Carroll days, but it has yet to develop. A trio of sophomore linebackers – Dion Bailey, Hayes Pullard and Lamar Dawson – have the speed to keep Oregon's playmekers in check, and that may be where the game is won and lost.
If USC can keep Oregon in front of them and force long drives that put the ball in Mariota's hands, they have a shot. Allow Barner and DAT to get loose in the secondary, and it's over.
     WHEN USC HAS THE BALL
Led by pre-season Heisman favorite Matt Barkley, USC's offense has been as good as advertised, if not a little inconsistent in 2012. Barkley, flanked by super receivers Marquis Lee and Robert Woods, has the moxy to thrive in a game like tonight's, with the bright lights and big stage. Coming off a loss, the Trojans have two choices: Come out firing, or slide into obscurity. The choice is ultimately Barkley's, being the senior leader.
USC is more than just Woods and Lee, however, as Penn State transfer Silas Redd has been a savior at running back, avergaing just over 80 yards per game on the ground. Not earth shattering, but he's the closest thing to a consistent backer the Trojans have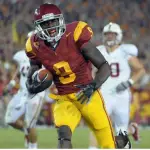 had since Reggie Bush.
Tight end Xavier Grimble is a nightmare to matchup against, with his wide frame and receiver speed. Slowing Grimble won't win the headlines for Oregon, but will be vital in slowing the USC attack.
Oregon looks to be as healthy as can be expected on defense, with Jordan and Alonso returning to a defense allowing under 20 points per game, despite routinely playing it's 4th and 5th stringers. As key as the Ducks secondary will be –and with Lee and Woods on the other side, they will be vital — the Ducks ability to put pressure on Barkley will be the biggest factor in slowing down the Trojans attack.  A deep line, experienced linebackers and secondary provide the right recipe for Oregon to succeed.
Now, they just need to execute.
FINAL SCORE PREDICTION
It's come down to this. With only 4 games remaining in the regular season, Oregon — despite it's number 4 ranking in the BCS — controls it's own destiny. Starting tonight, things get much tougher. This Oregon team, despite it's inexperience, just seems to have something about them that USC does not. Despite being played in Los Angeles, Oregon's talent and scheme will be too much for USC to overcome.
OREGON: 48
USC: 37

Want to Watch Oregon Games on your computer?
If you do not get all the channels that have the Oregon Football games, or simply want to be able to watch the game over again as you don't have the space in the DVR to hold all the games?
Contact me by email: charles@fishduck.com and I can help.  We have fans across the nation and internationally watching the games 24/7/365 and I wish that for everyone.  Charles Fischer