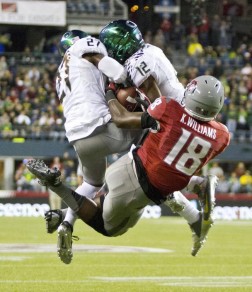 "Look for the ball!"
That was a common exclamation that echoed throughout the town of Eugene last November, when USC's passing offense put on a clinic against Oregon's young defensive backfield. Quarterback Matt Barkley completed more than 75 percent of his passes, tallying 323 yards and four touchdowns through the air.
As Trojan receivers Marquis Lee and Robert Woods racked up the receptions, Oregon's largely inexperienced secondary — complete with three freshman cornerbacks — often looked lost, and repeatedly failed to locate the ball while it was in the air. The loss to USC left many fans wishing former all-American cornerback Cliff Harris would have returned from his indefinite suspension.
Entering the 2012 season, it appeared as though this pattern would continue. After all, USC's lethal passing attack remains the biggest obstacle between Oregon and their fourth straight Pac-12 title. Therefore, when pre-season all-American safety John Boyett, the secondary's only real veteran, was lost for the season in Week 2 with two torn patella tendons, many feared the worst.
Earlier this fall, the defensive backfield appeared to be the team's Achilles heel. Fans and analysts everywhere wondered, how could a pass defense that allowed 250 yards per game in 2011 with Boyett and Eddie Pleasant (now a member of the Houston Texans) possibly stop the numerous potent aerial attacks of the Pac-12?
Yet here we sit, nine weeks into the 2012 campaign, and that concern now seems entirely unwarranted and even insulting to a young defensive backfield that has thoroughly impressed all season long. In fact, Oregon's defensive backfield has been comparable to some of the best pass defenses the NCAA has to offer.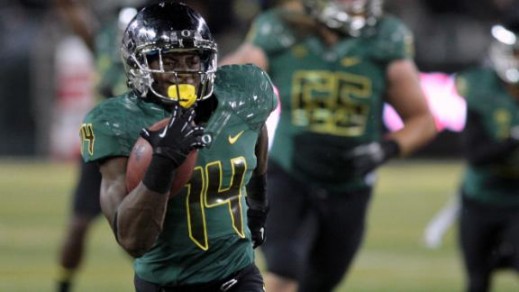 The Ducks are tied for fourth in the nation with 55 passes defended, more than top-notch pass defenses such as Florida State (53) and Alabama (52). The Ducks are also tied with Alabama at third in the FBS with 14 total interceptions.
One might argue that those numbers are artificially high because Oregon has played pass-happy teams such as Washington State and Arizona, or that teams have to throw against the Ducks so much because they are usually playing from behind. That is a fair point, considering the fact that teams have attempted 40 passes per game against the Ducks so far this season.
Oregon's pass defense, however, is allowing only 5.3 yards per passing attempt, tied with Florida for the fifth lowest average allowed in the FBS. On top of that, quarterbacks facing Oregon have had an average rating of 104.21, the 13th lowest opponent passer rating in the nation.
The numbers are telling, and it is clear that Oregon's young secondary has drastically improved since a year ago. However, the numbers don't tell the whole story. How is it that Oregon's defensive backfield has enhanced itself so much in just one off-season? While the whole unit has certainly stepped up, a couple of names have stood out.
Sophomore Ifo Ekpre-Olomu has shown huge improvements since his freshman campaign in 2011. After finishing last season as the team's third cornerback, Ekpre-Olomu has worked his way up the depth chart to become a full-time starter, where he has taken on (and shut down) some of the conference's best receivers in 2012.
The former 4-star recruit is currently tied for sixth in the country with 12 passes defended, including two interceptions, one of which he returned for a touchdown. Ekpre-Olomu demonstrates excellent vision when he drops into coverage, keeping an eye on the quarterback and his receiver simultaneously.
It is his physicality, however, that has separated Ekpre-Olomu from the pack. Standing in at 5'10" and 190 pounds, the sophomore plays well above his size. Ekpre-Olomu's breakout game came against Arizona when he completely shut down Dan Buckner, who had a six inch and 30 pound advantage, consistently jamming him off the ball in press coverage. Averaging 6.3 catches and 82 yards per game, Buckner recorded a measly 42 yards on three catches against the Ducks.
Perhaps an even better indicator of Ekpre-Olomu's physicality is his staggering total of four forced fumbles. Only two players (Jarvis Jones of Georgia and Khaseem Greene of Rutgers) have forced more, and Ekpre-Olomu leads all defensive backs in that category.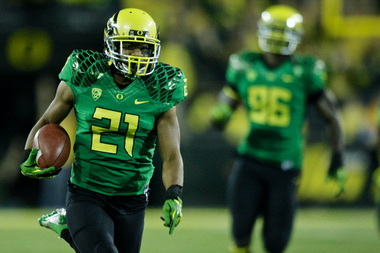 One of those infamous "look for the ball!" moments in 2011 came when Robert Woods caught a touchdown pass right over the head of Avery Patterson, who was still facing away from the play. However, after making the switch to safety this year to replace the injured Boyett, Patterson is another name that has stood out.
The junior has more than filled in for Boyett, easing the pain for many Duck fans. Patterson has an uncanny tendency to make big plays, taking two interceptions to the house already in 2012 (and another to the 1-yard line). One of those touchdowns came off of a quick out against Washington, a play that looked eerily similar to Kenny Wheaton's 'The Pick' in 1994.
Patterson has deceptive quickness and excellent instincts, often baiting quarterbacks to throw the ball in his direction. His timing has been impeccable, jumping routes at just the right moment to break up or intercept numerous passes.
His notable instincts have also allowed him to lay down some huge hits, something that Duck fans thought they would miss in the absence of the hard-hitting Boyett. Patterson laid a couple of blows against Arizona State on swing passes that looked and sounded like car accidents.
Ekpre-Olomu and Patterson are leading a dramatically improved pass defense that many believed would be the weakness of a national championship-caliber squad, especially after the loss of Boyett earlier this year.
The implications of this success are huge for the Ducks in all aspects of the game. For example, with the secondary's tight coverage, Oregon's front seven has had more time to get into the backfield, totaling 23 sacks through only eight games (more than defensive powerhouses Alabama, Texas, and Florida State).
As the Ducks gear up for their rematch against USC on Saturday, keep an eye on these defensive matchups. Oregon's pass defense is a far cry from what it was last November, and will be looking to avenge last year's four-touchdown debacle.

Want to Watch Oregon Games on your computer?
If you do not get all the channels that have the Oregon Football games, or simply want to be able to watch the game over again as you don't have the space in the DVR to hold all the games?
Contact me by email: charles@fishduck.com and I can help.  We have fans across the nation and internationally watching the games 24/7/365 and I wish that for everyone.  Charles Fischer