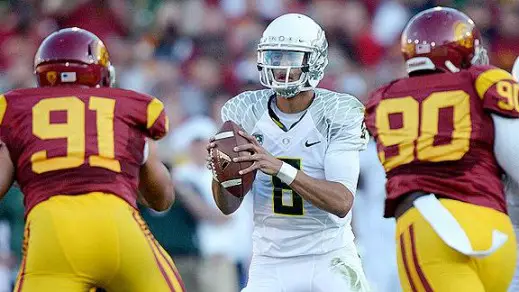 For the next three weeks, Oregon running back Kenjon Barner figures to get the majority of love from National media, as his Heisman campaign kicks into overdrive. Lost — or at least hidden — in the shuffle of Barner-mania is the performance of a young quarterback, unknown to much of the world just three months ago.
Marcus Mariota's story is becoming well-known by now. Born and raised in Honolulu, the native Hawaiian — known for his calm demeanor and laid back attitude — has taken the college football world by storm, leading his Ducks to a number 3 ranking in the BCS…and presumably on the door step of a national championship appearance.
While his stats may not blow your hair back — he's averaging 198 yards per game — his control of the game and the Oregon offense sets Marcus apart from perhaps any quarterback in program history.
At just 19 years old, Mariota stands to shatter every record held by Oregon quarterbacks. If Marcus sticks around all four years and stays on the pace he is currently on, the "Flyin' Hawaiian" will surpass 11,000 career passing yards…3,000 more than Bill Musgrave.
Now, things never go as well as fans and media hope for. Mariota, who did not start a game at Saint Louis high school until his senior year, will have bumps along the way at some point. Chances are he will not start every season 9-0. With the start he is on, however, it's hard not to imagine what could be for the Ducks and their rising star quarterback.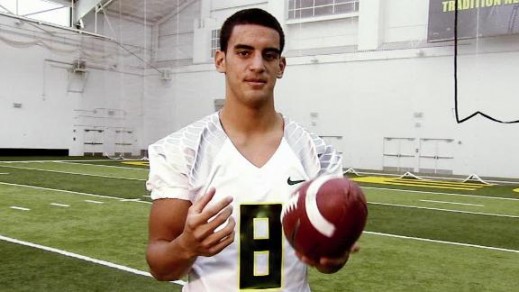 With three regular season games, a conference title game (perhaps), and a bowl game, Marcus will step squarely into the spotlight as the season comes to a close. If he can show the type of control he showed at USC, when the stage was at its biggest, Oregon should have no problem finishing its second undefeated regular season in two years.
If you're a PAC-12 school, the frightening part about Marcus is that he shows no signs of complacency. So often, when a young man is successful this early in his career, they go down a wrong path and rest on their laurels. Mariota, a game film junkie, seems to have that rare quality that pushes him beyond the norm.
Koa Ka'ai, roommates with Mariota last season, says he saw that early on.
"I would wake up at like 5 in the morning, and this guy would be up studying his playbook in his bedroom, even though he knew he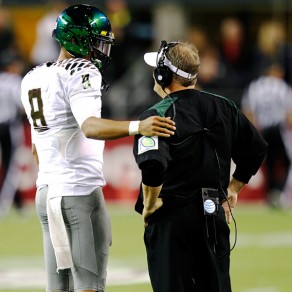 was going to redshirt."
That dedication is usually reserved for walk-ons; Guys who need to scrap and claw to make up for a lack of talent or athleticism. Not in this case, as Mariota is perhaps the best athlete to ever play the position at Oregon. With all due respect to Dennis Dixon, who only got to play in Chip Kelly's offense for one season, Marcus seems to be above the rest.
The future is bright, no doubt. As bright as a Hawaiian sunrise, you might say.
As good as this team is, without the right man at QB the machine would not run the same. It appears that Chip Kelly, who offered Mariota a scholarship before he had ever started a game in high school, has landed a gem; that rare talent who has the physical and mental skills to transcend a program. To lead them to places never before seen.
To — as Chip said — complete the "Unfinished Business."

CAN YOU HELP US?
The pictures you see of the Ducks on FishDuck.com come from professional photographers that must be paid! Please donate through one click so we have pictures from all the games this fall to use through the year. All previous donations helped to pay our big Web Developing bills recently, and I do appreciate it.
Our staff and the photographers who have thousands of dollars invested into their equipment to provide the high quality pictures do sincerely thank you.   Charles Fischer