This multi-week series will attempt to take a reasonable, logical and unbiased look at Oregon's recent recruiting successes and failures while analyzing the program's recruiting philosophy under Chip Kelly.  The series will then look at how that philosophy already has and may continue to evolve under Mark Helfrich before ending with a detailed breakdown of the author's ideal recruiting blueprint.
Part 1 of this recruiting manifesto looked at what actually happened during the 2013 cycle.  Next week, part 3 will look at what went right.  This article will look at what went wrong, and why.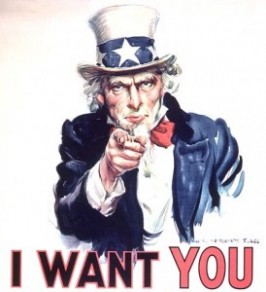 When Al Pacino was asked about his weaknesses as an actor, he exhaled, and said, "I wish I could come up with something.  I'd probably have the same pause if you asked me what my strengths are.  Maybe they're the same thing."  This quote came from an interview Pacino did about his film, "Any Given Sunday", one of the best football movies of the last 20 years where Pacino plays the role of a well-respected head coach.  See the irony?
Everyone has weaknesses, and part of living a healthy life is recognizing your own and accepting that others have them too. Failing to do that results in unnecessarily demonizing and idolizing others, which is usually accompanied by failing or refusing to recognize weaknesses.  Sports fans are particularly skilled at idolizing people, be it their favorite players or coaches.
Once upon a time, Giants' fans refused to admit that Barry Bonds was taking steroids, despite the fact that his head had tripled in size since his rookie year.  Akin to a young boy plugging his ears and screaming, "I'm not listening!" fans of every sport and team are quick to bury their collective heads in the sand whenever an idol is accused of having a weakness; unnecessarily so, since that weakness usually does nothing to diminish what made that person an "idol" in the first place.
Let's stop beating around the bush.  I'm talking about Chip Kelly, the greatest head coach in Oregon football history; a man who many Oregonians feel should be the new spokesman for Dos Equis.  "I am the mastermind behind the most explosive offense in college football history.  I once told Erin Andrews I didn't want to go back to her place.  I have enough athleticism to win the Olympics if I ever chose to participate.  I am the most interesting man in the world."
Chip Kelly has weaknesses.  Let's say it together – it's ok.  The sun will not stop rising and Oregon will not suddenly fall from the ranks of college football's elite.  By all accounts, Chip Kelly is a genius, and the most successful head coach in the history of Oregon football.  There's a reason NFL teams were knocking down his door.  His players loved him, his coaches respected him and his opponents feared him.  The man will forever be an Oregon legend.  All of that said, he wasn't perfect, and nowhere was that more evident than last year's recruiting trail.  The 2013 cycle revealed Chip's dislike for recruiting, along with some strategic flaws in his philosophy; namely, how he dealt with the immense logistical and social challenges posed in the current recruiting landscape.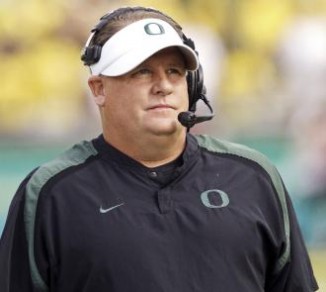 It became clear last year that Chip Kelly was not particularly fond of the recruiting process, and as a result opportunities were missed.  An anonymous source close to the Oregon football program confirmed this by saying that, "Chip is better suited for the NFL" because of his dislike for the process.  Most notably, and understandably, "[he] didn't like having to kiss some kid's butt who had never done a thing on a college football field" according to the same source.  It's not like this is breaking news, though; Justin Hopkins and Chris Courtney, nationally respected recruiting analysts who report for Duck Territory, both said as much over the past year.
It's difficult to be good at something you don't like — to be good at something you aren't passionate about.  Chip's personality isn't one that's conducive to a process that requires highly successful coaches to "kiss" the backsides of often over-hyped and egotistical high school athletes.  You don't need to look very hard to find cases of coaches begging, or kneeling (woof woof), to try and land a top-flight prospect, and Chip would never dream of doing such a thing.  That's not to say begging is necessary to pull in top classes, but the principle of that strategy is informative.  The bottom line is that the top high school athletes are being pursued by elite programs, many of which are led by coaches who are talented and dedicated recruiters.  Over the past couple of years, Chip made it plainly clear that he would not relentlessly pursue any recruit, regardless of perceived talent.  He would tell a recruit that Oregon liked him, saw a fit, and then describe what the school and program had to offer, but that was usually it.  No promises of early playing time, no daily texts or phone calls, and certainly no skillful coercion.  There are pros and cons to this methodology, the most unfortunate drawback of which includes the fact that most other coaches were taking a different, more aggressive approach.  This frustrated some fans, because when impressionable 17-year-olds have a handful of other coaches constantly tickling their ears, very few end up choosing the school with the most hands-off approach.
(Keep in mind that next week's article will look at the positive sides of these exact same philosophies.)
During the last cycle, Chip's hands-off approach was put to the test many times, most notably with the recruitment of Eddie Vanderdoes.  After National Signing Day, Justin Hopkins of Duck Territory blew this story wide open with some great insider information.  Out of respect, I'm not going to include any quotes, but it's definitely worth signing up for a free trial so that you can read the whole story for yourself.  In summation, Eddie Vanderdoes wanted to be a Duck, and wanted to join his good friend and Ducks defensive lineman Arik Armstead in Eugene.  One of the few early offers Oregon handed out, Vanderdoes tried to commit on multiple occasions, including at the 2012 Oregon spring game, but was told to wait and think about it to make sure.  In the ensuing months, he had difficulty contacting the coaches.  Meanwhile, just about every other program in the nation was knocking down his door and eventually, he decided to pursue other schools.  The important thing to keep in mind is that Oregon wanted him badly enough to offer early on, and it's easy to see why since Vanderdoes is a high-character 5* DT.  In fact, Vanderdoes said that the coaches told him they "loved my character beyond football." What's odd is that Oregon never pulled his offer, they just communicated with him sparingly.  The whole situation left most observers extremely confused and frustrated, including Vanderdoes himself.
It's important to note that the 2013 cycle took on a special feel in that it seemed even more hands-off and relaxed than ever, which may have been due to a number of factors, not the least of which included Chip's impending departure.  Even if Chip didn't know he was going to NFL at the end of the 2012 season, he probably knew that he was going to make the leap sooner than later.  Consequently,
he may not have had as much of an interest in players who couldn't make an immediate impact.  In the same vein, he may have been satisfied with his roster going forward, knowing that there was enough talent and depth to continue winning at a high level in the short-term, making recruiting even less important.  Chip seemed to recruit with the belief that he didn't need anybody, which is probably true.  Chip knew what he had going forward, and it allowed him to harden a stance he already held: no recruit is worth pursuing too heavily.  While this may be true of any single recruit, the cumulative effect of this approach can be dangerous, akin to going fishing without any bait.  Sometimes, the fish aren't just going to jump into your boat.
Chip Kelly's dislike of recruiting hurt Oregon's 2013 recruiting class.  Only the future will tell how this class will turn out, but using the best metrics at the recruiting community's disposal, the Ducks missed some opportunities to land highly ranked players who were offered but not pursued with the same fervor as the programs who ultimately won their signatures.  Some may understandably applaud Chip's refusal to "over-recruit", but the reality is that it likely cost the team talent.  Remembering that talent has an overwhelmingly positive correlation to winning, one has to consider whether or not Chip's approach was better than the more standard and aggressive one. There's certainly an argument to be made either way.
While Chip Kelly may love logistics, recruiting logistics proved not to be his strong suit.  The most glaring example of this is the late start Oregon got off to in the 2013 cycle. Over the past few years, the recruiting landscape has changed dramatically, with coaches evaluating, offering and building relationships earlier than ever before.  Not long ago, the summer before a player's senior year used to signal a big uptick in recruiting activity.  Nowadays, elite players are getting recruited heavily during the summer before their junior years, or in some cases, much earlier.  Keeping up with the Joneses means offering, or at least developing a relationship during the winter of an elite recruit's junior year.  Whether right or wrong, it matters; recruits notice whose late to the party.
Arguments have been made for and against early recruiting.  The problem with the arguments against it is that they aren't relevant in practice, at least not when discussing the majority of blue-chip prospects.  There are many players, who, by March of their junior years, have over 30 scholarship offers.  Recruiting isn't just about figuring out who to offer, though, it's about building genuine relationships with the players in order to make them feel comfortable.  That's why getting started early has become so critical.
If Chip wasn't philosophically opposed to starting the process earlier, he never effectively quickened it. In the early spring of 2012, while blue-chip prospects with Oregon interest were being offered by major programs around the nation, Oregon was, in many cases, just beginning player evaluations.  This may have been because Coach Kelly believed that earlier recruiting practices would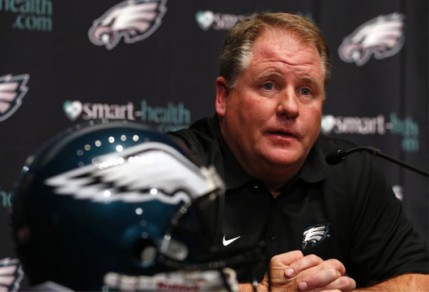 backfire, as schools would see a wave of de-commitments later in the process.  Ironically enough, both of Oregon's early signings, Thomas Tyner and Dontre Wilson, would later de-commit, though for different reasons and with different fates.  The Dontre Wilson situation was particularly unique.  According to the Dallas Morning News, hours before Chip Kelly took the Philadelphia Eagles coaching job he was sitting in Dontre's living room and never mentioned a thing.  Upon learning of Chip's decision, Dontre "felt hurt" and "betrayed", which eventually led to his de-commitment. Note that it's unknown whether or not Chip knew at that time that he would be leaving Oregon.
As noted, one of the major contributing factors to Oregon's late start was their famed player evaluations.  Before offering even the most talented player, a number of indicators – including grades, character, and work ethic – needed to check out.  Few Oregon fans have ever complained about this.  The problem is that, logistically, these evaluations take a ton of man-hours, leaving less time for coaches to actually begin building relationships with recruits.  Thus, while Oregon coaches were busy doing evaluations, recruits with interest in the program were left wanting.  It seemed like every elite recruit and his mother were claiming to "want to hear more from Oregon."  Chip preached wanting kids who wanted to be Ducks, kids who were self-assured enough to wait for an Oregon offer. While this was successful at times, there were also many occurrences when it wasn't.  Time and again, Oregon targets with seemingly serious interest in the program decided they couldn't wait any longer. When Oregon finally did come along and offer, it was too little too late.
Due to the amount of time that thorough player evaluations take up, the only way for Oregon to keep pace with the rest of the college football world and begin the relationship-building process sooner is to work harder.  According to the same anonymous program insider quoted earlier, some Oregon coaches felt like they were being out-worked.  When asked what he would've done differently last year, the source said, "I would just work harder…just grind the way that successful programs do."  Falling behind in the recruiting process because of uniquely comprehensive evaluations is one thing, but combine that with getting out-worked and it's easier to understand why so many recruits weren't "feeling the love" from Oregon.
Here's a list of Oregon targets from the 2013 class who claimed that they were very interested in the program but wanted to hear more from the Ducks (list and descriptions courtesy of Oregon recruiting analyst Pete Iglehart):
Tier E: Ricky Seals-Jones WR
Tier E: Laquan Treadwell WR
Tier E: Derrick Green RB
Tier E: Priest Willis S
Tier 1:  Ezekiel Elliott RB
Tier 1: Cole Luke CB (Very, very high on Oregon early on but did not hear from Oregon until they offered too late in the process; likely would've committed had an early relationship been built)
Tier 1: LJ Moore CB (See: Cole Luke. Chances of landing him were very high but the staff waited too long)
Tier 1: Tahaan Goodman S (Lost interest after limited early contact)
Tier 1: Larenz Bryant LB
Tier 1: Steven Mitchell WR (Extremely high on Oregon early on, but wasn't offered until very late in the process and wouldn't flip commitment from USC)
Tier 1: Derrick Griffin WR
Tier 1: Hatari Byrd S
Tier 1: Maurice Smith CB
Tier 1: Ishmael Adams CB
Tier 1: Marcus Baugh TE
Tier 1: Darrell Daniels WR
Tier 1: Troy Williams QB
Tier 1: Sebastian LaRue WR
Tier 1: Gareon Conley CB (Very high on Oregon. Staff told him he needed to de-commit from Michigan in order to visit. He did so, but contact faded)
Tier 1: Marcus Farria DE
Tier 1: Shelton Gibson WR
Tier 1: Jermaine Kelly CB (High early interest but wasn't offered until January, when it was far too late)
Tier 1: Tyler Foreman S
Tier 1: Kevin Palma LB
Obviously, Oregon may have stayed away from many of these recruits because they simply didn't want them for one reason or another. As Pete's descriptions show, however, this wasn't the case with everyone. Players like Cole Luke, LJ Moore, Tahaan Goodman, Steven Mitchell and Jermaine Kelly were all eventually pursued by Oregon after it was too late. Those are all targets that the Ducks had a very good shot at landing had the coaches built and maintained relationships with them instead of offering at the last minute.
Put yourself in the shoes of an elite prospect.  You love Oregon and think you'd be a great fit, and in fact, Oregon is your dream school.  Come spring, you're getting offers and attention from the likes of USC, Notre Dame, Michigan and Ohio State amongst an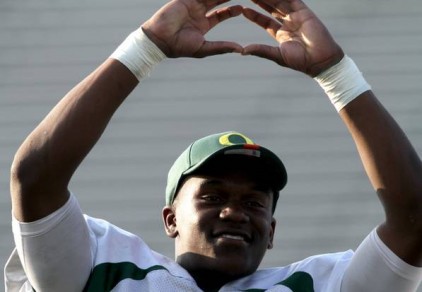 army of others.  You're hearing a lot from everyone except Oregon.  When you do talk to the coaches, they say it's hard to earn an Oregon offer and they're still evaluating you.  Come January, they finally do offer, but you've already committed to and fallen in love with another school.  What would you do?
Keep in mind that great high school athletes are very proud.  It would be hard not to be if you've been praised for being a "great" player for your entire life. Herein lies the social challenge of recruiting.  An overwhelming majority of these players want, and even expect, to be wanted.  That's why college football's best recruiters, guys like Tosh Lupoi and Urban Meyer, are tireless workers who do a great job of making recruits feel particularly special.  Thus, when prospects with numerous options feel like they're being "slow-rolled" by a program, it usually doesn't matter how much they like that school, they're going to gravitate towards a place where they feel wanted.  Exceptions among elite recruits are rare.  As a result, being late to the party is a dangerous, and usually ineffective practice.
While Oregon's evaluations are effective and noble, under Chip Kelly they began too late, alienating numerous tier-1 prospects who were later offered, thus proving Oregon's interest.  This says nothing about Oregon's actual evaluations.  If the team ended up deciding against the pursuit of a player, then so be it.  No one will ever know the reasons why, but they can rightly be assumed as legitimate.  There is no doubt, however, that opportunities were missed because of a recruiting process that started too late and pushed prospects away.
In conclusion, Oregon's recruiting process could have been more effective than it was.  Not building enough relationships early enough in the process hurt efforts later on.  This came as a result of Chip Kelly's approach to recruiting, which was derived, at least in part, from his dislike for the process.  Among other things, logistical and social obstacles prevented Chip's approach from being wholly effective in terms of maximizing talent acquisition, specifically, talent that Oregon wanted as evidenced by scholarship offers.
Don't take this as a criticism of Chip Kelly as a head football coach.  It's not even a criticism of his entire recruiting approach.  After all, it was effective enough to help Oregon land four consecutive top-20 classes for the first time in school history.  This article is not meant to overlook that, but merely to point out what could've been better by looking at examples of what went wrong.  Next week, Part 3 of this manifesto will look at what went right and the underlying reasons behind that success.