This multi-week series will attempt to take a reasonable, logical and unbiased look at Oregon's recent recruiting successes and failures, while analyzing the program's recruiting philosophy under Chip Kelly.  The series will then look at how that philosophy already has and may continue to evolve under Mark Helfrich before ending with a detailed breakdown of the author's ideal recruiting blueprint.
Part 1 of this recruiting manifesto looked at what actually happened during the 2013 cycle. Part 2 looked at what went wrong and Chip Kelly's controversial recruiting philosophy. Part 3 will look at what went right.
The 2013 recruiting cycle could be remembered for a lot of things, things like Thomas Tyner's commitment(s) or Dontre Wilson's de-commitment, Chip Kelly's controversial recruiting philosophy and eventual departure, or the class that Helfrich saved.  It shouldn't go down in history for any of those things, however, but rather as the cycle that solidified Oregon's place among college football's elite.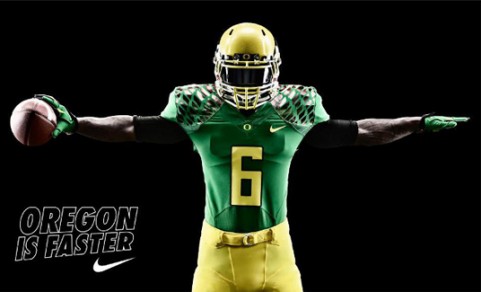 During the past four years, the Ducks have been the second most successful team in the country, behind only Alabama – or as I like to call them, the NFL's minor league system.  Nobody argues that during said stretch, Oregon has been one of the country's true powerhouse programs.  The question is whether or not Oregon can stay there.  The 2013 recruiting cycle may have already answered that question: the Ducks are here to stay.
To those who'd been following Oregon recruiting for the previous handful of years, it was obvious by the Spring of 2012 that things were different.  Recruits from SEC country were consistently listing Oregon as among their favorites.  The same went for top players from Virginia, Pennsylvania, Ohio, Michigan and Texas.  Almost every blue-chip prospect on the West coast cited interest in the Ducks.  For the first time ever, Oregon was undoubtedly THE sexy name among elite high school players nationwide.
During last year's cycle, the players that Oregon was recruiting only knew the Ducks as a football powerhouse.  Three straight BCS bowl games, including a national championship appearance and Rose Bowl win, were fresh in their minds.  A pre-season #2 ranking in the AP poll only served to  solidify Oregon's status as a consistent presence atop the college football world.  The 2013 class found themselves in 6th grade the last time Oregon wasn't nationally relevant (2006 – with respect to the great 2007 season).  Try and remember the sports scene from 2006; it's quite challenging.  Recruits didn't remember the Ducks of old, all they knew was an Oregon team that dominated opponents and looked sexy doing it, and they wanted in.
Oregon didn't end up capitalizing on much of the national interest the program had generated (for a variety of different reasons that this manifesto has already discussed), but the important thing is the interest itself.  Not many programs can say that they generate significant interest from elite recruits around the country (maybe 10 can).  This creates a built-in recruiting advantage of sorts; a bigger pool of talent to pursue.  It allows coaches to be more selective.  Obviously, they have a better chance to put together an elite class that programs who don't generate such national interest can't match.  There are always unique situations that allow teams to "poach" out-of-region blue-chip talent, but generally speaking this is very rare except for those select few programs previously mentioned. If a PAC-12 program goes out to Ohio to recruit, they're likely to face prohibitive obstacles, unless there is already some prior interest.  For decades, the only program in the conference that has garnered consistent national interest from the country's best was USC, but last year Oregon looks to have joined those ranks.  The significance of that moving forward cannot be overstated.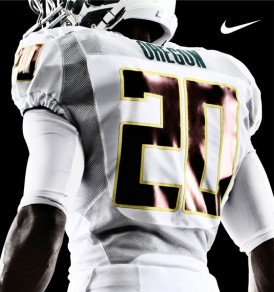 When it comes to recruiting, perception is everything.  Every program wants to brand itself in a way that catches the attention of elite athletes around the country, yet few have been successful.  Oregon was able to do this thanks to a number of factors including the Nike connection, the team's success on the field, its style of play and, undoubtedly, its uniforms (just listen to recruits and look at all of the programs trying to copy the Oregon "style").  Under Helfrich, none of these things are likely to change.
(Next week, we'll begin to look at what Helfrich was able to accomplish after Kelly left, how his philosophy is different from Chip's and why that's likely to be successful, and how that will impact the future of the program.)
Oregon's recruiting success in 2013 was due to more than just the Oregon brand, however.  Chip (and later Helfrich) and his staff landed a fourth straight top-20 class, and did it by pursuing guys who fit the culture and wanted to be Ducks.  As any Oregon fan could tell you, Chip's evaluation process was as rigorous as can be found in college football, the dividends of which have been seen over the past couple of years.  An Oregon insider who's close with the staff said, "Chip isn't the type to tell [a recruit] something that isn't true just because that's what they want to hear, which, in my opinion, is a good thing… while Chip may have had his faults as a recruiter, his idea of
doing exhaustive background checks on [recruits] really helped change the program and bring in kids who were trustworthy, hard working leaders who loved football."  Many Oregon commits would attest to this as well and have stated that they appreciated Chip's style and the fact that he never blew any smoke.  Parents were also comforted knowing that their children would be part of a program full of good kids (they all knew firsthand just how "exhaustive" the background process was).  Ultimately, and as a result of Chip Kelly's strategy, Oregon landed another class full of high-character kids who wanted to play football for the Ducks.
Finally, it would be a crime to overlook the impact of Oregon's assistant coaches who, under Chip Kelly, did the bulk of the actual recruiting.  When Coach Kelly left to Philadelphia, the assistant coaches played a significant role in keeping the class together.  The relationships they built and their ability to point to their respective tenures with the university made all the difference.  An all-star staff was necessary for the kind of success Oregon has seen on the field and in recruiting over the last four years. The fact that coaches like Neal, Frost, Pellum, Greatwood, Campbell and Osborne are still on the staff gives the program a ton of stability going forward under Helfrich.
The 2013 cycle was marked by Oregon's ascension into college football's elite.  Blue-chip recruits nationwide took notice and gave the Ducks an ability to recruit outside of normal pipelines, unlike the majority of programs around the nation.  The Oregon brand was responsible for the national recognition and helped the coaches land their fourth straight top-20 recruiting class.  Chip Kelly's recruiting philosophy, while having its disadvantages, appealed to recruits and parents alike due to the straight forward, honest approach it employed.  Oregon's exhaustive background checks also ensured that the team would add players who fit into the culture that the coaches had worked so hard to cultivate.  Potentially most significant to the 2013 cycle was the work of the assistant coaches and the stability they provided the program, and recruits.  In a day and age where assistant coaches bounce around from one program to another like kangaroos on uppers, the tenure of many of the coaches on Oregon's staff is impressive.  Without their commitment to the team and university, the 2013 class would've been entirely different, and the future of the program nowhere near as bright.
Next week, the manifesto will turn its attention to Mark Helfrich, his recruiting philosophy, and what it means for the program.