By Charles "FishDuck" Fischer
The fans of Philadelphia have no idea what they are about to witness.  The greatest sports experience of their lives is about to unfold over the next four years, and they will be delighted with the winning, but confounded by the methods.  Football is not supposed to be coached this way, most will declare, but the NFL will be unalterably changed and Eagle fans will be in the eye of one of the greatest transformations the sport has seen.  The more discerning football fans of this city will be entertained by more than touchdowns; they will also find themselves caught up in the intellectual fascination of the strategies implemented and the genius of a very special coach named Charles "Chip" Kelly.  As he leaves Oregon and comes to Pennsylvania, I wish to offer as a parting gift a glimpse into why he will win Super Bowls at Philadelphia and give you the most total, overall thrills you can imagine from watching a football team.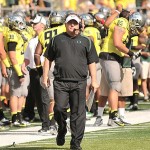 We know this to be true at FishDuck.com because we have studied Kelly's offense and methods closely through over 100 articles and 50 instructional videos that are viewed over 30,000 times a month.  We serve the "next-level" fan that doesn't wish to study like a coach, but wants to learn a little more than the casual fan, and be entertained while relishing the additional wisdom to enjoy the games that much more.  Our website team has also been examining the crucial components of how Kelly organizes a program to create a mind-set with the players; a culture that is foreign to those of us observing it.  Let's take a look:
Accept the Obvious
There are some who doubt whether Chip's offense can succeed in the NFL, and I would assert that they simply have not done their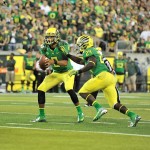 homework.  Sam Wyche orchestrated one of the biggest NFL turnarounds ever, taking the Cincinnati Bengals from a 4-11 season to the Super Bowl the next year in 1988 when he created the "no-huddle" offense.  The Buffalo Bills had a great run of success in the 1990s with their version of the no-huddle, "K-Gun" offense that chewed up their opponents and racked up a ton of wins.  The "Zone-Read" element of the Chip Kelly offense can't work for the Eagles?  Have you watched three NFL teams this season in Washington, Seattle, and now San Francisco rack up the run yardage on their opponents by adding the "Zone-Read" element to their running attack?  There is no question if his offense will work, since elements of his offense already have worked in the league going back over 25 years.
Coaching
Fans will be amused by Kelly's game plans, as he had me shaking my head at the surprises in nearly every game over the past two years. A new form of entertainment will begin in detecting the new tactics Chip will install for each new Eagle opponent.  In the 2013 Fiesta Bowl Coach Kelly caught our opponent unprepared against: 1) an unusual play from one game this year, 2) a forgotten play from a game last year, and 3) a confusing formation from a remote game three years ago in 2009.  Just when you believe you have figured out the combination, Chip changes the tumblers again while retaining a simple offense that can be implemented rapidly on the field by very young men.  My feathered friends — that is hard to pull off.
His coaching of the young, particularly those who are new to his system, is a wonder as he works his attack based on the talents he has, not on what his offense is.  In 2007 Heisman candidate QB Dennis Dixon went down with a knee injury that thwarted Oregon's National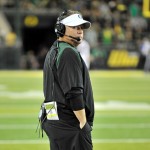 Championship hopes, but few realize the extent to which Oregon was ravaged by injuries at the position that year.  Oregon was down to their fourth string QB, (Justin Roper, a redshirt freshman who later transferred to Montana) as the starter for the Sun Bowl that year and Coach Kelly devised a game plan for the statuesque Roper that utilized his talents.   Roper threw for four touchdown passes in that victory while Oregon set a record for points in the Sun Bowl (56).  It was Chip's first year as our Offensive Coordinator, and I knew then we had something special in this coach as I watched the DVR multiple times spellbound.  I could not believe my eyes as we Oregon fans knew we were the ones about to get pasted going into this game, yet Coach Kelly's game plan turned it completely around.  The mainstream media knows about the no-huddle, the Zone-Read, and the uniforms of Oregon, but none have written about Chip's extraordinary game plans as we have studied and revealed at FishDuck.com.  Philadelphia fans are in for a ton of fun…..
A Football Counter-culture  
I was dismayed watching an early Chip Kelly Oregon football practice as I saw methods that I had never read or heard of being "experimented" with on my beloved Ducks.  "This better work," became the mantra for many of us Duck fans as we saw drills with eight receivers and four QBs throwing at the same time to get in the most repetitions possible.  They raced through plays, never stopping for coaching a player on a mistake, saying that "we do that in the film room now."  Scores between the offense and defense were kept for a spirit of competition and maintain interest even in a practice session, with a reward for the winners.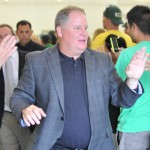 The most annoying aspect of an Oregon practice was the blaring music that interfered with my concentration.  An usual background sound of Oregon spring practices had been the screeching ospreys that nest in the lights around the practice field and hunt in the nearby Willamette River which was now blotted out by this…noise.  It was later during U-2s "Beautiful Day" that I contemplated the blue skies of spring, and the fact that these young men lived with iPods in their ears every day yet fulfilled their normal tasks.  This distraction capitalized on their multi-tasking abilities, and helped their concentration with the no-huddle.  This is unlike anything you will ever see in a "normal" football practice…
Chip Kelly's trademarked, "Win the Day" philosophy with the players made sense in doing everything right today, and thus success will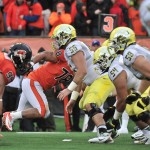 come on the football field, but there was a surprising consequence from it.  Chip ignored rivalry games, playing down their significance like the revenge-based showdown in Los Angeles against USC last year.  "Every game is a Super Bowl" is how he focused his players, yet the notion of ignoring the emotional elements of the key games in a season is simply incomprehensible to veteran football observers. Note also that he didn't call each game a National Championship but instead a Super Bowl? 
I personally disagree with this strategy, yet the result speaks for itself; within his amazing 46-7 record is the fact that Oregon never lost to an inferior opponent in the four years under Chip Kelly.  Yes they lost to Auburn, Ohio State, LSU, USC, etc during his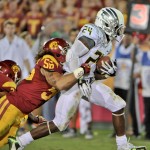 tenure, but these were great teams in the college football world at the time Oregon played them.  To never have lost to a lesser opponent seems impossible, but was the result of the unusual culture created at Oregon, the opposite of what we would think, and is truly a football counterculture.
When I interviewed James Harris, the Oregon Football Chief of Staff for Chip Kelly (and now with the Eagles) this last winter, he disclosed a small window of details into a section of the vast football counter-culture Coach Kelly has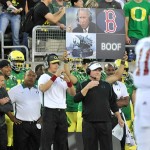 generated.  Harris explained that the no-huddle was not just a strategy, but a Way of Life at Oregon!  It was planned within the practices, within the cardio-training, within the weight lifting program, and within the recovery for the athletes in the icing and massages.  The no-huddle was even planned within the nutrition and hydration programs at Oregon!  Each player was weighed as many as five times a day during fall camp in order to chart their individual fluid needs.  During the games we saw the managers Harris directed keeping track of the intake of all these players.  He explained that it had become an art form taking into account how long each player had been on the field, the length of the last drive, the humidity of the day — all the factors contributing to hydration.  Too much fluid and the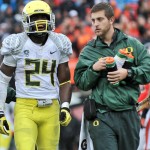 players are sloshing around slower, yet with too little they would cramp up.  The no-huddle has been carefully planned within every aspect of the football operation, hence an opponent cannot "get in shape for two weeks prior" and matchup with Oregon.  It is a football counter-culture, my friends.
Is this "FishDuck" about to also become "FishEagle?"  Yes, and I will join thousands of Ducks in becoming an Eagle fan as well.  What is the only thing more enjoyable than observing Chip Kelly winning at Oregon?   It will be watching the integration of his offense, his fascinating game plans, and his transformative counter-culture into the NFL.  To quote Flounder from the infamous Animal House, "Oh-boy, is this great?!"
I wouldn't miss it for the world.
Charles Fischer
Charles Fischer (56) is a 38 year Oregon football fan and a financial advisor in Eugene, Oregon focused upon Planned Giving.  He is the principal of the website, FishDuck.com, as he and over 40 writers and editors are dedicated to helping Oregon fans learn more about Duck football for their increased enjoyment of the games.  The site has over 120,000 visits a month from over 50 countries as fans and coaches check in to see the latest Chip Kelly innovations and his instructional videos on the site are viewed between 30,000 to 40,000 times every month.  He can be reached at Charles@fishduck.com 
To learn more about the Chip Kelly Spread Offense-go up to the grey tabs and click on "Directory" and look for The Chip Kelly Oregon Spread Offense Analysis (Offensive Tutorial Video series) and then scroll down and look at the Fish Reports.  Enjoy!

Charles Fischer has been an intense fan of the Ducks, a season ticket holder at Autzen Stadium for 33 years and has written reports on football boards for over 23 years. Known as "FishDuck" on those boards, he is acknowledged for providing intense detail in his scrimmage reports and in his Xs and Os play analyses. He and his wife Lois, have a daughter Christine, reside in Eugene Oregon, where he was a Financial Advisor for 36 years and now focuses full-time on Charitable Planned Giving Workshops for churches and non-profit organizations.
He does not profess to be a coach or analyst, but simply a "hack" that enjoys sharing what he has learned and invites others to correct or add to this body of Oregon Football! See More…
BIG, BIG Changes at FishDuck!

Mr. FishDuck, where are all the daily articles?
Answer: Go read this article right here for learning about the transitory period we are in.
Do sign up for our Newsletter to let you know when Mr. FishDuck has written an article and for his spicy not-for-public commentary. Newsletters begin in mid-October!
Do Register to Post Comments! 
It takes a minute is all, and will allow us to continue our amazing discussions of Oregon Sports. Register here… 
Our 29 rules about posting a comment at FishDuck can be summarized to this: 1) be polite and respectful, 2) keep it clean for the grandchildren reading, and 3) no reference to politics!
Easy-Peasy!