A lot can be said about Larry Scott, but he certainly does one thing right.  As someone who leads an organization founded around the activities of college students, he models perfectly what it takes for those students to be successful at a job: talk a big game early, reference wild innovations to the organization, deliver early returns, and it masks a lot of mistakes one can make with their job going forward.
Which brings us to Scott's latest folly:  The relocation of the Pac-12 Football Championship to Levi's Stadium in Santa Clara, CA, for the 2014, 2015, and 2016 games.
I understand why Scott made this decision.  He wanted to try something different after the model of having the conference's top team host failed to sell out the game the last two seasons (pro tip for selling out next time: don't let the teams amidst your conference's most apathetic fan bases have the best regular season records).  The allure of the shiniest, coolest new stadium in football, the one bestowed with the honor of hosting SUPER BOWL 'L', for his conference's "biggest" game (biggest is in quotes because the last four years, Oregon-Stanford has clearly been the Pac-12's biggest game) was too much to pass up.
Problem is, if Scott thought attendance was bad when fans had to travel to their home stadiums, wait until he sees the attendance numbers for a neutral site game.  Here are the problems with Scott's plan:
The Game Is in Santa Clara, Not San Francisco
I used to live around the corner from Levi's Stadium.  Will put out a visitors guide for Pac-12 title game.  It will be quite short.

— Stewart Mandel (@slmandel) May 15, 2014
It's never a good start for encouraging fans to travel to a game when the answer to the question, "What is there to do in that city?" is "go to another city 45 minutes away."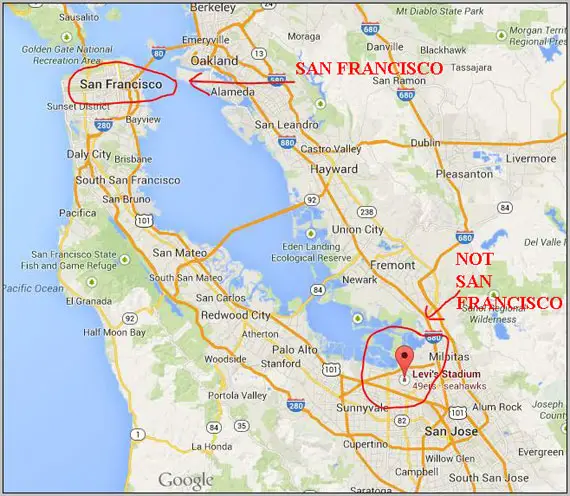 These are the same problems many fans experience when attending games at venues such as University of Phoenix Stadium in Glendale, AZ.  Santa Clara, like Glendale, is a suburb through and through, and unless those coming to the Santa Clara area are really big fans of Great America, there's not a whole to do there, meaning fans likely have to head to San Francisco if they have any plans on their itinerary beyond the game itself.
Lost amid all the hype of trying to sell this game in the suburbs, is that we've already had a Pac-12 postseason game in the Bay Area that is not a 45-minute drive to San Francisco (because it's already in San Francisco), which has given us eight games in nine years involving current Pac-12 teams.  Here's what we have learned:
1) The Fight Hunger Bowl has never sold out AT&T Park, despite a capacity of only 45,000 seats.  Levi's Stadium holds 68,000.
2) Average attendance for those games was 34,896, or about 78% capacity.  Average attendance for California schools was 38,150 (85%), while attendance dropped 17% (31,642) when schools located outside California played.  Eight of the 12 conference members are located outside of California.
3) The best-attending California school was Cal, winless in conference last season and considered the least-likely team to play for the Pac-12 championship this year.   Conversely, the worst-attending California school was UCLA, considered the odds-on favorite to win the South division and, given the competitive nature of the North, likely the team with the best odds of playing in the Pac-12 Championship this year.
4) Stanford is the only California school never to play in the Fight Hunger Bowl.
4a) It should be mentioned, though, that they only drew 31,622 to a Pac-12 Championship in their own stadium.
4b) Which would have been the third-lowest attendance numbers for a Pac-12 school in a Fight Hunger Bowl.
4c) Levi's Stadium is located 13.4 miles farther from Stanford than Stanford's own stadium.
4d) Stanford's argument for its poor attendance was that the weather was poor and that it was a Friday night game.
4e) This year's Pac-12 Championship will be played on a Friday night in December.
I know the counterargument is that the Pac-12 Championship game will be more relevant, but will it?  Last year's Fight Hunger Bowl drew a 2.3 rating, while the Pac-12 Championship drew 0.9, meaning the Fight Hunger Bowl was watched by more than two-and-a-half times as many people.  Additionally, those fans had a couple weeks' notice for travel, while this year Pac-12 fans may have as few as five days.  Between viewers, and opportunity for tickets sold, it seems like just as steep a slope, if not steeper.
2014 will also be the first year of the college football playoff, meaning that if the conference has a top-four team, fans of that school will potentially have to travel to two other neutral sites (semifinal and final), the latter of which would be on six days' notice, in addition to traveling to a conference championship.  Which trip is getting budgeted out first?  I think we know the answer.
It takes a lot of faith to believe fans would be willing to do that much travelling.
Trying to Copy the SEC, While Failing to Understand It
I know the primary motivation for a conference championship game is to make money.  I know that if you truth-serumed those in the conference's power structure, they would likely admit that, if forced to choose, they would rather make more money than win a public perception battle, or become a point of cultural discussion.
But that kind of business mindset is short-sighted: properties become valuable because they are talked about, because they are desired, because they are interesting.  Every other conference is trying to make their championship game the kind of marquee event the SEC Championship has become, yet they fail to understand why it is successful.  The part other conferences, including the Pac-12 this year, latch onto is holding their games in neutral sites, mimicking the SEC model.
But the ACC, the B1G, etc. are missing the key to the SEC model's success.  They think "pro stadium, major city, done deal," failing to recognize how effective Atlanta is at fostering that SEC-style college football culture, making it the perfect host for the event.
The other conferences are putting their games in places like Charlotte, Santa Clara, and Indianapolis, the latter famed journalist Peter Vecsey once nicknamed "Nap City" because, "… most players, when they get there … go to sleep and wait for the game." Not the kind of cities that turn those games into must-go's.
It is interesting that in all the discussion about what neutral site to pick, the conference's most iconic venue wasn't even discussed: the Rose Bowl.  Maybe it was due to the perceived fairness of it as a "neutral site" (though we've seen attendance at UCLA games, trust me, it's a neutral site), but there isn't a venue in the conference with a better ambience, or that more perfectly embodies the best of college football than the festivities that surround the Rose Bowl, which we hear praised every New Year's Day.
Where's the Innovation?
Remember when Larry Scott announced the conference was having discussions with Google and Apple for placement of the Pac-12 Networks?  Remember when he talked about expanding the global footprint for the conference in places like China?  Remember how it felt like he was going to be an innovator for the conference?  Those days feel like AGES ago.
Where's the innovation for the conference's biggest event?  Why not consider Las Vegas, which has cheaper flights and hotels, not to mention more activities, than the Bay Area?  Sure, it's a subpar stadium, so help make it a better venue. Since they've already dismissed the value of attendance (witness their current strategy), why not play the game entirely on a sound stage and make it the craziest TV event possible?  At least throw those ideas out there, because an intern could have come up with playing a sterile-feeling game in a charmless stadium located in the 'burbs.
And yet, it's going to happen: Pac-12 Championship games at Levi's Stadium.  Personally, I'm glad Larry Scott took time out from his busy schedule of not getting the DirecTV situation resolved, to fix a problem I didn't know existed until he solved it.  I figured I would clear time to attend this year's game, but thanks to the commissioner's hard work, I can save myself the effort.
Top image from video

Want to Watch Oregon Games on your computer?
If you do not get all the channels that have the Oregon Football games, or simply want to be able to watch the game over again as you don't have the space in the DVR to hold all the games?
Contact me by email: charles@fishduck.com and I can help.  We have fans across the nation and internationally watching the games 24/7/365 and I wish that for everyone.  Charles Fischer