Nevermind! Belay that order! My bad! Back at you …  However you want to say it, I, Mr. FishDuck, had things changed on me at this site, FishDuck.com, and it will alter the course of the site permanently. If you think things have been changing weekly, you are right.  Who needs TV when you have the drama that I, and the site, can provide?
About a year ago, this site was publishing an average of two articles a day, just as we had done for the previous three years. In the fall, we added the Sports News Team and began producing about six articles a day on average, and that continued until early May. I announced then how we were shutting down that part of the site and scaling back to three or four articles per day to improve quality.
I then announced one week ago how I had to scale back my involvement to begin living a normal life again. I cannot work 70 hours a week at two jobs forever, and many of you have been understanding. The site was going to remain alive, but dormant … with a few writers providing an occasional article and my analysis, or one by a guest coach. FishDuck.com was going to start in slow-mode last Sunday.
Then the Reverse Writer/Editor Revolt happened!
Writers and editors contacted me, saying, "I did not volunteer for you, Charles, at FishDuck.com … I joined because I enjoy writing or editing, and because the site is still going to be alive … can't I continue to do what I like doing?"
Huh? That made me think — was I going to be a selfish jerk and shut it down because it no longer fit my schedule? Or was there a way to make this work for everyone involved?
So, I contacted writers and editors to see who wanted to stay on board, and, boy, was I surprised; the majority remain in place with quite a few writers joining us in the fall. We will still have two editors a day AND a managing editor who will take the reins of the site.
I will get a break and the site will continue! The funny part is that tomorrow, Monday, June 29 — we begin a new schedule that will average two articles per day, just like how we operated for so long! We are going full circle with an emphasis on quality and some innovative article categories to reduce redundancy. We are back, and back to how we were at our best, and now going forward.
Technical Editor Steven Wright likes to ponder management options, and culture flow in a business. It's always an interesting conversation when we discuss the ebbs and flows of FishDuck.com. Here's an example:
"The culture at the site is changing, Charles, as it is more in the hands of the writers and editors themselves … a co-op if you will. It will be fascinating to see where the site evolves a year from now."
Amen. This all-volunteer site is prepared by intense, devoted Oregon fans … who are doing it for fellow intense Oregon fans! This will be fun to watch and read during the next year as FishDuck.com progresses.
As for me? I will enjoy being able to dig into the plays again … the football itself as opposed to managing people. Today, as you read this, I am happily preparing a piece for Tuesday's Analysis writing slot, "The Jake Fisher Effect: Aggressive Oregon Offensive Linemen!" I think you will have fun reading it and hoot at the GIFs I am creating; now THAT is what I am supposed to be doing!
My thanks for your patience. This free site will continue in the way we know best.
Charles Fischer  (FishDuck)
Top Photo from Video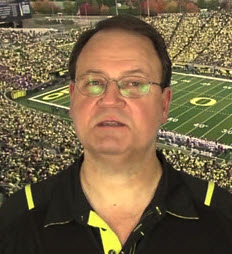 Charles Fischer has been an intense fan of the Ducks, a season ticket holder at Autzen Stadium for 34 years and has written reports on football boards for over 23 years. Known as "FishDuck" on those boards, he is acknowledged for providing intense detail in his scrimmage reports and in his Xs and Os play analyses. He and his wife Lois, have a daughter Christine, reside in Eugene Oregon, where he was a Financial Advisor for 36 years and now focuses full-time on Charitable Planned Giving Workshops for churches and non-profit organizations.
He does not profess to be a coach or analyst, but simply a "hack" that enjoys sharing what he has learned and invites others to correct or add to this body of Oregon Football! See More…
Comments Below the Articles are BACK!
You can comment below articles again here at FishDuck, and if you were signed up before–it will work.  Everything is still on file, so join the fun!
Do remember to follow our rules, as that has not changed.  All our rules can be summarized to this: 1) be polite and respectful, 2) keep it clean enough for a 10 year old grandchild to read it, and 3) no reference of any kind to politics. Easy-peasy!
Articles will be published on: Sunday-Monday-Wednesday-Friday.  Look for them!