Everyone knows that at FishDuck.com we do in-depth analysis of Oregon football, and I have been fortunate to have cultivated a network of coaches who can offer commentary and insight far superior to mine or other casual fans'. Like you, I read about how Montana State quarterback Dakota Prukop is graduating from MSU at the end of the current term with a year of eligibility and has obtained a release from the Bobcats to talk to Oregon, Texas and TCU for possible transfer and joining a team for spring football.
Let's hear what some coaches say about the potential Duck who is visiting this weekend …
My Bozeman, Mont., contact is coach Lawrence "D" and my footage analyst is none other than our own Grizzled Ol' Coach, Mike Morris.
Surprisingly, Dakota was a safety in high school, but was interested in Texas Tech (he camped there and timed a 4.50 40, according to Fox Sports) and began to play quarterback at MSU, having only three years of college experience now at the position. We recognize it is college experience at QB for which there is no substitute, but I asked Coach Lawrence about Prokop's short time spent learning the spread offense.
"He knows how to run the spread and actually manipulate that system with his abilities. Remember that his offensive coordinator, Tim Cramsey, played QB for Chip Kelly and became a coach and offensive coordinator at New Hampshire. In press conferences Coach Cramsey has referred to his offense as 'the Oregon Spread.' He has a great chance to succeed with the Ducks."
When I asked about his running abilities, coach Lawrence stated, "you won't catch him when he's straight-line running, and no defensive back will tackle him from behind."
Grizzled Ol' Coach felt that it was hard to find a comparison to Prukop, as he is unique. As you know, quarterback sacks go against the QB's rushing totals, and he was sacked often. Yet Dakota gained nearly 800 yards running and averaged 5 yards a carry in 2015 in spite of all the sacks draining his rushing yardage.
"Dakota is more of a shorter version of Marcus Mariota than a taller version of Vernon Adams. But Prukop is a more physical runner than Mariota as he has that mentality of being a safety and will knock your block off. He was the primary running back for the Bobcats and plays were designed for him to find someone open or take off running."
I was wary of his touchdowns to interceptions ratio (28 TDs to 10 ints in 2015) but admit we were spoiled by gaudy numbers of Mariota. Then coach Lawrence explained,
"We would score 40 points and still be playing from behind. We did not have a good defense and the intense pressure was on Prukop to produce on countless 3rd-and-long situations. Our receivers often dropped balls and did not always attain the separation needed, thus Dakota often had to throw passes and take chances to win that would not often be asked of him at Oregon."
Coach Morris reminded me how actual game experience as a starter for two years is so invaluable, as we learned (through Adams) that FCS experience can prepare a quarterback for the rigors of the Pac-12 Conference. "There is nothing more difficult than when a defense is completely geared to stopping one man, the quarterback, as Prukop encountered. Everybody was coming after him."  
Vernon dealt with that while at Eastern Washington, but when coming into an offense with so many weapons as the Ducks had — it took the pressure off him to make every big play, and thus he relaxed into becoming a superb quarterback. I cannot help but wonder if the same wouldn't happen to Dakota, should he choose to come to Oregon.
This website made some audacious predictions about Vernon Adams in July — how he would lead us to the College Football Playoffs and be a Heisman Trophy finalist, amid the scoffs and snorts of many who doubted that a FCS QB could make the transition.
Yet now, everyone can see that were it not for the injury, those predictions would have come true. We have been fortunate to have coach Lawrence share his thoughts with us, and I just had to push our big beloved Duck, coach Mike Morris, into another leap of logic for Oregon fans. How would Dakota Prukop do at Oregon?
"If Prukop comes to Oregon, he will be the BEST quarterback in the Pac-12 in 2016!" 
After catching himself, he backpedaled a touch to acknowledge that Bruin fans had a valid argument in Josh Rosen being as good or better.
"But Rosen would not fit the Oregon offense as well as Dakota Prukop does."
This could get interesting …
Charles Fischer  (FishDuck)
Oregon Football Analyst for CFF Network/FishDuck.com
Eugene, Oregon
Top Photo from Video
Check out how well spoken this young man is … and a LEADER.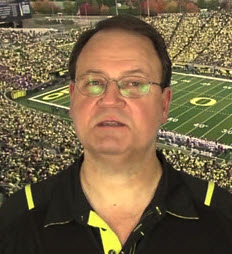 Charles Fischer has been an intense fan of the Ducks, a season ticket holder at Autzen Stadium for 35 years and has written reports on football boards for over 23 years. Known as "FishDuck" on those boards, he is acknowledged for providing intense detail in his scrimmage reports and in his Xs and Os play analyses. He and his wife Lois, have a daughter Christine, reside in Eugene Oregon, where he was a Financial Advisor for 36 years and now focuses full-time on Charitable Planned Giving Workshops for churches and non-profit organizations.
He does not profess to be a coach or analyst, but simply a "hack" that enjoys sharing what he has learned and invites others to correct or add to this body of Oregon Football! See More…
FishDuck EVERY DAY! Articles Appear Seven Days a Week Beginning August 1st!
FishDuck articles will now be on every day of the week beginning August 1st, and we have some dandies planned. Check in every day and don't miss out!
The Our Beloved Ducks Forum (OBD) is where we we discuss the article above and many more topics, as it is so much easier in a message board format over there.  At the free OBD forum we will be posting Oregon Sports article links, the daily Press Releases from the Athletic Department and the news coming out every day.
Be a part of the forum and stay caught up!  When you wish to post there, do know that you are protected just as you were on FishDuck. Join us on the free forum right here!
Our 33 rules at the free OBD Forum can be summarized to this: 1) be polite and respectful, 2) keep it clean, and 3) no reference of any kind to politics. Easy-peasy!
OBD Forum members….we got your back.  No Trolls Allowed!