We have read the pundits in the media along with the opinions from the "experts" on the Oregon message boards; the quarterback recruiting in the past at Oregon has been a disaster after Marcus Mariota, and the present is a muddled mess due to the emergence of freshman QB Justin Herbert unsettling the usual quarterback rotation. These assertions would sound something like …
Head coach Mark Helfrich first failed to plan for an adequate quarterback successor to Mariota, then in desperation had to turn to graduate transfers without anyone experienced in relief. Then later this year Oregon will lose a talented quarterback via transfer due to the mess in the rotation among the current QBs. Helfrich has squandered the visibility gained from Heisman QB for the Ducks, and proven to not be up to the task as head coach at Oregon.
I really hate the nonsense I see written about coach Helfrich from people who do not know football or do not understand or appreciate the unknown factors that change things for the Oregon program, just as unforeseen events change the lives of us all. Nonetheless – perfection is required of the head coach, and anything less is unacceptable to these critics.
Before we proceed … remember one of the FishDuck truths learned over the past five years; football coaches in college and high school have a knowledge base of 9.5 to 10.0, while fans think they are at 7.0 … but they are at 1.5 in reality.
I was your classic example; I played high school football and knew more than most. I watched football for another 37 years and knew that I was an astute football observer. At least I was until the Grizzled Ol' Coach spent a skull session going over games the first time with me and I was shocked at what I did not know.
Most football fans truly don't know what they don't know.
In the process of making more than 50 instructional videos on the Oregon offensive and defensive schemes and more than 200 written analysis articles, I've learned a lot from the coaches (my knowledge pales in comparison to them), hence I can make these statements from the unique position of once being where a typical fan currently is.
I've progressed a ton, but not enough growth to warrant anything more (or less) than what a high school JV coach would know. Don't believe me? Come to my ManCave, and I'll bring a coach to go over games with you, and he'll deliver a slice of humble pie. The taste sucks, as I can confirm.
But let's examine the recruiting that Helfrich and his staff achieved around the Marcus Mariota era at Oregon …
Oregon recruited two 3-star quarterbacks, and two 4-star quarterbacks. Let's start with those you really know - Jeff Lockie was a 3-star and I don't have to elaborate as his shortcomings required the recruiting of graduate transfers, Vernon Adams and Dakota Prukop.
The story behind 4-star Morgan Mahalak is shrouded in mystery, as he was never given a chance to play, even though (through my rumor mill and sources) he had players and an assistant coach apologize to him because he should have been playing in 2015. I think it was an issue with OC Scott Frost, but again we cannot confirm.
Another 4-star quarterback was Jake Rodriques who at 6'3″ with mobility (assumed after healing from injury) and a rifle arm seemed to be a great fit at Oregon.
Alas it did not and when he transferred to San Diego State, the head coach announced that Jake would lead SDS into a new era. After sitting out a year he ended up as a third-string QB for the Aztecs. Rodriques was initially offered by Michigan, USC, Washington, Nebraska, Miami, UCLA, ASU, Utah, Arizona … you get the idea. Oregon was not the only Power-5 conference school sold on him.
Don't forget 3-star quarterback Damion Hobbs at 6'2″ and 190 from Cedar Hill, Texas. He was offered by two ACC programs, two Pac-12 schools, two B1G teams, and two SEC schools – for a total of eight Power-5 conference offers? Fast, athletic and a good passer, he seemed like a nice luxury to add to the QB depth.
My friends that is four quarterbacks who were 3- or 4-stars who did not work out for one reason or another. Think about it … four! I surely would have thought that one would have materialized, or most likely two. But none? Who would think that?
Did any of the armchair Helfrich-haters predict this? Could anyone have seen that in advance? What happened, Duck fans, is that sometimes you have bad luck in recruiting at a particular position. It has happened before at Oregon to other coaches and other positions, but you could have bet and won tons of money off Oregon fans who never would have anticipated what occurred at the quarterback position! Anyone can second-guess after-the-fact, but think about it; all of us have had stuff like this happen in our lives that you just can't predict because it is too improbable and even a little bizarre.
But Mark Helfrich is supposed to be perfect.
Now the Ducks have a fine new QB mess on the opposite end of the spectrum; Justin Herbert stunned everyone by moving up the depth chart in just a couple of weeks in fall camp past 3-star Terry Wilson, and 4-star Travis Jonsen. Considering the ease with which Herbert seems to have grasped the running of the offense as a newbie, it is almost assured that Oregon will lose one of the aforementioned QBs to transfer before spring ball. With no QB verbal lined for the February 2017 signing day, Herbert's talent has messed up the expected Oregon quarterback rotation.
Again … nobody could have predicted this.
Would some of those harsh critics get reasonable for a second? Analyzing and projecting the upside of high school talent is more of an art than science, and it seems that none of the howlers are able to put themselves in the coaches place. Think about it – you can't go by the star-system, because Mariota and Herbert were three-stars, for crying out loud!
Recruiting is harder than it looks.
There have been rumors about Herbert starting against the Huskies, and already many are blustering about it being a "desperation" move. Maybe there was an injury to Prukop; perhaps there is something going on at practice that only the coaches know?
Maybe some of the players being vocal about the talents of Herbert have made an impression on the coaching staff after the Mahalak fiasco? Giving the freshman a chance and answering the requests of the players might help keep the team unified? This is a fragile time for the confidence of this team …
Or maybe it is all rumor and crap.
The point is, we don't know what is going on, and the Oregon coaches know more than we do in terms of football and what they see at practice. To speculate in silly ways (as I've done), and pretend you know something, is just like the improbabilities of recruiting. You are going to be surprised. There are many things you can disagree with coach Helfrich on, but let's cut some slack on the quarterback recruiting condemnation of the past.
There is only one thing certain with the quarterback situation at Oregon – none of us can predict what will happen next!
Charles Fischer
College Football Analyst for FishDuck.com
Eugene, Oregon
Top Photo from Video
Readers: Every writer on FishDuck.com is allowed to express their opinion in their articles. However, articles do not represent the views of the other writers, editors, coaching consultants, management, or the principals of FishDuck.com    Charles Fischer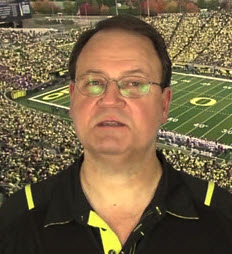 Charles Fischer has been an intense fan of the Ducks, a season ticket holder at Autzen Stadium for 35 years and has written reports on football boards for over 23 years. Known as "FishDuck" on those boards, he is acknowledged for providing intense detail in his scrimmage reports and in his Xs and Os play analyses. He and his wife Lois, have a daughter Christine, reside in Eugene Oregon, where he was a Financial Advisor for 36 years and now focuses full-time on Charitable Planned Giving Workshops for churches and non-profit organizations.
He does not profess to be a coach or analyst, but simply a "hack" that enjoys sharing what he has learned and invites others to correct or add to this body of Oregon Football! See More…
FishDuck Has New Off-Season Schedule and see the OUR BELOVED DUCKS Forum!
FishDuck articles will now be on Monday-Tuesday-Wednesday only during the off-season, and then we will go back to seven days a week during the football season beginning in August.
We will have some occasional guest articles later in the week, but the hottest Oregon football information will be posted in the OBD forum!
The Our Beloved Ducks Forum (OBD) is where we we discuss the article above and many more topics, as it is so much easier in a message board format over there.  At the free OBD forum we will be posting Oregon Sports article links, the daily Press Releases from the Athletic Department and the news coming out every day.
Be a part of the forum and stay caught up!  When you wish to post there, do know that you are protected just as you were on FishDuck. Join us on the free forum right here!
Our 33 rules at the free OBD Forum can be summarized to this: 1) be polite and respectful, 2) keep it clean, and 3) no reference of any kind to politics. Easy-peasy!
OBD Forum members….we got your back.  No Trolls Allowed!