The photo above is cute because it was after the infamous Arizona game back in 2009, where the Oregon cheerleaders were pelted with water bottles by the classy Wildcat fans. A local building contractor and Oregon alum went to his building site and brought back hard-hats for the Duck cheer crew for protection and this photo after the game was quite the memory. (And incredible abbs!)
Perhaps the football team needs them now to prevent a shelling in the second half?
It is halftime and this will later look pretty stupid or amazing to be posting now. Let's get this discussion started for Saturday night and Sunday, so I'll start.
My fears thus far are coming true; Oregon used to influence the game with their offense, and take the momentum away from the opponent. Now their boring, predictable offense puts them behind their opponent and changes the entire template of the game.
Based upon what I've watched through 4.5 Pac-12 games … I cannot believe the decline of the Oregon offense from where we were from 2009-2015, and it is going to take quite a comeback or change-up by the coaching staff to shake this team out of it.
Thoughts?
Charles Fischer   (FishDuck)
Eugene, Oregon
Top Photo from Video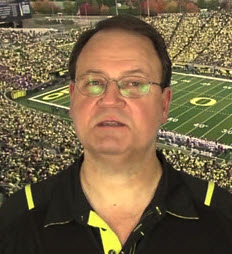 Charles Fischer has been an intense fan of the Ducks, a season ticket holder at Autzen Stadium for 34 years and has written reports on football boards for over 23 years. Known as "FishDuck" on those boards, he is acknowledged for providing intense detail in his scrimmage reports and in his Xs and Os play analyses. He and his wife Lois, have a daughter Christine, reside in Eugene Oregon, where he was a Financial Advisor for 36 years and now focuses full-time on Charitable Planned Giving Workshops for churches and non-profit organizations.
He does not profess to be a coach or analyst, but simply a "hack" that enjoys sharing what he has learned and invites others to correct or add to this body of Oregon Football! See More…
The Our Beloved Ducks Forum is GONE and NOT Returning
The forum took more of my time during the day than I ever could have imagined. And dealing with the Rule-Breakers is a hassle I no longer wish to engage in.
Comments below the articles at FishDuck.com will be available as long as people behave.
Our rules have not changed and can be summarized to this: 1) be polite and respectful, 2) keep it clean, and 3) no reference of any kind to politics. Easy-peasy!
Articles will be published on: Sunday-Monday-Wednesday-Friday.