In the coming weeks — and in all likelihood, months — questions will be asked about Oregon's horrendous showing against Stanford, which could spell the end of their BCS Title hopes.
Why was the play calling so inept?
What in the world has happened to Oregon's special teams unit?
Where was the big-play ability of Mariota and De'Anthony Thomas?
Those are valid questions and certainly ones that will need to be solved. At the end of the day, however, one thing needs to be said so this issue can be put to the side:
Stanford's defense is really good.
Give credit where credit is due. David Shaw, the Cardinal coach who had the unfortunate task of replacing Jim Harbaugh, has done a masterful job building his team into the West coast version of Alabama.
They run the ball, they stop the run. They make timely throws, they confuse your quarterback.
The recipe of success for Stanford is simple, yet effective. They have never been a team that will blow you away with speed and athletic superiority; Shaw and co. have simply taken what they can get and molded that into a dominant force.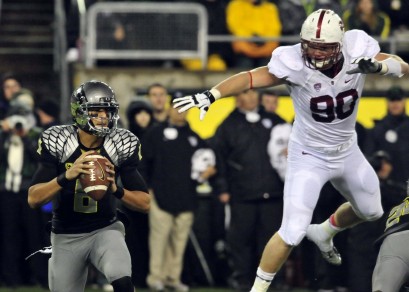 Oregon ran into it's schematic equal Saturday night and nothing more needs to be taken from it. The Ducks, after averaging 54 points per game this season, did not forget how to play football.
Sometimes, as was the case last night, you meet a bad matchup and get beat.
For Oregon to make this season special, they must forget about the loss and turn their attention forward. Oregon State, the surprise team of 2012, presents a lot of the same matchup problems that Stanford did: The Beavers have a stout defensive line, quality linebackers and a talented secondary.
Throw in the rivalry game effect and the Civil War becomes a tricky situation for a team stumbling from the ranks of the unbeaten.
In 2001, after an under achieving Stanford squad handed the Joey Harrington-led Ducks their only loss of the season, coach Mike Belotti told his team in locker room after the game "Don't let Stanford beat us twice." For 2012 to end on a positive note, the same advice must be heeded by this squad.
Oregon needs to put Saturday behind them, brush off the dirt, and move forward. A couple of losses from teams in front of them, coupled with a UCLA victory over the Cardinal, and Oregon's right back in the Title hunt.
The path is laid out for the Ducks to take care of business and end on a high note.
Just don't let Stanford beat you twice.

NEW ANNOUNCEMENTS
Whoa!  Where are all the articles? What happened to FishDuck.com? Learn more by clicking here!
Do your part and contribute to the new Oregon Football Repository at FishDuck.com that we will build with enough support. It will be a gift to all Oregon fans!  Learn more by clicking here.