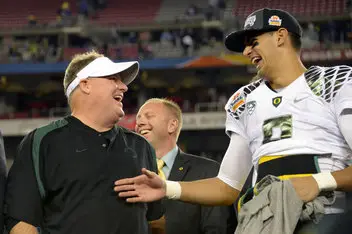 Chip Kelly and his innovative offense has certainly taken the football world by storm since his tenure began in 2009.  With a record of 46-7 as Oregon's head coach, Chip is not in the discussion as all-time college greats — he has no championships yet — but with the talent and resources he has at Oregon it seems that it will be just a matter of time before he finds himself in that discussion.
This got me thinking of Christopher Nolan, director of the latest Batman movies.  I'll explain.
When Chip took over for Mike Belotti, he inherited a program that was teetering on the edge of greatness, but had always fallen a bit short.  When Christopher Nolan took over the Batman franchise, it too was above average, but needed to have a jolt of energy infused.
He needed to "Chipanize" the franchise.
It's safe to say that both men have been wildly successful.  Chip has made Oregon a perennial top-5 team; cutting edge and exhilarating. Nolan made the Dark Knight one of the biggest movie franchises of all-time.  Both men are innovative, fearless, and always thinking outside the box.
Both Oregon and the Dark Knight have been characterized by outstanding performances that have defined their franchises.
Oregon's rise to the top of the college football world has certainly been filled with memorable moments, but perhaps none was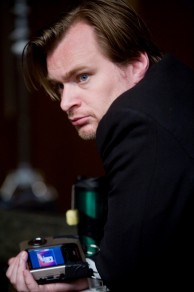 bigger than the "hello world" moment of knocking off Andrew Luck and Stanford in 2011.  The top-10 showdown in Palo Alto was supposed to be the night Andrew Luck cemented his place in football lore – slaying the Oregon dragon, toppling the giant, and laying claim to the conference champion.
What he got was a heaping dose of reality; a slithering fast jitterbug in the form of DeAnthony Thomas.  It was a performance and a player that showed just where the two programs differed…speed vs. lumber. Lightning vs. thunder. Champions vs. contenders.
It's safe to say that when Heath Ledger donned the Joker persona, he changed the Batman Franchise forever as well.
This era of Duck Football seems to be on the verge of change.  NCAA sanctions loom like the Oregon Gray skies.  Chip Kelly decided against moving to Philadelphia to determine once and for all if the best cheese steak is made at Pat's, Geno's, Jim's or Larry's.  Eventually he will probably be curious to see if the offense he has spent a lifetime creating can work and, moreover, succeed at the highest level of football.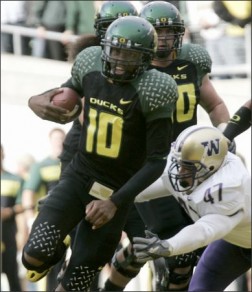 Next fall the team will be fully in the hands of a new and younger generation.  John Boyett, Dion Jordan, Kiko Alonso and Kenjon Barner will join LaMichael James, Darron Thomas, Jeff Maehl  the Original Wing Jerseys and Diamond Plate jerseys in the Duck history Books.  This is no longer a team on the ascent. The team in the Fall of 2013 will be expected to win at least 10 games and play for the Pac 12 Title.  There will be those among the flock who will be disappointed if they don't play for the National Championship. The point here is the Ducks have very high and serious expectations.
It's hard to be on the top of the pyramid. Ask Duke Men's Basketball or the Yankees or Leonardo DiCaprio.  Teams at the top of the college sports food chain wear huge targets as their jerseys.  Every time you take the field in a road game you risk having to endure a student section field storming.  The process of pyramid building in Eugene comes from the singular vision of one man: Chip Kelly.  He, like, Christopher Nolan creates a one day at time attitude.
But just to be clear, Chip Kelly is not done building his Gotham.  While it is great to be among the best, it is wholly different to be the best.  Ask Alabama – seasons in Tuscaloosa aren't measured in SEC titles or All Americans or 5 star recruiting battles.  They are defined by winning one game: The BCS National Championship.  That is the new normal in Eugene, and I think this new normal are the Ducks Chip Kelly envisioned.
Win a title, and perhaps Mr. Nolan will direct the movie.

NEW ANNOUNCEMENTS
Whoa!  Where are all the articles? What happened to FishDuck.com? Learn more by clicking here!
Do your part and contribute to the new Oregon Football Repository at FishDuck.com that we will build with enough support. It will be a gift to all Oregon fans!  Learn more by clicking here.