People are streaming in for the big PAC-12 showdown, and the Stanford tailgate crowd is the weirdest I've ever seen.  I've seen nary a beer all day; there are wines, better wines and best wines — the kind where you want to write down the name for future reference.  There are no Ducks hung in effigy, but check out this clever use of a very expensive convertible: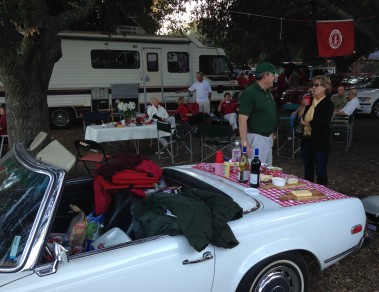 To be fair, all Stanford fans don't have precious bouquets of flowers on tailgate tables dripping ostentatious wealth.  This one has a candelabra and Chinese lanterns, for a funky ethnic touch:
Luckily, there were a few Duck fans around, keeping it real.
---
Mark Saltveit's best-selling book "The Tao of Chip Kelly" has received rave reviews from coaches, players and sportswriters since its release in June. You can find it at the Oregon Ducks Stores in Portland, Eugene and Bend, at Powells Books, at the Multnomah Athletic Club M-Porium in Portland, various bookstores in Pennsylvania and New Hampshire, and online at http://www.chipkelly.tv/

NEW ANNOUNCEMENTS
Whoa!  Where are all the articles? What happened to FishDuck.com? Learn more by clicking here!
Do your part and contribute to the new Oregon Football Repository at FishDuck.com that we will build with enough support. It will be a gift to all Oregon fans!  Learn more by clicking here.