FAQs about Internships and Volunteer Positions
What is FishDuck.com?  Please go to the tab at the top of the page, "About Us" and read about the site!
When do we start?  We can start right away, and with most departments—it is preferred to get some things done.
How much am I paid?   Our Internships are an unpaid three to five hours a week working for an All-Volunteer site that promotes Oregon sports and has been nationally recognized by the Wall Street Journal and the Washington Post.  Interns HAVE been offered better opportunities and paying jobs from their time using FishDuck.com as a platform to show their skills. Learn more and join us!
How long is the Internship?  It is for the rest of this term and the next one–and students can stay as long as they want or shift over to another dept. for more experiences.  MOST of our volunteers are not students, have full-time jobs, families, and other activities and give three to five hours a week to help the site and the fans.
Do we have to be in Eugene to be in the Internship?  (Where do I go to do the work?)  Most of these positions can be done online, and one writer filed his article from Europe last year.  We have writers in Pennsylvania, New York, Florida,–all over, because online is from anywhere in the world.  The only exceptions are the Human Resources department and the UO Football Photo-Recovery Team, of which you do need to be in Eugene for most of the functions.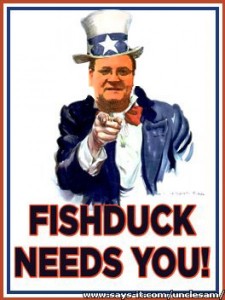 I can't decide which one I want?  Check the different internships by going up to the upper right side and clicking on "Join FishDuck.com" and scan through the openings.  If you cannot decide–know that some openings are far harder to fill than others, and the four toughest are: UO Football Photo-Recovery Team, Editing, Managing Editor, & Video Archiving.  If you have an interest in any one of those…sign up for the tougher one.  We especially need Editors for three to five hours a week….but we need members for the other two teams too.
I need more information about the Internships?  I don't have time to keyboard about eleven Internships for a ton of students. Follow the directions above to scan the different openings, and if from there you want more information? Please call me as I cannot keyboard emails or text to twenty students about eleven positions, but I am willing to talk with you as I can say in two minutes what would take a half hour to keyboard.  Charles Fischer  541-915-4541
What major do we have to be in?  We have students with majors that have NOTHING to do with anything at FishDuck.com….as they just wanted to have a more well-rounded resume' and were passionate Oregon fans as well. Those are the BEST Interns as….we LOVE our Ducks!