For over a dozen years now, I have been writing reports about Spring Football describing the blossoms coming out with the warmth of the sun thawing the slight chill in the air.  In so many ways….this is NOT the usual spring; this last week we had darkness and rainstorms in Eugene during the day that looked like late November, and not April.  The air does not hold a bit of promise for warmer times; it is downright freezing containing a frigid blast combined with the heavy moisture concentration in the air that we are accustomed to during WINTER.  The skies are grey, low, with occasional dark clouds about to drop more penetrating freezing rain…..and as I pull up to the Cas Center….I look to the Northeast and see SNOW in the hills.
It is appropriate as our football program is experiencing a climate like the current weather…..as we all are in WINTER…..as a team, and as fans…we're dealing with the atmosphere of the last few months.  We all have winters in our lives, the times of adversity and testing of resolve; our own winters of discontent.  For many of us Duck fans….the events of this winter have never been seen in 30 years at our beloved University of Oregon, and we smugly rode our high horse.  Now that we ALL have had our comeuppance…..we come to the grim reality that NOBODY in college football wear HALOS.  What happened to us happens to ALL teams, and now our Ducks are experiencing winter at this time of year like never before.  Not the usual spring……..
What is the strategy for winter?  GET THROUGH IT.  That is it.  Whether it is personal crisis or a National Black Eye for our team….you take one foot after another and GET THROUGH THE WINTER.  As I walked up to the Mo Indoor Practice Facility—I wondered how this team was going to get through it and shake off the chills of winter.
One way of doing that is having a Head Coach who leads by example with his ATTITUDE.  He tells us all that he LOVES to play football.  Our players hear this, feel this, and the passion for this wonderful game of college football oozes from Chip and it energizes the players.  You can see it in their hustle and enjoyment of routine items during this practice called "Competition Day."  The way that Coach Kelly exudes such passion for football reminded me of someone…..but I couldn't put my finger on it last fall.  Recently, while watching a tennis match, it hit me.  Coach Kelly's passion for the game reminded me of Tennis great Jimmy Connors during his career of gut-grinding matches.  He didn't care if he was in the US Open Final or a Satellite circuit event….he "relished the combat."  Now THAT describes our coach to a "T", and it is precisely that theme is what we need at this time.  Love the game, love the execution, love the hits….."Relish the Combat".  Coach Kelly's approach is JUST what we ALL need to pull us into spring.
This wasn't a scrimmage event today, just a bunch of drills and some seven-on-seven type of things, but it was great fun nonetheless.  I'm still getting used to the enormous amount of noise at the practices.  You have yelling and whistles, but the music is blaring so loud that you can't hear someone speak right next to you,  (kinda like Autzen at times?)…..and it is VERY distracting to me.  "Remember…..kids can multitask nowadays", came the gentle advice from Gageac….and the practice of no-huddle through the confusing combo of sounds has GOT to help them prepare for the 100,000 'Vol fans in Neyland Stadium this fall.  Something new?  They called signals from the sidelines, and held up signs that I've never seen before.  On each sign—it was broken into four different pictures in the corners and items shown were strange and unrelated.  We saw Shaq, a Dallas Cowboy star, a Shamrock, an earth, a Nike symbol, a shark, a football helmet, and various other pictures in the four corners over 4 or 5 signs.  It did appear that while mistakes were made….it wasn't from confusion about the play called.  They all read it and knew what they were doing, and if it wasn't fast enough you had Coach Kelly skipping along and swishing his arm and urging them to go FASTER!  It was during one of those gallops by the coach that I noted his physique had changed; he's lost weight!  Maybe 20 pounds?  Good for HIM.
Speaking of physique….I noted a #85 flanked out and I wondered WHO this new Tight End was?  He looked like kind of a skinny TE….like Malachi Lewis did when he joined us as a freshman.  Then I watched this TE take off and show some blazing speed….and he was guarded by a corner?  Good thing as the ball came just a little behind so that the speed of the DB was enough to knock the pass away.  I looked at my program to see that this skinny TE was Diante Jackson the freshman wide-out!  He's a WR alright…..but his build and large Quads on his thighs had me thinking TE.  Wow.  Gotta love the looks of him.  While he made some plays…he also came close to making some superb catches….he's just got to finish them.
I got my first look at a #25…who charged down toward a RB in a special team drill.  He just put a sweet juke-and-spin to evade the blocker and do a perfect form tackle around the mid-section of the RB.  As he jogged back I sized up how his build shouted fast twitch, yet he seemed too big for WR, or RB.  It was Boseko Lokombo….and this guy really passes the eyeball test for LB.  He'll be on a lot of special teams right off the bat as a freshman….
Performance of the QBs?  It's hard as I need to place my bias for Costa aside, and judge results versus preferences.  Nate made some nice plays, but he also had some dumb picks.  Darrron had some nice plays, but I did not sense a consistency yet in his QBing.  In terms of body language and poise…..Costa makes me FEEL confident in him…just because he looks like he knows what he's doing and where he's going every play.  Things started to break down a play and as Nate was getting sacked he flicked a ball just beyond the DBs hands at the back of the end zone for a sweet TD.  Another time he attempted to thread one in the end zone just before going out of bounds and Scott Grady jumped in for a nice pick.  I think that if Nate settles down and not try so hard…….it's his job to lose.  The play that got my blood going was a roll-out to the left by Costa and then with nothing open he took off for a quick TEN YARD gain!  The way he turned the corner before the defense could react looked JUST LIKE two years ago!  I've always said that Nate is "sneaky fast" in that he doesn't LOOK fast, but breaks contain faster than defenses realize.  I don't know if he's as fast as before……but that LOOKED real fast and I was only ten yards away watching the play.
Quarterbacks have their favorite receivers; JM always looked for Maehl, and now I see Darron Thomas hook up with David Paulson more times then I could count.  He hit Paulson on the sidelines, on buttonhooks, and over the middle deep for TDs.  Thomas throws a nice ball, and it seems that my concern about his consistent accuracy is no longer valid.  He throws a lazer up the middle, and a very catchable ball to the sidelines.  On one busted option play he made moves and juking mannerisms that struck me as seeing Dennis Dixon again on the Fieldturf.  The way he runs with a high center of gravity and the way he bends his waist while juking……a clone of Dixon.  Darron threaded one needle through the Lbers and the WR made a nice snag and a good juke and run upfield.  Since it was on the far side of the field I was straining to see who that WR was…..looked kinda small compared to others, but that was a heck of a move.  Trotting back onto the field was #8…..Masoli with the ball!  Interesting.
How do you get more reps to practice decisions on option plays?  You add a coach with TWO footballs!  The snap comes back to the QB and he turns and does the zone read/option mesh with the RB while looking at the DE and he hands off.  Then the Assistant Coach tosses another football to the QB who then proceeds to go down the LOS and option the OLB on the end…..and practices the pitchout to the trailing WR from the far side of the formation. (who went in motion)  So to practice zone read handoffs AND option pitches in the same drill….they added a football.  Twice the work in the same number of reps!
The coaches of a certain HUGE recruit were at the practice and right next to me; it was good to see one of them wearing a ROSE BOWL Oregon sweater, and it was tough to restrain from telling them of our love for COLT LYERLA of Hillsboro.  There were a bunch of sizeable HS players present and I could not recognize them, but they seemed to be watching closely.  It's a BIG year recruiting Oregon and Washington athletes as the 2011 signing date could have the most NW players EVER.  (yes…I will let the our coaches do the recruiting, but geez!)
I was watching a drill with the QBs and I'll be darned if I could figure out what they were doing!  After the snap they had defensive players moving…..and the pass went to a different WR it seemed.  I could NOT understand what the heck they were doing until I realized that they simply had the WRs standing there….as if they went from their stance to a particular spot downfield.  There were THREE WRs…..and TWO LBs or DBs, and at the snap I saw the two defenders move and cover the WRs.  Since we had three WRs, and two defenders…..then one of them was open, and the defenders would move at the snap to cover different WRs each time.  OK….NOW I got it.  This was a drill to sharpen the decision-making skills of the QB and improve their speed in seeing the field and looking for who was open among the WRs.  Regardless of where the zone defense rotated…..someone was open.  The trick was…can the QB see it quick enough and deliver the ball before defensive help arrives?  What a clever drill!
I was half-watching them practice decision-making on option plays.  I'm chatting with Gageac and Dr. Lund as I see a grad-assistant line up as a DE, and be optioned, and slide over and become a DT and be optioned in the drill.  (routine)  What I saw next made me gasp….they brought in another assist-coach and both BACKED UP.  What?  Then the ball was snapped and the assist-coaches moved in space in the LBer land/DB territory.  What the heck?  The ball was snapped again, and the coaches rotated another direction which brought about a different option read.  Son-of-a-Gun!  They were practicing OPTIONING THE LINEBACKERS!  For me…..this is quite the new wrinkle, and it should mess up some DCs big-time later on.  Picture not knowing on defense if you're being blocked head-on, or from a side…or if you're left alone…..crap– you're being optioned!  By the time you realize…..the QB has run by you.  Make an assignment mistake and it's a quick six for the Oregon Spread.  I can't even imagine how much indecision and hesitation this will create in defenses, and how dangerous in game speed it will operate.  Scary good drill.
The helmet-cams on the QBs looked much more sophisticated than before; this is cool for the coaches to see what the QBs see, and can help them with the decisions.  Did I mention how many drills and devises are centered around helping the QBs make better decisions?  Nowadays…they ALL have talent, and the question is, "can they make the right decisions on option plays or passing?"  I've never seen so much focus on helping the QBs learn to do this in split seconds, and refinement of this can make or break huge plays in the fall.  I feel WINTER peeling away….can you?
Dior Mathis isn't built up yet….but for a senior in High School…he is built well for a DB.  Think a young Bauman….  Dior was right with the WR downfield and when Hawkin's pass was just a little to the inside….Mathis went up and snatched it for a nice pick.  What do you call him?  He's not even a freshman yet!  For raw talent….this is VERY promising at corner.  Harris had a stud pick over the middle and the one that wowed me was a breakup of a buttonhook that was achieved on extraordinary recognition and SPEED.  In the seven-on-sevens……he noted that the WR continued downfield, but the QB was looking like his arm motion was going to the outside.  Cliff broke off his coverage, exploded outside and dragged his feet inbounds as he caught the ball in the air over the out-of-bounds line.  Geez what a play!  Harris is looking like he has the athleticism of Molden with the game-savvy of Wheaton.  Good stuff!
The veterans had their moments as we saw Maehl come back and contort his body in mid-air to catch a ball that was behind him and toward the sideline.  Sweet.  We saw Tuinei run his pattern over the middle and use his body-control to bend backward BEHIND the DB and catch the ball low-and-behind on something that should have been "no-chance".
Yep…Coach Kelly has it right.  Go out and play some GOOD FOOTBALL, and mists of WINTER will slip away.  It's only going to get better as we have nearly of MONTH of football to go!
We Love Our Ducks.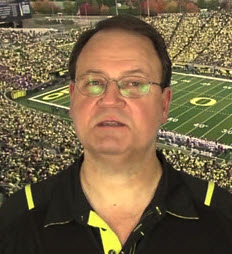 Charles Fischer has been an intense fan of the Ducks, a season ticket holder at Autzen Stadium for 35 years and has written reports on football boards for over 23 years. Known as "FishDuck" on those boards, he is acknowledged for providing intense detail in his scrimmage reports and in his Xs and Os play analyses. He and his wife Lois, have a daughter Christine, reside in Eugene Oregon, where he was a Financial Advisor for 36 years and now focuses full-time on Charitable Planned Giving Workshops for churches and non-profit organizations.
He does not profess to be a coach or analyst, but simply a "hack" that enjoys sharing what he has learned and invites others to correct or add to this body of Oregon Football! See More…
FishDuck Has New Off-Season Schedule and see the OUR BELOVED DUCKS Forum!
FishDuck articles will now be on Monday-Tuesday-Wednesday only during the off-season, and then we will go back to seven days a week during the football season beginning in August.
We will have some occasional guest articles later in the week, but the hottest Oregon football information will be posted in the OBD forum!
The Our Beloved Ducks Forum (OBD) is where we we discuss the article above and many more topics, as it is so much easier in a message board format over there.  At the free OBD forum we will be posting Oregon Sports article links, the daily Press Releases from the Athletic Department and the news coming out every day.
Be a part of the forum and stay caught up!  When you wish to post there, do know that you are protected just as you were on FishDuck. Join us on the free forum right here!
Our 33 rules at the free OBD Forum can be summarized to this: 1) be polite and respectful, 2) keep it clean, and 3) no reference of any kind to politics. Easy-peasy!
OBD Forum members….we got your back.  No Trolls Allowed!