We all marveled during the season at how the No-Huddle strategy combined with the Spread Offense could be so potent.  Teams such as USC that had double or triple the number of four and five star players on their rosters would take a lead on us—only to have it fade and lose by a substantial margin.  Talent became less the key variable as the game entered the fourth quarter, while conditioning became trump.  Truly we wore teams down, and sometimes the grouping of play packages allowed us to call multiple plays which caught teams lined up incorrectly or sometimes not at all as the play was snapped.  It became routine to come from behind and surge strongly past opponents, and we became thrilled with watching the expected game-plan materialize every Saturday.
Yet it did not happen in the National Championship game.
I was surprised at how many television time-outs occurred as well the length of them.  Augment that with some cagey time-outs taken by Auburn as our momentum was building, and it became clear in the final quarter that our usual result was not going to happen as we had seen throughout the season.  The Rose Bowl also demonstrated that the No-Huddle was No-Factor in that game as well with the tons of television breaks.  What brought us to the BCS games was not going to sustain us when playing in them.  Do we change our strategy for the Bowl games and perhaps rethink how we use our players?
To run the No-Huddle offense, it is preferable to have lighter, faster linemen who can move in space and can hold up under the extreme fatigue-inducing continuous play.  It makes sense that 285 to 290 lb Offensive Linemen can carry out this strategy easier than 310 lb. earthmovers, hence our recruiting and training has emphasized this lighter, fitter offensive lineman profile.  Yet when we take on other BCS teams—it becomes apparent that our lighter Offensive Linemen have tough sledding in the trenches against high quality Defensive Linemen, and the objective for their light weight, (the fatigue factor) becomes useless against the ongoing stream of time-outs.  Thus our aim of the trim lineman is negated by television, and our running game is stymied by BCS Defensive Linemen against our lighter O-Line.  Now what?
We can't change to the earthmover profile for our O-Line, as then we lose a major component of our offense for the regular season.  Yet the reality is that in the Bowl—the opponent's line is not getting worn down—WE ARE.  Our lightweight speedy O-Linemen are losing the LOS battle for the running game, which is crucial for Oregon.   Instead of changing styles of Offensive Linemen—can we ADD another line?  A Bruiser Offensive Line?  Call one O-Line the Green team, and the other the Black team.  (No one wants to be the "yellow" team)
Sounds wacky, but stay with me on this.  Chip Kelly has done a TON of wacky things that have worked wonderfully, such as the rapid practices, the blaring music at practices, and the stunning use of twenty five players on defense this year!  He surprised everyone including us Oregon fans with this unorthodox strategy, yet it worked with all the underclassmen playing on defense and created one of the top teams in America for creating turnovers.  Offensive linemen NEED to work together, to have that chemistry together.  We can't just shuffle new fellows in the game and out and expect great results.  What if we had ANOTHER O-Line, that was beefier, and came in during the regular season for every third drive or so, (or short ones) and developed their chemistry.  Thus in the Bowl game they are battle-ready, and have the size to take on the extraordinary Defensive Tackles that we see in BCS games.
Yeah, it's different.  But everything Chip does is different.  We have a ton of talented new Offensive Linemen coming out of redshirt, and others joining us this fall.  We have not got the depth yet, but the talent is rising on the Offensive Line.  Is this the time to begin to build on this strategy so that in a year or so we are able to implement BOTH STRATEGIES?  Oh baby—how much fun would THAT be to watch!  We watch the Green group sprinting from the old LOS to the new; then the Black Group is blasting legendary holes for our speed burners to jet through.  Holy Crap—we love it!
Am I off my rocker on this?
Geez we love to ponder our Ducks!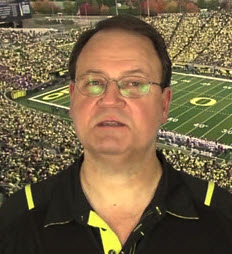 Charles Fischer has been an intense fan of the Ducks, a season ticket holder at Autzen Stadium for 35 years and has written reports on football boards for over 23 years. Known as "FishDuck" on those boards, he is acknowledged for providing intense detail in his scrimmage reports and in his Xs and Os play analyses. He and his wife Lois, have a daughter Christine, reside in Eugene Oregon, where he was a Financial Advisor for 36 years and now focuses full-time on Charitable Planned Giving Workshops for churches and non-profit organizations.
He does not profess to be a coach or analyst, but simply a "hack" that enjoys sharing what he has learned and invites others to correct or add to this body of Oregon Football! See More…
FishDuck Has New Off-Season Schedule and see the OUR BELOVED DUCKS Forum!
FishDuck articles will now be on Monday-Tuesday-Wednesday only during the off-season, and then we will go back to seven days a week during the football season beginning in August.
We will have some occasional guest articles later in the week, but the hottest Oregon football information will be posted in the OBD forum!
The Our Beloved Ducks Forum (OBD) is where we we discuss the article above and many more topics, as it is so much easier in a message board format over there.  At the free OBD forum we will be posting Oregon Sports article links, the daily Press Releases from the Athletic Department and the news coming out every day.
Be a part of the forum and stay caught up!  When you wish to post there, do know that you are protected just as you were on FishDuck. Join us on the free forum right here!
Our 33 rules at the free OBD Forum can be summarized to this: 1) be polite and respectful, 2) keep it clean, and 3) no reference of any kind to politics. Easy-peasy!
OBD Forum members….we got your back.  No Trolls Allowed!