Why so many "Fish Reports" lately?  I like to write when most are not, or about conclusions that I haven't seen elsewhere, so I frequently let some time pass before applying my own analysis.  (or I'm waiting long enough for all of you to forget enough of the games to make you reluctant to disagree!)  My game-plan is to write a few more "Fish Reports" in July-early August, and then the usual couple of Fall Scrimmage "Fish Reports", and then I'm done until next spring.  During the football season—everyone sees the games themselves and does not need my descriptions.  In terms of analysis…I feel there is more than enough written each week during  the season by the multitude of writers.  Right now is a slow time, and I need the rush from watching the games again, and hopefully you'll enjoy my observations through the reports.  It is so amazing to watch them now with my "new eyes", that is, all the new information learned about our exciting new defense.
People have asked me why my report is on so many Oregon football sites?  First…many of you wanted it posted on your site, and in fact I learned about a board of 1,500 recently that had been posting my reports for YEARS.  I'm going to do it FOR them now, (since they missed a few!) and this way I can see all the commentary and football conversation that ensues.  THAT is how we learn more, my friends.  Yeah….it's on EIGHT football message boards now, in addition to scads of Duck Fans that I send to via e-mail, and the total readership ranges from 2,000 to 5,000 households, depending upon the report.  Is that good?  No.  Compared to TV…that is nothing in coverage, but it is fun.  I've had presentations given to me by well meaning people about starting a blog or website, and I just received my FOURTH offer to write for a football board or magazine.  There is no/almost no money offered, but I declined them regardless.  Becoming professional?  Taking some money for writing about my beloved Ducks?  No way!  Besides… the charm of bad English, excessive verbosity, silly commentary, and a startling lack of humility might be lost!  I do this for the same reason that I LOVE to read articles by MattDaddy or EverybodyDuk (whose reports I like better than mine) on other sites.  I want to park, put up my feet, sip something cold, and drink in my glorious Ducks.  It's a nice feeling to know that when I post my report….I make a couple of thousand old farts like myself VERY HAPPY.  Some are in very distant locations like Thailand, Chile, England, Canada, Turkey, Bangladesh, Austrailia, etc. and making THEM happy about events in Eugene Oregon really warms my heart.  We're feeling the Duck-Love Baby!
On to Special Teams!  A Special Teams Freshman, Robby Beard, did a fine job on kickoffs.  He booted a bunch out of the end zone, and as Coach Bellotti taught us…you want the kickoffs to go into a corner.  Robby booted them in the right corner more often than any kicker in recent memory without pushing them OOB with the penalty.  In terms of depth…I think he is in the top half of ALL kickoff specialists I've watched over the last 25 years.  I also don't understand the derision written about him placekicking this spring; my recollection was that he was pretty accurate, and darned good for a freshman kicking Field Goals for the first time in Div-1 football.  At one scrimmage he only missed one out of seven or eight, but he got some grief in the press that puzzled me.  He might make the new kicker focus on trying to take the punter's job if he progresses over the summer.  I really like what I see at placekicking/kickoffs.
Notice also how the type of player out there blocking for kickoffs has changed.  It used to be that the faster OGs would be out in front, while now you see LBs and TEs…the fast agile big guys out to pave the way.  The new rules stating two yards between blockers will force "Oz" to be clever in what we're throwing at the other team.  I also thought that punt coverage and kickoff coverage were better than before this last year, and now many of those players are veterans; we should see some interesting wrinkles from Coach Osborne this year!
We all know about Kenyon Barner's abilities as a punt/kick returner.  He returned one for a TD against UCLA, returned one to the 13 yard line against USC, popped a TD against Oregon State that was called back by penalty and then there was the Rose Bowl.  When a FRESHMAN does this good…it gives ALL the Special Teams confidence that they can make a big play at any time, and this year he will have his FULL confidence in what he can do.  He took the last kickoff from the Buckeyes and turned left to pitch out to Cliff Harris zipping right and then Harris cruises down the sideline until being run out at the Ohio State 37 yard line.  My complaint?  We had a blocker out in front who did not understand the concept of LEADING his blocking, like you would throw a football.  You don't throw to where the WR is now as he's running….you LEAD him or throw in front of him.  Our blocker dillied-dallied around until the coverage caught up to him and then pushed them both OOB.  If he had sprinted up 10 yards in front of the pursuers and then launched himself backward and into the oncoming tacklers…..he would have pulverized them and created a lane ALL THE WAY to the end zone for Cliff!  It was an opportunity lost and had we done it….we would have been only two points down with five minutes to go!  Yikes.  It could have been a different game due to ONE Special Teams play?   Oh Geez!
My concern is with our punting consistency as the performance in the Spring Game was AWFUL with many short punts.  Most folks don't remember it, but in two of our losses this season….against Boise State (19-8) and Stanford (51-42), we had shanked punts that gave the other team a short field and they subsequently scored a touchdown.  Do you think that those could have been the winning points in one or both of those games?  (with only a 3 or 4 point game?) I'm willing to give a freshman a pass…but not now.  I'm hoping the new kicker/punter coming in this fall will push our current punter, as we CANNOT afford any more shanked short punts.  I thought he might bounce back strong this spring…but he actually looked worse.  It's something for us to watch in fall camp.  Bias note: people who sit around me at the games know that I have a disproportionate amount of impatience with punters over all other players.  When he pins them deep inside the 20 yard line…I get way too much enjoyment, and when he booms it out of the end zone for a touchback….I go nuts.  For crying out loud….we're not asking him to read defenses and throw a forty yard deep out.  Just boot the damn football!
A Single Special team play can turn the tide in a game as we saw Thurmond's punt return in the Utah game turn out to be the winning points.  Barner's UCLA KO TD got us going in that game; the missed one against OSU could have turned that game in our favor for us sooner.  The blocked punt for a Touchdown against the Huskies jump-started us to victory, and without the extra-point hold by Costa against Arizona—there is no Pac-10 Championship for Oregon.  Add the aforementioned missed opportunity in the Rose Bowl with the KO return, and the two shanked punts in the two other losses….and you have a stunning EIGHT games that are hinged on ONE, that is, ONE Special Teams play in each of those games!  WOW.  That lends an extraordinary amount of value in the game to EACH Special Teams play because you don't know which one is going to make the difference in the entire game.  (I'm shaking my head because I'm easily astounded)  Eight of our games had ONE Special Teams play that made a huge difference in the whole game?  Holy Crap.
I really have to rethink how I look at Special Teams because it is apparent that ONE Special Teams play could be the equivalent of five to eight plays of offense in the game.  Isn't that a major paradigm shift in analyzing Oregon's Games?  You bet.  It makes you think further about the players selected for Special Teams, the strategies utilized, and the tiniest differences inside of one play that can turn a game.  Is this why we had Walter Thurmond on KO return?  And is this why we have the slender Cliff Harris doing it now as well?  The potential return on ONE PLAY is justified by the injury risk?   Hmmmmmm.
Boy we love to ponder about our beloved Ducks!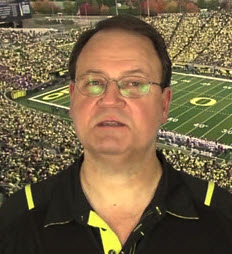 Charles Fischer has been an intense fan of the Ducks, a season ticket holder at Autzen Stadium for 35 years and has written reports on football boards for over 23 years. Known as "FishDuck" on those boards, he is acknowledged for providing intense detail in his scrimmage reports and in his Xs and Os play analyses. He and his wife Lois, have a daughter Christine, reside in Eugene Oregon, where he was a Financial Advisor for 36 years and now focuses full-time on Charitable Planned Giving Workshops for churches and non-profit organizations.
He does not profess to be a coach or analyst, but simply a "hack" that enjoys sharing what he has learned and invites others to correct or add to this body of Oregon Football! See More…
FishDuck Has New Off-Season Schedule and see the OUR BELOVED DUCKS Forum!
FishDuck articles will now be on Monday-Tuesday-Wednesday only during the off-season, and then we will go back to seven days a week during the football season beginning in August.
We will have some occasional guest articles later in the week, but the hottest Oregon football information will be posted in the OBD forum!
The Our Beloved Ducks Forum (OBD) is where we we discuss the article above and many more topics, as it is so much easier in a message board format over there.  At the free OBD forum we will be posting Oregon Sports article links, the daily Press Releases from the Athletic Department and the news coming out every day.
Be a part of the forum and stay caught up!  When you wish to post there, do know that you are protected just as you were on FishDuck. Join us on the free forum right here!
Our 33 rules at the free OBD Forum can be summarized to this: 1) be polite and respectful, 2) keep it clean, and 3) no reference of any kind to politics. Easy-peasy!
OBD Forum members….we got your back.  No Trolls Allowed!