I find myself asking this question way too often these days, "is it football season yet?"  Like a scratched record or kid in the backseat on a family roadtrip, this line gets repeated far too often as the clock winds painfully slow towards kickoff.
If you were to ask me what my fondest memories of growing up with Autzen stadium were, I would have to say there are simply too many to even begin to list.  The talent that we have had the privilege to see play over the last decade has been spectacular.  Of course we all remember "the pick" or Keith Lewis' blocked punt vs. Michigan in 2003 and other legendary moments, but I think we are missing what makes every game at Autzen unique: the weather.
As football season hurtles towards us, I can't help but think back to games past spent baking in the sun, getting soaked to the bone, and nearly being blown out of the stands by the relentless winds.  Don Essig famously states before each game that it never rains at Autzen Stadium.  I for one can remember seasons where it felt like every home game was met with sheets of rain, sometimes blowing sideways.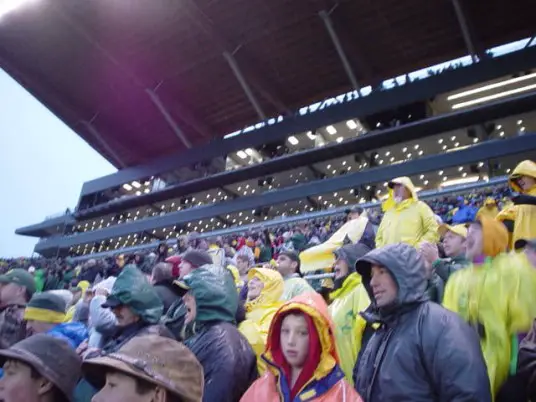 Experienced Duck fans can claim to have notched quite a few stormy games in their belts over the years.
As Oregonians we wear it like a badge of honor, braving the elements to cheer on our Ducks.  If you have never been at Autzen in one of the downpours that only an Oregon fall can produce, you are missing out on one of the truly unique experiences in sports.  While we are blessed with surprisingly mellow weather for most home games, only after enduring a few of these soaking wet afternoons in the stands can someone appreciate what it's like to get those gorgeous, perfect afternoons for football.
The sky pale blue, with fluffy white clouds like puffs of cotton floating by on a warm breeze.  The smell of hickory smoke wafting through the parking lot.  The pick-up game of football with people you have never met before.  Walking in with the crowds of fans chanting the fight song as we go up the ramp.  That amazing feeling you get as you peer over the rim of the bowl to first glimpse the enormity of the stadium and 10-foot tall letters in each end zone.  The roar of the crowd as kickoff ensues.  That first interception for a touchdown, the slobber-knocker hit on special teams.  To be there for that last-second field goal from deep to win. To watch that goal line stand on defense, or cheer for the onside recovery.  These are the reasons why we flock to Autzen every home game to cheer on our Ducks rain or shine.  To be able to say, "I was there.  I saw that before it was a highlight."  These are some of the things that I love about living in Eugene.
With only 6-7 home games a year many people use those as an excuse to use up whatever savings and vacation days they have from work to travel thousands of miles for an afternoon in Eugene.  Walking to the stadium from campus over the Willamette, curving through the oak and maple groves, a person can meet all sorts of interesting people and players from years past, that is of course if you know who you are looking for.  As most of us can boast, past superstars of Oregon Ducks fame are always more than happy to chat with you about the game you remember them dominating in way back when, or sharing in the misery and what-ifs of days that didn't quite go Oregon's way.  It is part of the lore of Autzen that so many people witness each weekend in the fall.   And as Eugene residents, we should take full advantage of this unique resource at our disposal.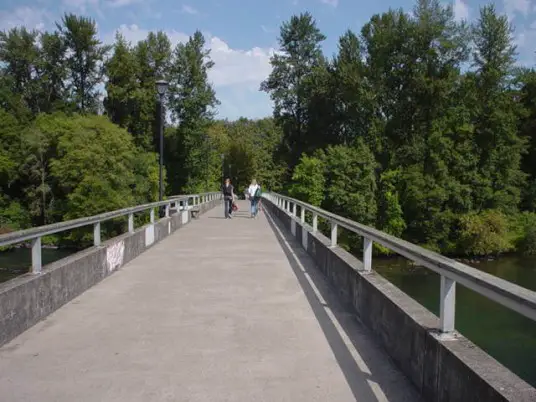 ♪Over the river and through the woods to Autzen Stadium we go…♫
Another great tradition at Oregon football games is the tailgating.  Oh, the awesome aromas of tailgating, the food and various beverages pre and post game are worth the price of admission alone…well maybe they were up until recently with soaring ticket costs.  Some will spend the entire week preparing menus and shopping for food, while some have even invented games to pass the hours leading up to kickoff.  Some have secret chili recipes, special grilling techniques, and top secret spice rubs.  Some decorate their cars, tables, and artificially color their food green and yellow.  Some prepare their special game day mixed drinks or buy in bulk multiple cases of good ol' beer.
Autzen's parking lot before a football game is its own city, filled with fans from all over the state, and sometimes further.  Regardless of distance traveled though, the stadium is home for everybody, with 60,000 family members all welcoming us back.  Home and away fans alike will be grilling next to one another and mingling, all of us here to partake in the great game of football.  If you have never had the chance to tailgate here, make an effort to do so. Even if you just go early and wander around through the crowds you won't get far before someone offers you something off their grill and a cool libation to wash it down.
But back to the weather…Weather at Autzen can be beautiful one minute and the next you could be wishing you wore that raincoat.  Sometimes I think it produces its own weather systems, although I have no scientific data to back up this theory.  Watching two teams grind it out on the ground because it's too wet and windy to complete anything over 5 yards is something to behold.  I can remember night games where the fog was so thick you could barely make out the south side stadium fans leaving before halftime and not returning until well into the third quarter, or lost sight of the ball entirely in the fog on punts and kicks.  These special games can be listed off by fans like a memorized grocery shopping list.
-1983 Civil War, check.
-2001 Civil War, check.
-2003 Cal "lights out" game, check.
-2005 Cal game, check.
-2005 Civil War, a big check on that one; we may have been there, but did we actually see it?
But what are your favorite games?  Everyone has their favorites, and everyone has those games they would sooner forget.  That's what makes Duck football so great for all of us, the unique singular game day experience communally shared among this great fraternity of Oregon fans.  We discuss, we reminisce, we cheer, we revel in the moment, we love our Ducks.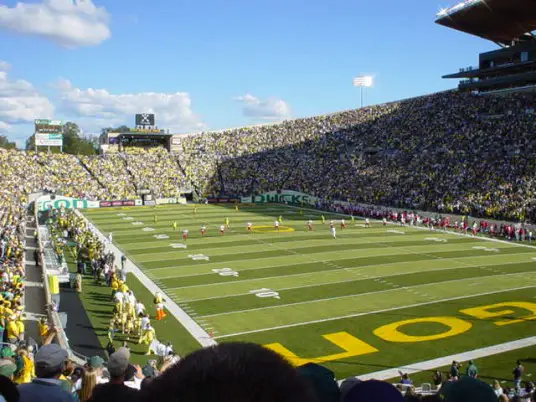 There is just something magical about days like this…
These are the things I think about when you ask me about what makes being a Duck fan so unique an experience.  So go early to a game, meet people you have never met before.  Talk with away fans, and tell them how glad you are they came to experience football here at Autzen.  Make it so they will tell others about how great a time they had in Eugene last weekend, whether their team won or lost.  Show them what all the hype is about, why those who have previously made the venture to Eugene rave about the quality of fans and tremendous game day atmosphere.  Get into the spirit of Duck football and what it means to live in Eugene, to bleed yellow and green.
And don't forget your rain gear, because while it may never rain at Autzen, you may experience a light shower or two.
Go ducks.

Jared Sawyer was born in Eugene and grew up going to games at Auzten Stadium. He has been an avid Duck Fan his entire life, and has recently taken his passion to filmmaking, VLOGing and writing for the Ducks. Jared now resides in San Diego, California where his passion still thrives for the Ducks,and he would like to remind you–It's O TIME!
SIGN UP for the New FishDuck Commenting/Posting System!
The first step toward some big additions to the site is moving away from the Disqus system, to our own new commenting/posting system for the great discussions below the articles.  Signing up now will automatically have you registered in the new forum that will be released in the next three weeks.
It takes a minute is all, and will allow us to continue our amazing discussions of Oregon Sports in a new format that will allow more flexibility over time as we add features.  Sign-up now!  
Mr. FishDuck