Think back to 2004. Urban Meyer was the head coach at the university of Utah, and he led the Utes to an undefeated season, and a victory over Pittsburgh in the Fiesta Bowl. Football fans everywhere started the murmur "down with the BCS."
It took another two years for Boise State to earn the next non-AQ BCS bid, and in that historic, heart-pounding game, Boise beat Oklahoma with the help of a few trick plays to finish the game off.
Since then, there has not been a year in which a non-AQ hasn't, well, qualified. Hawai'i qualified in '07, Utah beat Alabama in '08, Boise State and TCU faced off in the first non-AQ BCS Bowl in '09, and TCU returned to beat Wisconsin last year.
Non-AQ's have also won 2 national championships (Received first place votes at the end of the season) in both Utah from '08 and TCU from '10.
So the BCS doesn't really name a true national champion right? That means we should have a playoff!
It's true that College Football doesn't have a real champion, but making a playoff could, quite possibly, kill the integrity of the entire sport.
College Football has survived all this time without having a tournament, seedings, or series, and adding a playoff would kill the simple week-to-week system College Football has used…forever. As it stands, College Football is one, if not the only sport in which losing one game, no matter where you are in the season, could seriously harm your chances at getting to the national championship.
So what makes that week-to-week system work so unique? A few years ago, College Football Resource put it like this:
Is there really that much difference for a Minnesota Twins fan to attend a game if the Chicago White Sox are in town for a series or if the Oakland Athletics are in town?  Most of those games will be quickly forgotten.  Same for say, a Chicago Bulls fan.  What's so powerful about a weekday visit from the Atlanta Hawks?  Nothing, really.
Here's a test: How many college-basketball games can you remember from last year? Aside from special occasions like the opening of Matthew Knight Arena, most memorable games come from the postseason. What about College Football? I bet some of you can remember every play from Oregon's 10-11 run. Can you specifically remember 12 games from Oregon's regular season? I'm sure a couple of the "Super Ducks" out there can, but for the rest of the Oregon fans out there, they can see that the regular season in College Football is just as memorable as the post season in basketball, not just at the collegiate level, but at the professional level as well.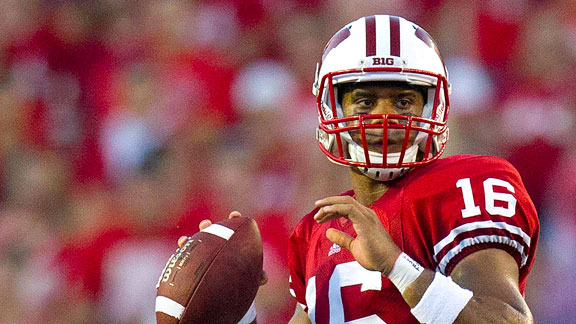 I sit here watching the Wisconsin-UNLV Game. This is a matchup on a Thursday night – with a 35 point line. Yet still, some 80,000+ fans showed up to watch their beloved Badgers absolutely destroy some cellar-dweller from the MWC.
So let's say, we have a playoff, and Wisconsin is only focused on winning their conference games. Their fans know that, the players know that, so the fans don't show up and the players (if the starters even play) don't try.
Let's think back to the Oregon-USC game from '07. USC goes down 24-10 in the 4th, and pulls the plug. They know that they will still have a shot at the title, and blow off one of Oregon's most memorable victories in modern history. Same thing goes for the OSU-USC game in '06 – one of the most dramatic games in recent memory for the PAC-10. The Trojans could have simply said, "Forget it,"  when they went down 33-10.
Upsets, quite frankly, are what is so great about College Sports, especially Football. Think about it, the Cavaliers had to win a game or two last year. Heck, they beat the Lakers last year and no one remembers that game. When the Orioles (currently the fewest wins in the AL)  beat the Yankees (#2 in wins in the AL)  a few weeks ago, no one cared. I don't even know if the NFL has coined the term "upset" yet.
What about College Football? Fans everywhere remember the Appalachian State-Michigan game, the Boise State-Oklahoma game, etc.
The argument still sits on the fact that without a playoff, you don't get a true champion – but is that true?
Last year, UConn faced Butler in the championship game who had to beat VCU to earn that spot. I personally believe that Kansas, Ohio State, Florida, Arizona, Duke, and whole bunch of other schools would beat both of those teams in a seven game series.
One-and-done games until one team is left standing.  Exciting? Absolutely.  Conclusive?  Far from.  In other words, a playoff won't help us sleep any more soundly than the current situation.  Sorry.
Same thing goes for Pros. Take baseball, for instance:
In Moneyball, Billy Beane talks about the MLB playoffs being a true crapshoot because there is so much extra noise in the data. This suggest that the playoffs are decided more by luck than a superior team blowing out an inferior team.

The 2006 World Series is a good example of this. It's impossible to think that luck had nothing to do with the Tigers playing defense about as well as a last-place Little League team. If they would have played like that all season, then there is no way Detroit wins 95 games and beats down New York and Oakland in the process. However, because it happens during 4 games that they lose at the end of the season, it somehow erases the other 171 games they played.
Playoffs negate the accomplishments of the team's success in the regular season – no doubt about it.
But, it's true: The BCS sucks, I know that. There have been plenty of misjustices to AQ' as well.
Oklahoma got to play for the National Championship, but lost the Big XII Championship in '03. They proceeded to get stomped on by LSU in the Natty. Back in '01, Oregon got held out of the National Championship game in Pasadena against the Miami Hurricanes, even if Colorado blasted the Huskers in Boulder the week before (If you remember right, #2 Oregon beat #3 Colorado in the Fiesta Bowl that year, too).
The game used to be about conference titles and a January bowl game, to play in some new, sun-soaked place as a juicy reward for a season of accomplishment.
Adding a playoff wouldn't name a real champion and would destroy some of College Football's best features and moments. Although a playoff would be exciting and is almost inevitable with all the super-conference mergers going on, I will continue to believe that a playoff isn't the best answer to name a champion. In the mean time, I will enjoy the regular season, and cherish every moment of football we have.
Speaking of which, we are just a few hours away from Duck football! Hang on tight and enjoy the weekend!
WTD, and Go Ducks!
Josh

Want to Watch Oregon Games on your computer?
If you do not get all the channels that have the Oregon Football games, or simply want to be able to watch the game over again as you don't have the space in the DVR to hold all the games?
Contact me by email: charles@fishduck.com and I can help.  We have fans across the nation and internationally watching the games 24/7/365 and I wish that for everyone.  Charles Fischer