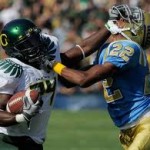 In a short week everything's accelerated: Sunday is Monday, with no days off.
On Friday, Oregon faces a team they have every reason to overlook.
The Ducks are 30-point favorites against UCLA, a team they beat 60-13 last year. The Bruins coach just got fired. Last weekend, they got blasted 50-0 by the USC Trojans in the Coliseum, a team Oregon lost to 38-35 when a last-second field goal hooked wide left.
photo left: The Ducks just need to stiffarm the Bruins to punch their ticket for the Rose Bowl (eugeneregisterguard.com photo, Chris Pietsch).
Calling this one this week's Super Bowl will be a tough sell.
Before the SC debacle, the Bruins had been playing their best stretch of football. They went 3-1 in late October/early November, beating Cal, Arizona State and Colorado but falling hard to Utah in Provo. Finally healthy, Kevin Prince threw five touchdowns and just two picks, 15-19 for 225 yards against the Buffs. Even in the loss to USC, he was 21-33 for 261. He ran for 163 yards against Cal, and 84 against Colorado. The Bruins climbed above .500, in contention for the South Division berth in the PAC-12 berth in conference championship game. Their Pistol offense suddenly had some firepower, with Derrick Coleman running for 119 yards against ASU, and lead back Johnathan Franklin busting loose for 162 in the win over Colorado, on just 15 carries.
There were signs of life, and suggestions that Neuheisel, suddenly a contender again, might save his job after a 2-3 start.
Then came another USC beatdown, and the prospect of finishing with a 6-7 record and missing a bowl or merely backing in to one.
Today the Bruins announced that Neuheisel was fired, and the PAC-12 Championship will be his last game as UCLA head coach, the school where he played college football. He's the only coach in Rose Bowl history to be both a Rose Bowl MVP (an '84 win over heavily-favored Illinois) and a Rose Bowl-winning coach (2000, while at Washington).
The Bruins didn't place a single player on the coaches' All-PAC-12 team. Four made honorable mention: DB Andrew Abbott, RB Johnathan Franklin, OL Kai Maiava, and WR Nelson Rosario. Franklin's run for 912 yards and 5 touchdowns this year. Rosario, their senior wideout, has 55 receptions for 1008 yards, an 18.3-yard average but just 2 tds. He's a pro prospect at 6-5, 219, and enjoys a big matchup advantage over Oregon's smaller, younger cornerbacks. Tight end Joseph Fauria is another coverage problem at 6-8, 252; he's scored 6 touchdowns on 30 catches for 395 yards. These two are a particular challenge for the Oregon secondary, which has given up 8 100-yard receiving games this year, most of them to bigger, taller targets.
Quarterback Kevin Prince has just 8 td passes all season, while being intercepted 7 times and sacked 16. He's the first truly mobile quarterback the Ducks have faced all season, having rushed 95 times this year for 424 yards, a 4.5-yd. average, impressive considering the sack yardage came out of that total.
Safety Pat Larimore leads the UCLA defense with 75 tackles, and defensive end Datone Jones, a 6-5, 275-pounder who missed all of last year with a preseason leg injury, has 3 sacks. Abbott, a former walk-on, is dangerous in the secondary with four interceptions and 3 pass breakups. One of their best players, safety Tony Dye, has missed nearly the whole season with a neck injury.
The last time the Ducks faced a Pistol offense, they gave up 516 yards to Nevada, 283 on the ground. The Bruins have way better personnel than the Wolfpack. In 2010, UCLA had a recruiting class rated 10th in the nation. They just haven't put it together or coached it up. Injuries, defections and coaching turnover have taken their toll also.
The Bruins struggle on third downs, converting just 35.8%. Their red zone defense is miserable, allowing opponents a 91% success rate (statistics from cfbstats.com).
Neuheisel's team went 5-1 at home this season, but 1-5 on the road.
These are articles where the writer left and for some reason did not want his/her name on it any longer or went sideways of our rules–so we assigned it to "staff." We are grateful to all the writers who contributed to the site through these articles.
The Comments Below are CLOSED, as we are moving to the OUR BELOVED DUCKS Forum!
Comments below articles are now closed as we have moved all conversation over to the free Our Beloved Ducks Forum. It has been a big success already with many more posts than what we could fit into the comments below articles.
The Our Beloved Ducks Forum is where we we discuss the article above and many more topics, as it is so much easier in a message board format over there.  At the free OBD forum we will be posting Oregon Sports article links, the daily Press Releases from the Athletic Department and the news coming out every day.
Be a part of the forum and stay caught up!  When you wish to post there, do know that you are protected just as you were on FishDuck. Join us on the free forum right here!
Our 33 rules at the free OBD Forum can be summarized to this: 1) be polite and respectful, 2) keep it clean, and 3) no reference of any kind to politics. Easy-peasy!
OBD Forum members….we got your back.  No Trolls Allowed!