"All the leaves are brown, and the sky is grey." For Oregon fans, these lyrics seem to match the Willamette Valley and our feelings after this game with USC. There has been enough written about our missed opportunities and mistakes in this game, and I salute our foe for a tremendous game plan and execution.
I was surprised during the game as I did not see the usual Chip Kelly changes thrown at our opponent, and it wasn't until analyzing in DVR slow motion that I could see an unusual challenge thrown at USC that benefited us at the same time! We are also witnessing a transformation of backfield formations that will confound future adversaries and begs us to see what opposing coaches will contend with.
"Oh how we love to learn about our beloved Ducks!"
Charles Fischer  (FishDuck)
Oregon Football Analyst for FishDuck.com
Eugene, Oregon
Top Photo from FishDuck.com Video

EDIT: Please be sure to view The Fish Report: Oregon's New "Sweep Read" for an important correction.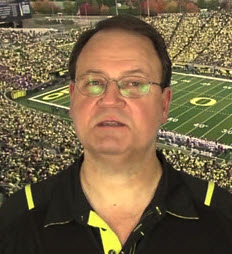 Charles Fischer has been an intense fan of the Ducks, a season ticket holder at Autzen Stadium for 35 years and has written reports on football boards for over 23 years. Known as "FishDuck" on those boards, he is acknowledged for providing intense detail in his scrimmage reports and in his Xs and Os play analyses. He and his wife Lois, have a daughter Christine, reside in Eugene Oregon, where he was a Financial Advisor for 36 years and now focuses full-time on Charitable Planned Giving Workshops for churches and non-profit organizations.
He does not profess to be a coach or analyst, but simply a "hack" that enjoys sharing what he has learned and invites others to correct or add to this body of Oregon Football! See More…
Articles EVERY DAY Again on FishDuck!
Our focus is now on this wonderful Oregon Sports Community, and we will have at least a short article every day to begin the Duck Discussion.
You are also welcome to post other current events or items about Our Beloved Ducks in the comments as well.
Our 32 rules can be summarized to this: 1) be polite and respectful, 2) keep it clean, and 3) no reference of any kind to politics. Easy-peasy!
Take note though, there are NO STRIKES, NO WARNINGS, and NO SLACK given. Violate the rules and you are gone, as this is what the 99% who post superb comments want. (The Ban could be for weeks, months or permanent)
For the 1% out there who do not have impulse-control … as you write your comment that violates our rules, ask yourself, "is this worth getting banned over?"
FishDuck members….we got your back.  No Trolls Allowed!
New at FishDuck? Learn about the site right here!