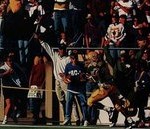 The Northwest football writers are chittering like squirrels as Husky Hate Week reaches its culmination. The tree branches and telephone lines of the interwebs are filled with upset talk, much of it coming from Seattle. Art Thiel and Bob Condotta of the Emerald City papers, along with Ted Miller of ESPN and even Adam Jude of the Oregon are opining that the Ducks have likely flown high long enough, and in The Last Game in Old Husky Stadium, with Don James tossing the coin and the The 1991 National Champions honored at halftime, the foghorns of the yachts steaming out of Lake Washington will blow loud and long in historic triumph.
Writers are biased. They root shamelessly for the best story, and the goalposts coming down with old Huskies with tears in their eyes and young Huskies kissing at the 50-yard line like sailors and nurses on V-JDay  is an image they can write on long into the night, with vivid pictures and an ESPN highlight reel that will run three minutes, Mayday and Dr. Lou nearly breathless with the impact of the news. Fans will cut out pieces of field turf. Keith Price, his helmet propped on his temples like a crown, will be elected governor by acclimation at midfield.
Fortunately football games are not a democracry, or a text and phone-in voting poll like "American Idol" nor weighed out on scales like "The Biggest Loser." College Football remains the last true unscripted drama in America, a place untouched by lobbying or saturation ads, at least until the ESPN BCS panel convenes on Sunday night. On Saturday afternoons football games are a dictatorship, decided by the team that executes and plays with the greater resolve.
Yet the upset remains a distinct possibility.
Waves of emotion and hope have an eerie power. The Huskies, tabbed a 16.5 point underdog by the low-talking men in the sharkskin suits, have enough talent and pesky determination that, if they play to 100% of their potential and efficiency while the Ducks play to 75% of theirs, a late Halloween Horror will ensue in Seattle. They have a chilling offense, a ravenous pack with young, sleek Keith Price as the Alpha Dawg. Just a sophomore, he's completed 66.5% of his passes this season, substantially better than either of the Oregon quarterbacks, with 1990 yards and 23 touchdowns, picked off just 8 times, sacked only 14–far better marks than even his coaches, head coach Steve Sarkisian formerly of the Pete Carroll Trojans, and offensive coordinator Doug Nussmeier, who got his start in football as quarterback of the Lake Oswego Lakers, could have reasonably hoped for at the start of the season. Although he's blessed with a far better supporting cast, Price has turned out to be a dramatic upgrade from the physically talented but far less instinctive Husky Purple Jesus, Jake Locker, who's now struggling for competence in the NFL.
Price has been a wonder, a sensation and a find. His instincts are superb, finding the open man like Clyde Frazier on the break, fluidly distributing the ball to a scary array of talent around him; hard running tailback Chris Polk, who's taken over from the departed Quizz Rodgers as the best back in the conference not named LaMichael James, driving and breaking tackles for 1016 yards already this year, a bevy of fleet and sturdy receivers in Jermaine Kearse, Devin Aguilar and James Johnson, who've combined for 85 catches, 1152 yards and 13 touchdowns, and a well-synchronized and stout offensive line. The Husky offense has been snarling and voracious, preying on foes for 36 points a game. They're dangerous in their element, a loud, raucous Husky stadium, which will be charged with energy in the night air. The press box and TV cameras will vibrate with anticipation, and the Ducks, who really haven't stopped anyone between the 20s all season, are charged with stopping a team that's succeeded a staggering 91% of the time in the Red Zone.
Make no mistake, the Husky offense is formidable and dangerous. They circle their prey with multiple formations and multiple weapons, and Price is nimble on quick feet, looking more mobile against Arizona last week after struggling with two bad knees most of the season. The roll him out and let him scan the field, or let Polk cut back against the grain, busting arm tackles with terrific balance, never easy to bring down. Kearse is artful on the double moves and well=timed subtle pushoff, and Kasen Williams a young and talented 5-star newcomer from nearby Evergreen High of Sammamish, is just starting to make his presence felt. Saturday night the Ducks fifth defensive back will have to cover him, 6-3, 215 with 4.6 speed and uncanny ball skills. Last week he broke out with a 48-yard catch against the Wildcats.
But the biggest mismatch issue in the Washington arsenal may be true freshman tight end Austin Sefarian-Jenkins, 6-6, 258 with a 4.6 40 of his own. Duck strong safety Pleasant, a converted linebacker with good speed but creaky instincts, has struggled famously in coverage, while his rotation mate Avery Patterson is undersized for the task of taking on Jenkins one-on-one. Add to that, the Ducks like to do this weird mumbo-jumbo where they get a defensive end out in coverage. However innovative and ostensibly confusing it might be for the offense, it's created some glaring and confusing mismatches for Oregon in the last few years; there are tight ends from Ohio State and Auburn that are still open down the sideline, steaming to the end zone with laughably easy big plays.
The keys to the game are obvious. Any twelve year old whose attention has not been deficited by too many video games can recite them. Oregon has to win the battle of turnovers. The defense has to get some stops, and deny the Huskies a few touchdowns on possessions in the red zone, trade a field goal for a touchdown on perhaps three trips. Oregon's offense has to execute, and avoid self-inflicted wounds. Stars Darron Thomas and LaMichael James, coming off of injury, have to find their rhythm early, and the offensive line, which has been clumsy and faltering in first halves and dominant after the halftime chew-out, has to pretend the verbal scalding has already been delivered, and play right in the first quarter. Oregon's special teams have to be on orange alert: the Huskies have a kick returner in Kevin Smith who incites the crowd with big returns, averaging 30.22 yards each time he scoots up the field. A big return can ignite an upset and negate an edge in talent. Two of them can birth a legend.
The Montlake Malamutes will play with high emotion in this game, particulary at the start. The defense will be charged up with the crowd, and stuffing LaMichael James in the first series or batting away Darron Thomas' first pass will start the pressbox vibrating. Petros Papadakis will be spitting out superlatives on the sideline about the amped-up effort. Nick Holt, their fire-breathing, clip board chewing defensive coach, has a 6-3, 337 nose tackle in Alameda Ta'amu, and he'll be lined up directly over redshirt freshman center Hroniss Grasu, who's shown an alarming tendency to fire snaps over the shoulder of the quarterback three or four times a game, so erratic it's all Thomas or Bennett can do to corral the ball, disrupting the mesh altogether. Like Ricky Heimuli on Oregon's side, Ta'amu has nursed an ankle injury for much of the season; he's healthy now and feeling warlike, looking to add to his 4.5 tfls and 1.5 sacks. On one side the Dawgs have a quick, tenacious hybrid rush end of their own, #22 Josh Shirley, a redshirt freshman who plays fast at 6-3, 229; he also has 4.5 tfls, with two sacks. Linebacker Cort Dennison anchors the defense, strong at 6-1 234 at middle linebacker, pacing the team all season with 71 total tackles.
These three are important because a rabid crowd and high emotion can allow a defense to play over its head, inspired. For the season they've been maligned, hacking up a 65-point hairball at Stanford, embarrassed in Lincoln by the Nebraska Cornhuskers for 51. But tonight they are at home, and the roar will be loud and full of woofing and barking. This week the Ducks piped in noise and made the requisite soundbites of respect for Washington. The kids don't care about 1994 or 1964, about Kenny Wheaton's gonna score or Rose Bowl voting injustices three years after a distant war; they care about girlfriends and midterms, but when they get on the plane and in the locker room and put on their gear, they all want to win, and talent and attention win football games.
All the chittering on the internet won't make a damn bit of difference. Go Ducks. Huck the Fuskies, one more time.
These are articles where the writer left and for some reason did not want his/her name on it any longer or went sideways of our rules–so we assigned it to "staff." We are grateful to all the writers who contributed to the site through these articles.
The Comments Below are CLOSED, as we are moving to the OUR BELOVED DUCKS Forum!
Comments below articles are now closed as we have moved all conversation over to the free Our Beloved Ducks Forum. It has been a big success already with many more posts than what we could fit into the comments below articles.
The Our Beloved Ducks Forum is where we we discuss the article above and many more topics, as it is so much easier in a message board format over there.  At the free OBD forum we will be posting Oregon Sports article links, the daily Press Releases from the Athletic Department and the news coming out every day.
Be a part of the forum and stay caught up!  When you wish to post there, do know that you are protected just as you were on FishDuck. Join us on the free forum right here!
Our 33 rules at the free OBD Forum can be summarized to this: 1) be polite and respectful, 2) keep it clean, and 3) no reference of any kind to politics. Easy-peasy!
OBD Forum members….we got your back.  No Trolls Allowed!