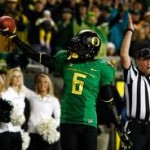 De'Anthony Thomas is not the next Reggie Bush. He's not the next anyone. He's the first De'Anthony Thomas.
Which makes him one of the most exciting and dynamic open-field runners you will ever see. In space, as the announcers like to say, with one man or a couple of defenders to beat, he often makes them look helpless, a blur on the way to a touchdown with one simple juke. Already as a Duck he's set a record for true freshman with 13 touchdowns, five rushing, 7 passing, and one on a 93-yard kickoff return against Washington State.
Here's the incredible part: there are four games to go in his freshman season, and the Ducks are still figuring out ways to get him the ball.
photo left: A familiar sight in Oregon's drive to a third straight conference crown: the player they stole from the Trojan's backyard, claiming some more valuable real estate for the Oregon offense. (insidesocal.com photo).
From sports-reference.com, here's some historical perspective. Reggie Bush, who was awarded the 2005 Heisman Trophy before being stripped of the award in 2010 due to NCAA sanctions, is widely regarded as one of the most dangerous and dynamic all-purpose backs in college football history:
<thSchool<thConf<thClass<thPosAttYdsAvgTDRecYdsAvgTDPlaysYdsAvgTD<tdSouthern California<tdPac-10<tdFR<tdRB905215.831531420.941058358.07<tdSouthern California<tdPac-10<tdSO<tdRB1439086.364350911.8718614177.613<tdSouthern California<tdPac-10<tdJR<tdRB20017408.7163747812.9223722189.418<tdSouthern California<td<td<td43331697.32595130113.71352844708.538
Reggie Bush, college stats
Rushing
Receiving
Year
2003
2004
2005
Career
Note that as a freshman, Bush had 7 touchdowns in 105 offensive touches, an average of a td every 15 touches. As a senior, his Heisman Trophy year, a td every 13 touches.
Through 10 games, De'Anthony Thomas' numbers, from espn.com:
RUSHING
RECEIVING
SPLITS
ATT
YDS
AVG
LNG
TD
REC
YDS
AVG
LNG
TD
Season
46
366
8.0
62
5
27
423
15.7
69
7
Thomas has 12 tds in 73 offensive touches, a td every 6 touches. Again, with four games to play. He also has the kickoff return touchdown. Bush returned one kickoff for a td as a frosh, the only ko return td of his college career. As a sophomore, the Trojan speedster scored twice on punt returns, and once as a senior. Already this season, Thomas has 1497 all-purpose yards, second on the team, just 23 behind feature back LaMichael James.
The amazing thing about The Black Momba's phenomenal productivity is that the Ducks have broken him in slowly. Here is his game log, from espn.com, which shows he's never had more than 10 rushing attempts or 6 pass receptions in any one game. On average, he gets 7 plays from scrimmage a contest, with a high of 12 against Missouri State. In the Washington State game he carried the ball just four times and caught two passes, but still accounted for two touchdowns, one on a 45-yard pass reception and the other on his dazzling 93-yard dash with a third quarter kickoff. A week later against the Huskies his number was called successfully on just one play, but he made the box score, scooting 9 yards with an option pitch to give the Ducks a 31-17 lead late in the third.
DAT is momentum in a small package. He hasn't needed a lot of touches to make a big impact:
Punt returns, season: 3 att 52 yards, 17.3 yard average, 0 tds, long of 48
Kickoff returns, season: 26 att, 656 yards 25.2 average 1 td long of 93
Last year, Josh Huff had an excellent season as a freshman, averaging 17.8 yards per rush on 12 carries, 15.9 yards per catch on 19 receptions. In all he accounted for 5 touchdowns and 1086 all-purpose yards, a very productive first year. But De'Anthony Thomas, in just 10 games, has 400 more yards and 7 more tds, making him a special player on a team of special players.
From cfbstats.com, here are the all-purpose numbers for Oregon's triple threat backfield, James, Thomas and Kenjon Barner:
LMJ ranks 3rd in the country in all-purpose yards with 190.3 per game, the freshman Thomas, 16th, and Barner, 90th.
In long all-purpose plays (running, receiving and returns) James ranks 6th in the nation with 13 plays of 30 yards or more in just 8 games, and Thomas is 36th with 9, 8 of those for 40 yards or more. The remarkable thing about DA's long plays is that they have come on 102 total touches in a part-time role, easily making him one of the most explosive and dangerous players in the country, a Vinnie "The Microwave" Johnson of football.
Barner and DAT have also done a superlative job as gunners on the Ducks' punt coverage team, part of the reason Jackson Rice is a finalist for the Ray Guy award, 3rd in the country with a 46.8 yard average, and the national leader in net punting at 44.2. Rice has 13 inside the 20 against only three touchbacks, and the hustling special teams contribution by two speedy stars is a big part of the reason Oregon's punt coverage is such a powerful defensive weapon. Both players are extremely versatile, standout cornerbacks in high school who could have played for John Neal, had they not been so dynamic carrying the football.
EDIT: We apologize for the table formatting issues from the original article. The Web Engineer has fixed these formatting issues.
These are articles where the writer left and for some reason did not want his/her name on it any longer or went sideways of our rules–so we assigned it to "staff." We are grateful to all the writers who contributed to the site through these articles.
The Comments Below are CLOSED, as we are moving to the OUR BELOVED DUCKS Forum!
Comments below articles are now closed as we have moved all conversation over to the free Our Beloved Ducks Forum. It has been a big success already with many more posts than what we could fit into the comments below articles.
The Our Beloved Ducks Forum is where we we discuss the article above and many more topics, as it is so much easier in a message board format over there.  At the free OBD forum we will be posting Oregon Sports article links, the daily Press Releases from the Athletic Department and the news coming out every day.
Be a part of the forum and stay caught up!  When you wish to post there, do know that you are protected just as you were on FishDuck. Join us on the free forum right here!
Our 33 rules at the free OBD Forum can be summarized to this: 1) be polite and respectful, 2) keep it clean, and 3) no reference of any kind to politics. Easy-peasy!
OBD Forum members….we got your back.  No Trolls Allowed!