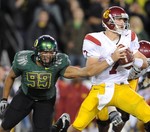 Tradition in the PAC 8/10/12 begins with the USC Trojans. They've won 11 national championships, 24 Rose Bowls, 18 PAC-10 championships and 7 Heismans. Before the Ducks rolled them for 613 yards and 52 points in 2009, the Men of Troy had gone 14-3 in Top Ten matchups since 2001. In their last three, they are 0-3, all losses with Matt Barkley at quarterback, two of them to Oregon, by a combined score of 100-51. The conquerors have been conquested, at least for now.
Fans prone to worry have to have the nagging concern that Barkley and the Trojans are due. He thinks so. He told the LA papers after last Saturday's 40-17 beatdown of a collapsing Washington at home in the Coliseum that he though this year's Oregon team wasn't as good as they were the last couple of years. He should hope so. The Ducks have intercepted him three times in those two losses, and minor Twitter wars and bold game week interviews didn't help him.
photo right: For three years now, California Golden Boy Matt Barkley has tasted turf in the state of Oregon, going 0-5 in the Willamette Valley, battered and bruised. Zac Clark lines him up in this 2009 file image from prphotos.com.
On the field, though, the Trojans are dangerous. They have two good tailbacks and the conference's most dangerous wide receiver combination. At 5-7, 180, shifty and hard to find, leading rusher Curtis McNeal has darted for 787 yards this season, including 18-148 against the Huskies and 20-145 against Stanford. He's a big-play threat, breaking one for 61 in Palo Alto and 79 against UW. The Ducks have to hem him in, or Barkley becomes doubly effective with the play action pass. The change of pace back, powerfully built Marc Tyler, now out of the TMZ doghouse, is 5-11 230. He busted tackles for 22 carries for 149 yards earlier in the year against Arizona State, and added a 113-yard day against Utah. Last week against the Huskies, he spelled McNeal effectively, with 7 carries for 50 yards. The Trojans haven't thrown to either back much so far, just 3 catches between them.
This week Chip Kelly compared Matt Barkley to Andrew Luck and supermodels, and the Trojan star throws the deep ball better than both Luck or Giselle Bundchen. He has two imposing targets in Robert Woods and Marquis Lee, both coveted recruits when they came out of high school. Sophomore Woods is the star and the X factor in the SC offense. They'll line him up in disguising places, out wide, in the slot, even at tailback or quarterback, a shell game to distract and frustrate the defense. It works. Woods has 92 catches for 1126 yards and 11 tds, making him the most difficult one-on-one matchup in the West Coast, particularly for the Ducks, who have young cornerbacks who gave up:
9 catches and 107 yards to Stanford's Griff Whalen
7 catches and 114 yards to WSU's Jeff Karstetter
6 catches and 120 yards to  ASU's Gerald Robinson
9 catches and 170 yards to Cal's Keenan Allen
7 catches and 120 yards to Arizona's Dan Douglas
The Ducks won all those games, handily, but it's still true that most of the bending and breaking by the Oregon defense has been done on slants, hooks and outs, a lot of them for first downs. Both of the USC wideouts are substantially better than this group of 100-yard gainers (excepting Allen, the only one of these who could start for the Trojans). Marquis Lee, the true freshman who lines up on the other side for the Cardinal and Gold, has 52 catches for 732 yards and 8 touchdowns. Together, they're a load. Tricky on double moves, elusive and tough to tackle on quick passes, athletic and fast, they will try to work over Oregon's young, Cliff-less and Gildon-absent secondary. Troy Hill, Terrance Mitchell, Ifo and Patterson will get a lot of isolation cameras and Kirk Herbstreit breakdowns, good or bad. For Oregon to win this game, they have to be tenacious.
Oregon's defense has been tenacious for the last several weeks, dramatically asserting themselves in the road wins over Washington and Stanford. They shut down a pair of 1000-yard rushers. They harrassed and pressured the quarterback, leading the conference now by a wide margin with four sacks per game in league play. They need to get to Barkley, who doesn't like to get hit. When he's cozy in the pocket and unrushed, he looks like a Hall of Famer. They Ducks can't let him stay that comfortable.
Conventional wisdom is that USC's talent will allow them to stay close through the first half, but that Oregon will wear them down with pace, depth and adjustments, pulling away in a shootout as the third quarter unfolds. An unknown factor is the weather, likely to be in the high 20s with a chance of snow or sleety, stinging rain, conditions that bring out the best in some players and the quit in others. With a roster dotted with stars from Texas and California, it isn't guaranteed that the Ducks will handle the conditions any better than Lane Kiffin's touted bunch of four and five stars.
On defense, the Trojans present a bigger challenge than the rest of the PAC-12 for the Oregon offense. They have size and quickness up front with a rotation of big defensive tackles, and defensive ends that can run and hit like Devon Kennard and Wes Horton. They start three freshmen linebackers, each around 230 pounds, all elite athletes who can pursue and cover, not slowskies like The Cardinal. Dean Bailey, Hayes Pullard and Lamar Dawson have the agility to run down zone read plays. It's an SEC caliber front seven that's allowed just 3.5 yards per carry and under 25 points a game.
USC started slow this year, but in the last six games, they've found some of the old "Conquest" magic, scoring 39.9 points a game and erupting for 459.5 yards a game on offense, while turning the ball over just six times. They think they can awake the echoes, stun and surprise an Autzen crowd that's witnessed 21 straight wins at home, best in the country. Streaks and trends are tricky, because they always clash, and someone's has to end.
Like coaches do, Kiffin pour-mouthed during the week, marvelling at the high level of play the Ducks have reached, lamenting the bruises and uncertainties on his roster. Star offensive tackle Matt Kalil is doubtful. Woods has shoulder and ankle problems that limited him to catches for five yards against Washington. 300-pound defensive tackle Christian Topou has a neck injury. Last game, all-conference safety TJ McDonald took a blow to the head and needed a CAT scan. They'll play. This is the bowl game for Southern Cal. They're ineligible for post season play, and chaffed that the Ducks have replaced them as the West Coast's dominant team. Oregon is the national power now, and the Trojans' is a tarnished legacy.
But that can change in 60 minutes, if the Ducks or their raucous fans let up.
Last night the college football world got a reminder of how victory has to be earned in every game. Iowa State sent a cyclone through the BCS, upsetting #2 and previously undefeated Oklahoma State, a win that puts Oregon within sight of a return trip to the National Championship Game. A 24.5 underdog starting a third-string quarterback, Paul Rhoades team fought back from a 17-point second half deficit to tie the game late in the fourth quarter, intercepted Heisman Trophy candidate Brandon Weeden 3 times, including once in the second overtime to win 37-31, touching off this emotional celebration:
It is both motivation for the Ducks, in that it vaults them toward the top two slots in the polls, and a cautionary tale. If ISU can topple T. Boone Pickens' masterpiece, a  talented, motivated team like USC is no less dangerous. Any given Saturday, indeed.
These are articles where the writer left and for some reason did not want his/her name on it any longer or went sideways of our rules–so we assigned it to "staff." We are grateful to all the writers who contributed to the site through these articles.
The Comments Below are CLOSED, as we are moving to the OUR BELOVED DUCKS Forum!
Comments below articles are now closed as we have moved all conversation over to the free Our Beloved Ducks Forum. It has been a big success already with many more posts than what we could fit into the comments below articles.
The Our Beloved Ducks Forum is where we we discuss the article above and many more topics, as it is so much easier in a message board format over there.  At the free OBD forum we will be posting Oregon Sports article links, the daily Press Releases from the Athletic Department and the news coming out every day.
Be a part of the forum and stay caught up!  When you wish to post there, do know that you are protected just as you were on FishDuck. Join us on the free forum right here!
Our 33 rules at the free OBD Forum can be summarized to this: 1) be polite and respectful, 2) keep it clean, and 3) no reference of any kind to politics. Easy-peasy!
OBD Forum members….we got your back.  No Trolls Allowed!