Custom says that tonight Times Square drops the ball.
Ducks resolve that the ball doesn't drop unless we say it drops.
Custom says, tonight is a night to get lit up.
Ducks resolve that Montee Ball gets lit up.
Custom says confetti at midnight.
Ducks resolve, Gatorade bath for Chip at about 5:30.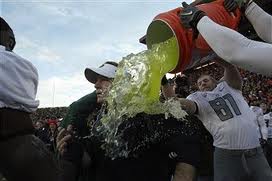 Custom says somebody is going to get kissed on the face tonight.
Ducks resolve, Russell Wilson takes one in the kisser from Dion Jordan.
Loud and Proud, Duck Fans!
Should all the Duckies be forgot
And never brought to mind?
No all the Duckies they ought not.
This team is truly fine.
For all the wins so fine, my friend,
For all the wins we cheer.
May golden days, ne'er come to end.
Let roses linger here.
Happy New Year from your friends at the growing family of FishDuck.com

Have Something to SAY? Write on!
We want to add just a few volunteer writers who wish to enjoy writing about Oregon Football or Basketball.  So many in the comments are gifted writers, so join us!  It is great fun…
We teach you everything, and have incredible editors who make us all look great.
Contact Josh at jddw2@yahoo.com for more information.