Custom says that tonight Times Square drops the ball.
Ducks resolve that the ball doesn't drop unless we say it drops.
Custom says, tonight is a night to get lit up.
Ducks resolve that Montee Ball gets lit up.
Custom says confetti at midnight.
Ducks resolve, Gatorade bath for Chip at about 5:30.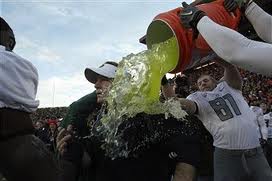 Custom says somebody is going to get kissed on the face tonight.
Ducks resolve, Russell Wilson takes one in the kisser from Dion Jordan.
Loud and Proud, Duck Fans!
Should all the Duckies be forgot
And never brought to mind?
No all the Duckies they ought not.
This team is truly fine.
For all the wins so fine, my friend,
For all the wins we cheer.
May golden days, ne'er come to end.
Let roses linger here.
Happy New Year from your friends at the growing family of FishDuck.com

Kim Hastings is a 1984 graduate of Northwest Christian College. He cut his journalistic teeth as sports editor of a paper in his home town of Fortuna, CA, and, later as a columnist for the Longview Daily News in Longview, WA.
He saw his first Oregon game in 1977 and never missed a home game from 1981 until a bout with pneumonia cut his streak short in 1997. He was one of the proud 3200 on a bitterly cold night in Shreveport, Louisiana in 1989 for the Independence Bowl, and continues to be big supporter of Oregon sports. He is an active participant on the various Oregon Ducks messageboards as "TacomaDuck."
Changes at FishDuck!
Do sign up for our Newsletter to let you know when Mr. FishDuck has written an article and for his spicy not-for-public commentary. Newsletters begin in mid-October!
Do Register to Post Comments! 
It takes a minute is all, and will allow us to continue our amazing discussions of Oregon Sports. Register here… 
Our 29 rules about posting a comment at FishDuck can be summarized to this: 1) be polite and respectful, 2) keep it clean for the grandchildren reading, and 3) no reference to politics!
Easy-Peasy!